Find the latest COVID-19 news and guidance in Medscape's Coronavirus Resource Center.
The numbers are in to back up two policies designed to restrict the spread of the COVID-19 pandemic.
Researchers at the Centers for Disease Control and Prevention (CDC) found that when states lifted restrictions on dining on premises at restaurants, rates of daily COVID-19 cases jumped 41 to 100 days later. COVID-19-related deaths also increased significantly after 60 days.
On the other hand, the same report demonstrates that state mask mandates slowed the spread of SARS-CoV-2 within a few weeks.
The study was published online March 5 in the CDC Morbidity and Mortality Weekly Report.
The investigators did not distinguish between outdoor and indoor restaurant dining. But they did compare COVID-19 case and death rates before and after most states banned restaurants from serving patrons on-premises in March and April 2020.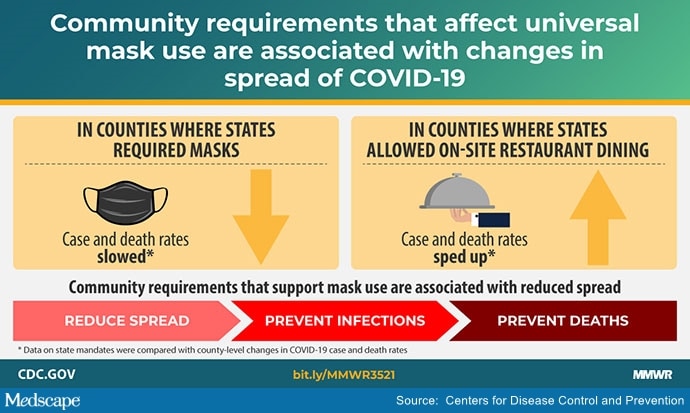 They found, for example, that COVID-19 daily cases increased by 0.9% at 41 to 60 days after on-premise dining was permitted. Similarly, rates jumped by 1.2% at 61 to 80 days, and 1.1% at 81 to 100 days after the restaurant restrictions were lifted.
The differences were statistically significant, with P values of .02, < .01, and .04, respectively.
COVID-related death rates did not increase significantly at first — but did jump 2.2% between 61 and 80 days after the return of on-premises dining, for example. Deaths also increased by 3% at 81 to 100 days.
Both these differences were statistically significant (P < .01).
This is not the first report where the CDC announced reservations about in-person dining. In September 2020, CDC investigators implicated the inability to wear a mask while eating and drinking as likely contributing to the heightened risk.
Masks Make a Difference
The CDC report also provided more evidence to back mask-wearing policies for public spaces. Between March 1 and December 31, 2020, a total 74% of US counties issued mask mandates.
Investigators found that these policies had a more immediate effect, reducing daily COVID-19 cases by 0.5% in the first 20 days. Mask mandates likewise were linked to daily cases dropping 1.1% between 21 to 40 days, 1.5% between 41 and 60 days, 1.7% between 61 and 80 days, and 1.8% between 81 to 100 days.
These decreases in daily COVID-19 cases were statistically significant (P < .01) compared with a reference period before March 1, 2020.
The CDC also linked mask mandates to lower mortality. For example, these state policies were associated with 0.7% fewer deaths at 1 to 20 days postimplementation. The effect increased thereafter — 1.0% drop at 21 to 40 days, 1.4% decrease at 41 to 60 days, 1.6% drop between 61 to 80 days, and 1.9% fewer deaths between 81 and 100 days.
The decrease in deaths was statistically significant at 1 to 20 days after the mask mandate (P = .03), as well as during the other periods (each P < .01) compared with the reference period.
We have seen this movie before. When prevention measures like mask-wearing mandates are lifted, cases go up.
CDC Director Rochelle Walensky reacted to the new findings at a White House press briefing. She cited how increases in COVID-19 cases and death rates "slowed significantly within 20 days of putting mask mandates into place. This is why I'm asking you to double down on prevention measures."
"We have seen this movie before," Walensky added. "When prevention measures like mask-wearing mandates are lifted, cases go up."
Recently, multiple states have announced plans to roll back restrictions related to the pandemic, including mask mandates, which prompted warnings from some public health officials.
These are not the first CDC data to show that mask mandates make a difference.
In February 2021, for example, the agency pointed out that state-wide mask mandates reduced COVID-19 hospitalizations by 5.5% among adults 18 to 64 years old within 3 weeks of implementation.
Restrictions regarding on-premises restaurant dining and implementation of state-wide mask mandates are two tactics within a more comprehensive CDC strategy to reduce the spread of SARS-CoV-2. The researchers note that "such efforts are increasingly important given the emergence of highly transmissible SARS-CoV-2 variants in the United States."
MMWR. Published online March 5, 2021. Full text
The researchers have disclosed no relevant financial relationships.
Damian McNamara is a staff journalist based in Miami. He covers a wide range of medical specialties, including infectious diseases, gastroenterology, and critical care. Follow Damian on Twitter: @MedReporter.
For more news, follow Medscape on Facebook, Twitter, Instagram, and YouTube.
Medscape Medical News © 2021

Cite this: Dining Restrictions, Mask Mandates Tied to Less Illness, Death, CDC Reaffirms - Medscape - Mar 05, 2021.