Editor's note: Find the latest COVID-19 news and guidance in Medscape's Coronavirus Resource Center.
Like other people, patients with multiple sclerosis (MS) who become infected with COVID-19 face worse outcomes if they're older and more disabled, a biostatistician told neurologists. With the exception of anti-CD20s, registries also suggest that disease-modifying therapies (DMTs) don't cause higher degrees of severity.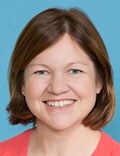 "It's good news since it's important for patients to stay on these treatments," said Amber Salter, PhD, MPH, an assistant professor at Washington University, St. Louis, in a follow-up interview following her presentation at the meeting held by the Americas Committee for Treatment and Research in Multiple Sclerosis.
Salter reported on the findings of several MS/COVID-19 registries from around the world, including the COViMS Registry, which is supported by the Consortium of MS Centers, the MS Society of Canada, and the National MS Society. It tracks patients who developed COVID-19 while also having MS, neuromyelitis optica, or MOG antibody disease.
The registry began collecting data in April 2020 and is ongoing. As of Jan. 29, 2021, 2,059 patients had been tracked; 85% of cases were confirmed by laboratory tests. Nearly all patients (97%) were from the United States, with about 21% from New York state. Nearly 76% were female, the average age was 48. About 70% were non-Hispanic White, 18% were African American; 83% had relapsing remitting MS, and 17% had progressive MS.
"We found that 11.5% of MS patients were reported being hospitalized, while 4.2% were admitted to the ICU or ventilated and 3% had died," Salter said. Not surprisingly, the death rate was highest (21%) in patients aged 75 years or older, compared with 11% of those aged 65-74 years. Those with more severe cases – those who were nonambulatory – had a death rate of 18%, compared with 0.6% of those who were fully ambulatory and 4% of those who walked with assistance.
"A lot of the risks [for COVID-19 severity] we see in the general population are risks in the MS population," Salter said.
Salter also summarized the results of other international registries. After adjustment, a registry in Italy linked the anti-CD20 drugs ocrelizumab or rituximab (odds ratio, 2.37, P = .015) and recent use of methylprednisolone (OR, 5.2; P = .001) to more severe courses of COVID-19, compared with other DMTs. And a global data-sharing project linked anti-CD20s to more severe outcomes, compared with other DMTs (hospitalization, adjusted prevalence ratio, 1.49; ICU admission, aPR, 2.55; and ventilation, aPR, 3.05).
In an interview, neurologist Lauren Gluck, MD, of Albert Einstein College of Medicine and Montefiore Medical Center, both in New York, cautioned that prescribing anti-CD20s now "requires a more complex informed consent process with patients and outlining of risk as well as strategies to minimize contracting the infection."
Moving forward, she advised colleagues to "keep treating MS with DMTs. Preventing MS attacks will help keep patients out of the hospital and limit need for high-dose steroids." And she cautioned that "avoiding action due to inaccurate fear of DMTs and COVID-19 may put your patients at unnecessary risk of relapses and accumulated disability. Educate your patients on the reality of the COVID19 pandemic, their personal risk of exposure, and strategies to minimize their risk."
Fortunately, vaccinations offer protection against COVID-19 in patients with MS, although patients are clearly concerned about potential risks. "A frequent concern is whether the vaccines are safe for MS patients in general and if they could incite MS relapses," neurologist Hesham Abboud, MD, PhD, of University Hospitals of Cleveland and Case Western Reserve University, said in an interview. "The American Academy of Neurology guidelines have not found a connection between vaccination and MS relapses. Having COVID-19 infection can trigger MS relapses, so clearly the benefit from the vaccine outweighs any potential risks. Obviously, it is not advisable to take any vaccine during an active relapse, but vaccines are safe otherwise when given during remission."
Salter and Gluck reported no relevant disclosures. Abboud reports consulting fees from Biogen, Genentech, Bristol-Myers Squibb, Alexion, and Viela Bio. He receives research support from Novartis, Bristol-Myers Squibb, Genentech, and Sanofi-Genzyme.
This article originally appeared on MDedge.com, part of the Medscape Professional Network.
Medscape Medical News © 2021 WebMD, LLC

Cite this: Anti-CD20s Linked to Higher COVID-19 Severity in MS - Medscape - Mar 05, 2021.