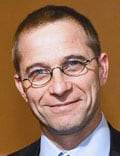 COVID-19 vaccines are considered safe for patients with multiple sclerosis (MS), a neurologist told colleagues, but those who are on disease-modifying therapy (DMT) – or about to begin it – should be cautious about the timing of their shots.
"There's no reason to think any of the three authorized vaccines are in any way more dangerous in people with MS, or in the context of MS DMTs. It's only a question of whether certain DMTs will influence the degree of benefit you get from the vaccine," said Amit Bar-Or, MD, director of the Center for Neuroinflammation and Neurotherapeutics, chief of the multiple sclerosis division, and Melissa and Paul Anderson President's Distinguished Professor at the University of Pennsylvania, Philadelphia. He spoke at the meeting held by the Americas Committee for Treatment and Research in Multiple Sclerosis, and he also answered questions in a follow-up interview.
"The merits of being protected by the COVID-19 vaccines far outweigh any risks that one would consider associated with vaccines and individuals with MS," said Bar-Or. "And there's reason to think that the RNA vaccines may even be safer than prior, more traditional vaccines. They are nonlive, noninactivated vaccines, and there is no risk in terms of interacting with MS."
Where do DMTs fit in? In an interview, Hesham Abboud, MD, PhD, of University Hospitals of Cleveland and Case Western Reserve University, also in Cleveland, said there's reason for caution regarding DMTs that deplete immune cells or entrap them in the lymph nodes. "What is not clearly known is the effect of the fumarates, which do not act through cell depletion but can occasionally deplete immune cells as a side effect. These likely have no negative effect on vaccine efficacy in patients with normal immune cell count but may have a negative effect in those with significant immune cell reduction. Luckily, significant immune cell reduction is rare in patients taking fumarates."
In addition, he said, "interferons and natalizumab are generally thought to have no impact on vaccine efficacy while glatiramer acetate and teriflunomide are thought to have no or only little impact on vaccines. Most of these concepts are derived from studies of non–COVID-19 vaccines."
Bar-Or highlighted specific DMTs. Teriflunomide (Aubagio) "has a relatively mild effect on the immune system and is not thought to be particularly immune suppressive or deplete immune cells," Bar-Or said, as shown in a 2015 study he led (Neurol Neuroimmunol Neuroinflamm. 2015 Feb 12;2[2]:e70). In contrast, a 2020 study, also led by Bar-Or, showed that nonlive vaccinations given after treatment with ocrelizumab (Ocrevus) – an anti-CD20 monoclonal antibody – are "attenuated, compared with untreated or interferon-beta–treated patients, but they can still be expected to be protective."
Bar-Or pointed to National MS Society guidelines about the timing of the Pfizer and Moderna mRNA vaccines for patients with MS who are on DMT. In patients with stable MS, the society recommends no adjustments in timing for patients starting or remaining on several DMTs. The list includes teriflunomide, glatiramer acetate (Copaxone), and dimethyl fumarate, among others.
Patients shouldn't start fingolimod (Gilenya), siponimod (Mayzent), or ozanimod (Zeposia) until 4 weeks or more after their second vaccine dose, the guidelines suggest. Vaccine doses are recommended 3-5 days after the final dose of high-dose steroids. And there are more complicated recommendations regarding a number of other DMTs – ocrelizumab, ofatumumab (Kesimpta), alemtuzumab (Lemtrada), cladribine (Mavenclad), and rituximab (Rituxan).
Bar-Or cautioned that the guidelines are an imperfect "first pass" and are being updated.
He added that the guidelines are not set in stone: "Scheduling is not always possible in terms of adjusting the vaccine timing. Patients in general are recommended to take the vaccine when it becomes available, as it may be more important for them to get the vaccine than to try to time the vaccine relative to the DMT."
Guidance regarding the newly authorized Johnson & Johnson vaccine is expected soon, said neurologist Barbara Giesser, MD, of Pacific Neuroscience Institute in Santa Monica, Calif., in an interview. As for her advice to patients, she said that, "in general, I am recommending that patients get [vaccinated] as soon as it is available to them with adjustment of timing of some DMTs as may be appropriate."
Bar-Or has received consulting fees and/or grant support from – or participated as a speaker in events sponsored by – Accure, Atara Biotherapeutics, Biogen, Bristol-Myer Squibb/Celgene/Receptos, GlaxoSmithKline, Gossamer, Janssen/Actelion, Medimmune, Merck/EMD Serono, Novartis, Roche/Genentech, and Sanofi-Genzyme. He also receives research funding from various organizations and agencies. Abboud reported receiving consulting fees from Biogen, Genentech, Bristol-Myer Squibb, Alexion, and Viela Bio. He receives research support from Novartis, Bristol-Myer Squibb, Genentech, and Sanofi-Genzyme. Giesser reports no disclosures.
This article originally appeared on MDedge.com, part of the Medscape Professional Network.
Medscape Medical News © 2021 WebMD, LLC

Send comments and news tips to news@medscape.net.
Cite this: Certain DMTs in MS May Attenuate COVID-19 Vaccines - Medscape - Mar 05, 2021.