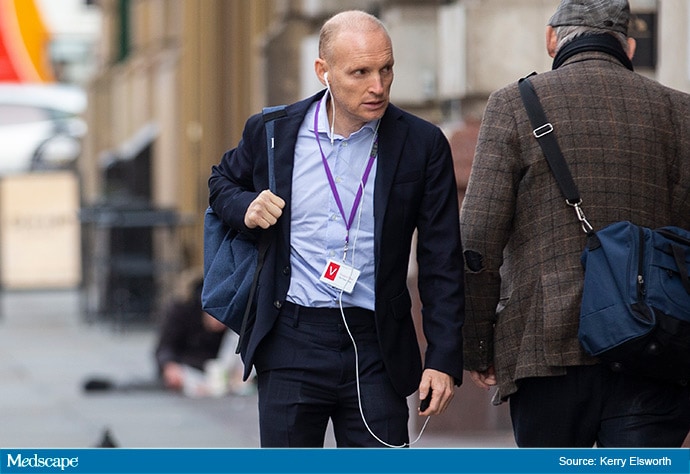 Professor Justin Stebbing
Leading oncologist Justin Stebbing has admitted getting too close to a vulnerable cancer patient whom he wrongly treated after telling her she had just months to live.
The woman, Patient E, had been diagnosed with a rare ampullary cancer that spread to the liver; she was given chemotherapy and a new "off-label" immunotherapy treatment by Professor Stebbing, but her condition deteriorated and she died eight months later.
Professor Stebbing ― who's treated New Zealand multi-millionaire Sir Douglas Myers and the actor Lynda Bellingham ― is a cancer medicine and oncology professor at Imperial College London and has a private practice in Harley Street.
He's appearing before a Medical Practitioners Tribunal Service (MPTS) fitness-to-practice hearing and is accused of inappropriately treating terminally ill cancer patients, in some cases overstating the benefits of treatment or treating patients who had just weeks to live.
The 33 charges ― most of which he denies ― concern his failure to provide good clinical care to 11 patients between March 2014 and March 2017.
No Evidence Keytruda Could Be Used Alongside Chemotherapy
The tribunal heard this week how he'd developed an inappropriate relationship with one, a 47-year-old woman known only as Patient E, by failing to keep "an appropriate professional distance" and engaging in inappropriate communications with her, for example, sending "flirtatious" messages to the woman, who developed feelings for him.
He referred to her as LMT, or "Little Miss Trouble", and many of the messages were accompanied with kisses, "love to LMT" and "good LMT".
Professor Stebbing told the patient "I adore you", and when she invited him to dinner, she joked that she could invite his wife but "a selfish LMT would always prefer to have your undivided attention to herself".
She eventually confessed her feelings in an email.
Professor Stebbing had sought to transfer the patient to another oncologist, but she'd objected, and he'd then changed his mind, it's claimed.
Expert witness Dr Martin Eatock, a consultant medical oncologist for the Belfast Health and Social Care Trust, said the messages showed "lack of professional response" and that it could have put Professor Stebbing in a "vulnerable position" and "clouded his judgement".
He's denied prescribing pembrolizumab (Keytruda) ― a form of immunotherapy ― to Patient E when there was no clinical data to support its use.
Dr Eatock, a consultant medical oncologist for the Belfast Health and Social Care Trust, said there was "no evidence" it could be used alongside chemotherapy.
He also questioned whether the patient had understood that Keytruda would not provide long-term benefits and why Professor Stebbing had also given her high-dose intravenous vitamin C.
"A Fairly Savvy" Patient and Doctors Must Be Able to "Push the Envelope"
Professor Stebbing does, however, admit wrongly continuing the Keytruda treatment from May 2016 after the patient's cancer had progressed and further immunotherapy was futile.
But his QC, Mary O'Rourke, described Patient E's case as the "most challenging" one Professor Stebbing had ever undertaken.
Ms O'Rourke described Patient E as a "fairly savvy" patient who'd consulted an "international coterie of doctors" about her treatment, and all, she claimed, had agreed that Keytruda was appropriate.
Ms O'Rourke said it was important to consider when Patient E was treated, because immunotherapies such as Keytruda were just emerging, and leading oncologists in the private sector had been prepared to try them because there were indications they could be lifesaving or life-enhancing.
The barrister claimed that medicine wouldn't "advance" unless clinicians "take a risk," and she compared Professor Stebbing's work to that of pioneering heart surgeon Christiaan Barnard.
She told Dr Eatock: "The first six of his heart transplant patients died.
"If one was to say he wasn't allowed to have a go because there was no data set and he was investigated by his regulator because the first six died we wouldn't haven't got to patient seven who lived for a short period, [and] eight, nine and 10 thereafter who lived for many years.
"You've got to be willing to push the envelope, take a risk, take a chance with a drug if you don't think it's going to cause particular harm."
Dr Eatock responded that it wasn't a "relevant analogy" and "nowadays that sort of practice wouldn't be tolerated".
"I don't see the relevance of Christiaan Barnard. in the 1950s, 60s, or 70s to the 21st century," he said.
Ian Leonard is a freelance journalist experienced in covering MPTS hearings.
© 2021 WebMD, LLC

Send comments and news tips to uknewsdesk@medscape.net.
Cite this: Ian Leonard. Oncologist Admits Wrongly Continuing Therapy, Inappropriate Behaviour - Medscape - Mar 05, 2021.