The US Department of Defense's Office of the Inspector General (IG) has determined that Ronny Jackson, MD, a former White House physician and retired Navy rear admiral (RDML), created a negative work environment, "failed to conduct himself in an exemplary manner," used alcohol inappropriately while on the job, and took zolpidem during a time when he might have been called on to deliver medical care.
The 37-page report, issued Wednesday, was the result of an investigation prompted by a dozen complaints over a few months in early 2018 about Jackson's behavior. At the time, he was serving as physician to President Donald Trump. The Defense Department oversees the White House medical unit, which includes the president's physician's office.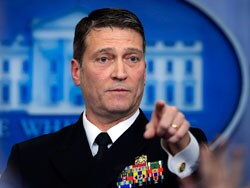 The IG concluded that Jackson's "overall course of conduct toward subordinates disparaged, belittled, bullied, and humiliated them, and fostered a negative work environment by failing to treat subordinates with dignity and respect."
The IG interviewed 78 witnesses and Jackson in 2018 and 2019. It said it may not have gotten accurate testimony from then-current employees because White House counsel insisted they be present during all interviews. "We determined that the potential chilling effect of their presence would prevent us from receiving accurate testimony," said the report.
Even so, the IG determined that Jackson had acted badly.
On at least two occasions — during overseas trips in 2014 and 2016 — Jackson used alcohol while he was in charge of providing medical care, according to the report.
Jackson Denies Allegations
Jackson came to the White House medical unit in 2006, became director in 2010, and took on the role of physician to the president in 2013. He served President George W. Bush, President Barack Obama, and Trump.
The IG found no evidence to support the allegation that "Jackson expected rum or other alcohol to be stocked in his lodging room while on official travel, or that staff members feared retribution if they did not comply with the expectation." It also did not find evidence that Jackson "got drunk and wrecked a government vehicle."
The White House doctor did use zolpidem during long official overseas flights. Although that practice is not officially prohibited, Jackson was required to notify his superiors, the report said. "We did not ascertain if he provided such a notification," said the IG. However, witnesses — White House medical personnel — "raised concerns about RDML Jackson's potential incapacity to provide proper medical care during such flights while using Ambien because of the common side effects," said the report.
Jackson, now a Republican member of the US House representing a district in Texas, was given an opportunity by the IG to comment on its findings but declined through his lawyer, according to the report.
He has since released a statement to the media denying that he behaved inappropriately with any of his staff or that he consumed alcohol while on duty, saying the report is a partisan attack because of his support for Trump.
Jackson attracted negative publicity while he was White House physician for his rosy statements about Trump's health. As Medscape Medical News reported, in a 2018 briefing, Jackson concluded that Trump "has incredibly good genes, and that's just the way God made him."
A few months later, Trump nominated Jackson to take the place of David Shulkin, MD, the Department of Veterans Affairs secretary whom the president had just fired by tweet. Jackson withdrew his name after allegations arose that he had overseen a hostile work environment and had overprescribed medications. Jackson insisted at the time in a statement to Medscape Medical News that "the allegations against me are completely false and fabricated."
He stayed at the White House, and in 2019, Trump promoted him to chief medical adviser. Jackson retired from the Navy the same year and announced his candidacy for Congress.
For more news, follow Medscape on Facebook, Twitter, Instagram, and YouTube.
Medscape Medical News © 2021

Send news tips to news@medscape.net.
Cite this: Ex-White House Physician Jackson Harassed Staff, Misused Alcohol: Watchdog - Medscape - Mar 04, 2021.