A world-renowned oncologist developed an "emotional" relationship with a terminally ill cancer patient, known as Patient E, after prescribing treatment that was unlikely to improve her life expectancy, a medical tribunal heard.
Professor Justin Stebbing, who's treated wealthy cancer patients from around the globe, shared "flirty" messages with the woman, who developed feelings for him due to their "strong chemistry" and his "super tactile and affectionate" nature.
But her cancer worsened and she died eight months after he began treating her.
Professor Stebbing, who specialises in immunotherapy for breast, lung, and gastrointestinal cancers at Imperial College London and has a private practice in Harley Street, is accused of inappropriately treating terminally ill cancer patients and in some cases overstating the benefits of treatment.
He's appearing before a Medical Practitioners Tribunal Service (MPTS) fitness-to-practice hearing and faces 33 charges — most of which he denies — concerning his failure to provide good clinical care to 11 patients between March 2014 and March 2017.
Stebbing Failed to Maintain an "Appropriate Degree of Professional Distance"
The tribunal heard evidence relating to one 47-year-old patient — referred to as Patient E — who was diagnosed with rare ampullary cancer that had spread to her liver in November 2015.
She began chemotherapy treatment with Professor Stebbing the following month, but her condition deteriorated and she died in July 2016.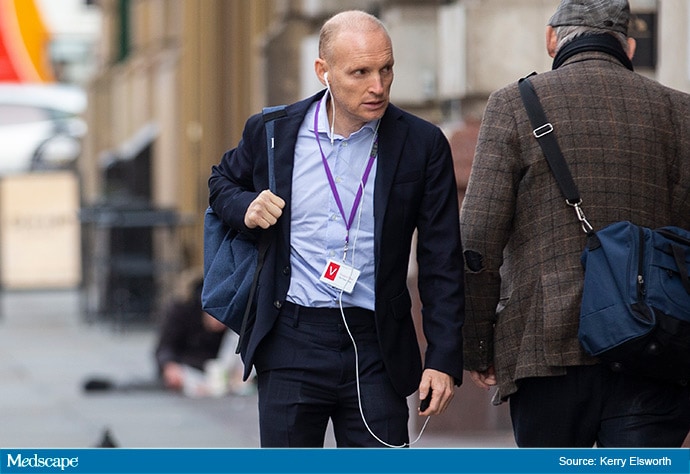 Dr Justin Stebbing is appearing before a Medical Practitioners Tribunal Service fitness-to-practice hearing and faces 33 charges concerning his failure to provide good clinical care to 11 patients between 2014 and 2017.
Professor Stebbing is accused of mistreating the patient, not discussing the benefits and risks of treatment and failing to maintain an "appropriate degree of professional distance" with her.
The tribunal heard how the pair exchanged a number of "flirty" emails and he referred to her as LMT, or 'Little Miss Trouble'.
Many messages were accompanied with kisses, "love to LMT" and "good LMT".
He'd also told the patient: "I don't want to make you a guinea pig in any way I just want to make you better LMT stay strong."
One email from her read: "Justin I might as well tell you and get it out of the way. Since I met you, I've felt a strong chemistry and combined with you being super tactile and affectionate I've translated this is into something personal.
"I've deduced you're perhaps in an unhappy marriage or something like that. I'm such an idiot because that's clearly not the case."
She added that she would "put a stop" to her developing feelings for him.
Expert witness Dr Martin Eatock, a consultant medical oncologist for the Belfast Health and Social Care Trust, said the messages showed a "lack of distance" and "lack of professional response" by Professor Stebbing.
He said that the patient had developed an "emotional attachment" with Professor Stebbing and that could have put him in a "vulnerable position" and "clouded his judgement".
Was Immunotherapy Appropriate for Patient E?
The patient had received immunotherapy with Keytruda and Dr Martin Eatock questioned the appropriateness of the treatment and whether the patient had understood it would not provide long-term benefits.
Dr Eatock referenced the results of one trial where Keytruda was given to patients with biliary tract cancers and the average time of disease progression was 1.8 months and average survival time was 6 months.
Only four patients out of 24 had seen a reduction in their cancer.
He said it was "unclear" whether Keytruda had the potential to generate long-term survival or whether it should be used in combination with chemotherapy because there was no supporting data.
Eatock said it would have been appropriate "to reign back expectation of a long-term outcome for this patient."
Dr Eatock said there was "no evidence" Keytruda should have been prescribed to the patient alongside chemotherapy at the start of treatment and it shouldn't have been continued due to the risk of toxicity.
Professor Stebbing's QC Mary O'Rourke described Patient E's case as the "most challenging" case he'd ever undertaken.
She described her as a "fairly savvy" patient who'd consulted an "international coterie of doctors" about her treatment.
All, she claimed, had agreed that Keytruda was an appropriate course of action.
She claimed Professor Stebbing had discussed the risks of treatment and been aware the patient was looking at a prognosis of months.
Breast Cancer Patient Treated Despite Slim or Negligible Chance of Success
The tribunal also heard about the case of a breast cancer patient — Patient D — who was given chemotherapy despite the "slim" or "negligible" chance it would have any success.
The 44-year-old woman — known only as Patient D — had been diagnosed with breast cancer in November 2011, which spread to her liver and bones, and she underwent four lines of palliative endocrinology treatment and four lines of palliative chemotherapy treatment over the following years with mixed results.
Expert witness Dr Innes, a consultant medical oncologist at the Clatterbridge Cancer Centre, Wirral, said the patient had a "heavy burden" of disease by April 2016, leading to liver failure.
Medics at The Christie hospital, in Manchester, decided it would be inappropriate to carry on treatment with her prognosis "likely to be measured in a short number of weeks".
She was seen by Professor Stebbing the following month and he prescribed combination chemotherapy — carboplatin and gemcitabine — but she died a few weeks later.
Dr Innes questioned whether a proper examination had taken place, if the treatment was appropriate given the patient's "grossly deranged" liver function and whether Professor Stebbing had obtained informed consent by discussing the benefits or risks of having or not having treatment.
Therefore, his conduct had fallen "seriously below" that expected, she said.
Ms O'Rourke pointed out that Dr Innes had little experience with private patients who had more "autonomy" and "free choice" over their treatment.
She said there were always patients — including Patient D — who were willing to pursue a "last chance" and she'd "struggled psychologically" after being told nothing else could be done.
And she said Professor Stebbing was entitled to give a second opinion and "form his own view" on treatment.
Ian Leonard is a freelance journalist experienced in covering MPTS hearings.
© 2021 WebMD, LLC

Send comments and news tips to uknewsdesk@medscape.net.
Cite this: Oncologist Accused of Mistreatment Shared 'Flirty' Emails With Patient - Medscape - Mar 03, 2021.