United Healthcare recently became the latest major insurer to offer a "virtual primary care service." Initially, the service will be part of some employer-sponsored insurance plans in 11 states. United intends to expand its footprint next year.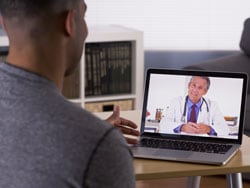 United is using the platform and the medical group of Amwell, a telehealth service, to provide virtual primary care. Besides minor acute care, United's virtual service covers annual wellness visits, routine follow-ups for chronic conditions, lab tests, and specialist referrals with little or no cost sharing.
The giant insurer is now offering its virtual primary care plan in Arizona, Colorado, Illinois, Maryland, North Carolina, Ohio, South Carolina, Texas, Virginia, Washington, DC, and West Virginia.
Other insurers are offering similar virtual primary care plans. For example, Humana has partnered with Doctor on Demand, and Cigna is working with MDLive to offer virtual primary care plans. Both of these plans encourage consumers to form ongoing relationships with physicians hired by the telehealth services. Similarly, Harvard Pilgrim, which has also hooked up with Doctor on Demand, says that consumers get "virtual PCPs" along with a full care team.
Humana has priced the premiums for its virtual service at about half the cost of Humana's most popular traditional plan. There are no copays for telehealth visits; there are $5 copays for common lab tests and prescriptions. Cigna says that its virtual plan makes coverage "more affordable," but doesn't provide any specifics.
According to United spokeswoman Maria Shydlo, the insurer's virtual primary care service is not cheaper than its traditional products.
Increased Telehealth Adoption
When the COVID-19 pandemic first struck last year, telehealth was a lifesaver for primary care practices. Physicians were able to treat half or more of their patients through telehealth, including video and phone consultations.
That initial romance with telehealth did not last. Today, telehealth represents 9% of adult primary care visits. However, that's still a much higher percentage than before last year, and telehealth has become a fixture of primary care.
Prior to the pandemic, telehealth services dominated the virtual care space. Some large groups experimented with having their doctors conduct virtual consults with their patients. Other physicians dabbled with telehealth or stayed out of it entirely because health plans paid much less for virtual visits than for in-person visits.
That began to change as more and more states passed laws requiring payment parity. (Today, 36 states do.) Then as the pandemic took hold, Medicare loosened its regulations, allowing coverage of telehealth everywhere and establishing parity. But it's unclear what will happen after the public health emergency ends.
United and other insurers portray their virtual primary care plans as an effort to connect more consumers with primary care physicians. Having a relationship with a primary care doctor, United noted in a press release, increases access to care, including preventive services. Moreover, a United survey found that a quarter of respondents preferred a virtual relationship with a primary care doctor.
Physician Have Mostly Positive but Mixed Reactions
Medscape Business of Medicine interviewed several physicians who practice in states where United has introduced its new offering. Only one doctor had heard about it, and another, solo family physician Will Sawyer, MD, of Cincinnati, Ohio, no longer contracts with United. Nevertheless, they all had strong opinions about virtual primary care plans from United and other insurers.
Sawyer is a big proponent of telehealth and notes that it's "incredibly convenient" for older people, many of whom are afraid to come to the office out of fear they might contract COVID-19. He has found that telehealth can be useful for many kinds of acute and chronic care. But he believes (although he admits he does not have evidence) that United started its virtual primary care service mainly to save money.
Peter Basch, MD, an internist with MedStar Health in Washington, DC, says he's willing to give United the benefit of the doubt. Increasing access to care while lowering its cost, he says, is the right thing to do, and "it makes financial sense. So I wouldn't question their motives."
Basch is concerned, however, that insurers such as United might eventually cover some services virtually but not in the office. "I can imagine a situation where doctors feel their judgment is being disregarded and that this person really needs to come in. And there might be pressure from the employer or the manager of the medical group, telling the doctor that if you're not careful about how you manage these visits, you may be losing money for the practice."
Kenneth Kubitschek, MD, an internist in a medium-sized group in Asheville, North Carolina, is less enamored of telehealth than Basch and Sawyer are, although it currently accounts for 15% to 20% of his group's visits. "There's definitely something you lose with telehealth in terms of the nuances of the interaction," he says.
No to Some Kinds of Telehealth Doctors
The physicians we spoke with were unified in their opposition to virtual primary care plans that mainly use physicians hired by telehealth services. Sawyer noted that one-off consultations with telehealth doctors might be okay for urgent care. "But what we're trying to do with patients is change their behavior for better health outcomes, and that doesn't happen in these one-off contacts," he said.
Even if a patient were able to develop an online relationship with a telehealth doctor, Basch said, there are any number of situations in which an in-person visit might be necessary. "Whether it's a urologic visit, a cardiac visit, or an allergy visit, do I need to listen to you or put my hands on you to palpate your liver? Or is this just a conversation with someone I know to see how they're doing, how they're managing their meds? Ninety percent of a diagnosis is history."
Although the virtual plans allow a telehealth physician to refer a patient to an in-network specialist for an office visit, this isn't the same as their primary care physician asking them to come in to be examined.
Moreover, Basch notes, people with chronic conditions can't be treated only virtually. "I wouldn't say that primary care should be done predominantly through virtual visits. It may be okay for young and healthy patients, but not for older people with chronic conditions. There are times when they should see their doctor in person."
What Can Be Done via Telehealth
On the other hand, Basch heartily approves of conducting routine follow-up visits virtually for patients with chronic diseases, as long as the physician knows the patient's history. Telehealth can also be used to coach patients on exercise, nutrition, and other lifestyle changes, he points out.
Kubitschek estimates that around 40% to 50% of primary care can be delivered through telehealth. But the remainder encompasses potentially serious conditions that should be diagnosed and treated in face-to-face encounters, he says. "For example, if a patient has abdominal pain, you have to examine the person to get a clue of what they're talking about. The pains are often diffuse, but they might be painful locally, which could indicate a mass or a bladder distension."
For that reason, he doesn't support the idea of patients depending on telehealth doctors in virtual primary care plans. "These doctors would not be available to care for the patient in an urgent situation without sending them to a costly emergency room or urgent care clinic. In those settings, excess testing is done because of a lack of familiarity with the patient and his or her history and exam. I think a combination of in-person and telehealth visits presents the best circumstance for the patient and the physician. Having said that, I do believe that telehealth alone is better than no interaction with a health care provider."
United Approach Can Help With Prevention
Donny Aga, MD, an internist with Kelsey-Seybold, a multispecialty group in Houston, Texas, has been a member of United's virtual health advisory group for the past 2 years. In his view, United's virtual primary care service is moving in the right direction by covering preventive and chronic care. Noting that 25% to 30% of patients nationally have put off wellness and chronic care visits out of fear of COVID-19, he says, "If health plans like United are willing to cover preventive services through telehealth, that will allow us to catch up on a lot of the needed screening tests and exams. So it's a very positive step forward."
On the other hand, he says, virtual plans that depend solely on telehealth doctors are not the way to manage chronic conditions. "Primary care is best done by your own primary care physician, not by someone who doesn't know you from a distance."
Regarding the virtual plans in which patients can establish relationships with telehealth physicians, Aga says that this approach can benefit some patients, especially those who live in rural areas and don't have access to primary care. But there are drawbacks, including the telehealth providers' lack of knowledge about local specialists, he says.
"The negative is that you don't have a PCP who's local, who knows you, who has examined you before, and who has a good relationship with those specialists and knows who is the right specialist to see for your problem," Aga says. "It's very difficult, if you don't live and work in that area, to know the best places to send people."
Virtual Visits Cost Less
Like Basch, Aga says it's possible that some insurance companies might begin to cover office visits only for certain conditions or services if they can be managed more cheaply via telehealth. He hopes that doesn't happen; if it does, he predicts, patients and doctors will push back hard.
Why would a virtual primary care visit cost a health plan less than an in-person visit if it's paying doctors the same for both? Aga says it's because fewer prescriptions and lab tests are ordered in telehealth encounters. He bases this assertion on the quarter of a million virtual visits that Kelsey-Seybold has conducted and also alludes to published studies.
The characteristics of telehealth visits might explain this phenomenon, he says. "These visits are typically much shorter, and it's easy to be problem-centric and problem-based. Physicians use more of their intuitive skills, rather than just lab everybody up and get an x-ray, because that patient's not there, and it's easier to draw blood or get an x-ray if somebody is there."
Cutting Practice Overhead
From the perspective of Kelsey-Seybold, which is now conducting about a fifth of its visits virtually, "infrastructure costs are less" for telehealth, Aga notes. Although Kubitschek and Sawyer say it doesn't take less time to conduct a telehealth visit than an office visit, other practice costs may decrease in relationship to the percentage of a doctor's visits that are virtual.
"If implemented appropriately, telehealth consults should cost less in terms of the ancillary costs surrounding care," says Basch. He recalls that some years ago, a five-doctor primary care group in Portland, Oregan, began charging small monthly fees to patients for full-service care that included email access. After awhile, 40% of their patients were coming in, and the rest received care by email or phone. As a result, the doctors were able to downsize to a smaller office space because they didn't need a waiting room.
Although Basch doesn't believe it would be appropriate for practices to do something like this in the midst of a pandemic, he sees the possibility of it happening in the future. "Eventually, a group might be able to say, 'Yes, our practice expenses can be lower if we do this smartly. We could do as well as we've done on whatever insurance pays for office visits, knowing that we can deliver care to the same patient panel at, say, 10% lower overhead with telehealth.' "
Medscape Medical News © 2021

Send news tips to news@medscape.net.
Cite this: More Competition for Docs as Insurers Boost New Telehealth Plans? - Medscape - Mar 03, 2021.