This is part 2 of a 3-part series. Part 1 is here. Part 3 is here.
The idea was first inspired by Formula 1 racing: If elite teams could take high-tech motorhomes around the world supporting their drivers, why couldn't a cancer center take a similarly outfitted rig into the English countryside to treat patients near their homes?
It occurred to Christine Mills in 2003, as she sat helpless watching her husband David travel 60 miles in agony to be treated for spinal cancer.
Four years later, her charity, Hope for Tomorrow, launched England's first Mobile Cancer Care Unit. The program, which has since partnered with the UK's National Health Service, now has 13 mobile units, each with a nurse support vehicle, that visit a total of 42 locations in England on a regular basis.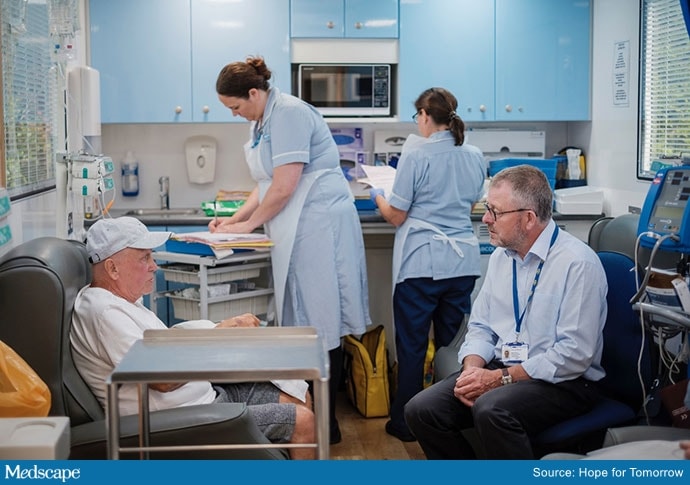 A patient receives treatment inside a mobile cancer care unit—or "chemobus," for short—in the United Kingdom.
These units operate as wards of the hospital, meaning they offer nearly all of the same services that patients would receive if they were treated as outpatients at the hospital. They offer not only blood tests, line clearing, and other minor procedures but also the delivery of oral and intravenous chemotherapy and other anticancer agents for patients with a range of cancers, including breast cancer.
For Allana Parker, who lives in a seaside town on the east coast of England, the mobile units have been a lifeline during COVID-19, which threatened to discontinue her treatment. She has an extremely rare form of sarcoma, an epithelioid hemangioendothelioma, and was traveling 3.5 hours to the Royal Marsden Hospital in London and back again for each treatment.
She now gets these treatments inside a mobile cancer unit in the parking lot of her local hospital, 3 miles from her home, every Friday. Rather than take a day off from work, patients like Parker can get their treatments over lunch or during a break in their daily schedule.
Not surprisingly, as many in-hospital services were converted to treat COVID-19 patients throughout the spring and summer, the mobile units were inundated with calls. The demand far outstripped capacity — a sign that both patients and oncologists recognized their value.
For those who could receive mobile treatments, the units have been a haven, a chance for patients who have spent the lockdown shielding themselves from the outside world to interact with others and even form long-term friendships.
"This sounds bizarre, but they've been excited to get out of the house to go and have their treatment in the unit, because it's local and they feel safe," Tina Seymour, chief executive of Hope for Tomorrow, said.
The UK Experience
In the United States, at-home cancer therapy is a nascent but growing movement. At the moment, it is available at a handful of predominantly academic or regional cancer centers, driven primarily by innovative oncologists or insurers looking to bring down the costs of administering cancer drugs.
There are signs that this is changing, however. For example, last June, as the coronavirus pandemic took hold throughout the United States, the FDA approved an injectable combination of pertuzumab and trastuzumab designed to be given at home. More recently, in January 2021, the largest pharmacy chain in the United States, CVS Health, announced an agreement with Cancer Treatment Centers of America to provide in-home chemotherapy.
But when it comes to delivering cancer care outside of the hospital, the United Kingdom is ahead of the United States.
Cassie James is a case in point. Diagnosed with bilateral breast cancer in 2016, James underwent a course of chemotherapy, surgery to remove parts of each breast and lymph nodes in both armpits, and finally, stereotactic radiotherapy for a lesion found in her brain.
But the bad news continued. She was then diagnosed with melanoma, found first on the sole of her foot and later in her groin.
For treatment, James had to make a 6-hour round trip from her home in Southport, Merseyside, England, to the hospital in St Helens. The long journey became even more stressful with the COVID-19 pandemic.
So when the hospital pharmacist asked her whether she would like to receive her treatment at home, she jumped at the chance.
Now the Clatterbridge Cancer Centre in Merseyside sends a nurse to her house once a week to give her intravenous infusions of pertuzumab and trastuzumab-dttb, a trastuzumab biosimilar, which takes a couple of hours.
The nurse also takes a regular blood sample every 3 weeks to check kidney and liver function.
"I cannot say how much better it is to be treated at home," James said. "If you look for anything positive on this journey that I'm on, that is a massive plus...because I used to worry every time I was [at the hospital]."
The Clatterbridge Cancer Centre in Merseyside has been offering home care services for nearly 7 years and now treats an average of about 200-300 patients a month. The approach was originally reserved for patients requiring treatment at home "on compassionate grounds," such as those with agoraphobia or learning difficulties, said Helen Poulter-Clark, the chief pharmacist at the center.
Referrals were high enough that healthcare commissioners had already approved a business case to expand the program even before the COVID-19 pandemic hit. When it did, a number of factors came together that further supported home delivery. The National Institute for Health and Care Excellence (NICE) published a series of guidelines allowing more flexibility in how oncologists could treat patients, including shortening the duration of adjuvant therapy and compressing radiation schedules.
"Some of the guidance basically swapped traditional chemotherapy for other drugs, particularly immuno-oncology drugs, that actually lent themselves quite nicely to being delivered in the community," Poulter-Clark said.
The dramatic increase in telemedicine nationwide also lent support. The result was that the center increased the number of cancer patients treated at home by 25% during the pandemic. The center has not had to turn anyone away — every patient referred for treatment at home has received it.
"A lot of these patients were shielding before it was even official that there was a lockdown," said Angela White, community service manager at the Clatterbridge Centre. "Being able to have just one nurse go in to see them at home, rather than have them come through the whole hospital… was a great reassurance to them."
Poulter-Clark emphasized, however, that home treatment is not for everyone.
"We have to remember that not all patients want to have chemotherapy at home," she said. "Some want home to be home, and they want to leave their cancer behind at the hospital."
"But for the vast majority of the patients who do have home treatment, when they have their treatment in their own home they're much calmer, they're less stressed, it's familiar surroundings for them, and they probably get more one-on-one time with the nurse," she said.
Cassie said that having her treatment at home eliminates stress. It also allows her to feel "more in control, as you're in your own environment," whereas "when you're at the hospital, you totally feel out of control all the time, and I don't like that feeling."
Drawbacks to At-Home Cancer Treatment
Even in the United Kingdom, where there is support from the National Health Service for at-home cancer treatment programs, some oncologists worry about the separation between patients and their physicians.
"Absolutely, there is a place for mobile clinics and at-home cancer treatment, particularly when you are dealing with geographically isolated populations," said Richard Sullivan, MD, from the Institute of Cancer Policy, King's College London.
However, beyond telephone consultations and doing more blood tests in the community, Sullivan sees a number of disadvantages to taking care outside of the hospital.
"People have this assumption — and I think it's because they don't understand how complicated and dangerous cancer treatments really are — that it doesn't matter about not seeing a real cancer doctor, a medical oncologist or a surgeon, for follow-up," he said. "The majority of the problems spotted during treatment or the immediate postoperative period are picked up by doctors or clinical nurse specialists in hospitals."
When the clinician or nurse sees the patient face-to-face, they are able to notice the patient's behavior and comportment, Sullivan said, and family members frequently offer additional information that the patient may not mention.
Some of these observations would not be noticed in homes or in the community, Sullivan argued.
For these reasons, "a lot of patients actually like coming in to the hospital," he said. "They see the clinical nurse specialist, they see doctors, and they just feel much safer and more secure."
Finally, he pointed out that there is a lack of evidence to show that giving treatment at home or in a mobile clinic does not affect outcomes.
"How do you know that it's absolutely fine and safe? People have just not done the studies," Sullivan said. "There's the automatic assumption that somehow this is better or safer and…that's an absolute 100% fallacy."
'We've Never Had an Issue in Terms of Patient Safety'
Gloucestershire oncologist Sean Elyan is familiar with this skepticism from colleagues.
Eleven years ago, Elyan signed on to serve as an advisor when the UK's first mobile cancer care units were being designed. He is now chair of the Hope for Tomorrow charity that manages the fleet.
"Initially you think it's going to be a very small proportion of patents for whom this is suitable," he said. "Patients will be very scared about it because they won't be in the big base with all the facilities and backup."
These concerns, however, have been unfounded.
The first mobile unit offered what Elyan considers "very conservative" regimens, about 30% of what was offered in the hospital.
"We've pushed that envelope quite considerably since then," he said. He estimates that they are now delivering up to 50% of chemotherapy regimens in the mobile unit. "There are definitely some that can't [be given that way] but it isn't a tiny minority that can."
He continued, saying, "We've never had an issue in terms of patient safety with the unit, over an 11-year period now, and finding patients to go to the units who have suitable regimens to deliver on them is not difficult."
Elyan knew that cancer patients would like the mobile units for the obvious reason of avoiding travel, especially the trip home from the hospital while feeling terrible after a chemotherapy infusion. But there was a second, unexpected benefit: Patients being treated in the mobile unit met other people in their community who had been diagnosed with cancer, and they developed friendships.
"When we brought all our patients into our central unit, the large number of patients meant the chances of linking in with anybody who lived in your locality were fairly low," Elyan said. In the mobile units, however, patients "almost always develop a network of people they know who are having treatment on the mobile unit who live near them and with whom they stay quite closely linked, even after their treatment has finished."
Beyond COVID-19
Throughout the COVID-19 pandemic, the mobile cancer units have been essential for patients afraid to get treated in the hospital.
An "overwhelming terror pervaded the thoughts of patients and their families about coming to hospital," Elyan said. "Lots of patients have said, 'I'm not coming; it's too dangerous.' Their fear of picking up COVID in the hospital when they got here was such that they would prefer to stop treatment."
These fears, however, have not been borne out. Cancer centers recognized the importance of keeping their units COVID free early on in the pandemic, and oncologists have found ways to maintain services despite the virus.
That said, should the push for cancer treatments closer to home continue post-pandemic?
For Elyan, the answer is unequivocally yes, and for more than just delivering chemotherapy.
"There are huge opportunities for mobile consultation suites that are properly set up for video consultations," he said. "They park in the same places as the chemotherapy units, and we can run both treatment consultations and clinical consultations. My experience of doing these consultations near to or in patients' homes remotely over a video link often allows people to make better decisions rather than coming to the hospital and feeling like they're in an alien environment."
The push to get more cancer treatments out of the hospital may be one of the few benefits to emerge from the pandemic.
"We owe it to all of those people who've tragically died during the COVID pandemic to see some good things that come out of it, and embed them," he said. "I think, personally, that keeping people closer to home and allowing them to benefit from that is one of those things that we have a duty to try, frankly."
This article is part of a series on at-home cancer treatments, including coverage of patient safety, the reimbursement and economic aspects of home cancer care, and a documentary video series showing cancer treatments given to patients at home.
Liam Davenport is a Europe-based medical journalist and writer, providing medical news and conference reporting in the fields of cardiology, oncology, and psychiatry, among others. He is a frequent contributor to Medscape.
Follow Medscape on Facebook, Twitter, Instagram, and YouTube
Medscape Medical News © 2021 WebMD, LLC

Send comments and news tips to news@medscape.net.
Cite this: Liam Davenport. In the UK, 'Chemobus' Units Bring Cancer Treatment Close to Home - Medscape - Mar 03, 2021.