Editor's note: Find the latest COVID-19 news and guidance in Medscape's Coronavirus Resource Center.
UPDATED with comments March 1, 2021 // The majority of COVID-19 hospitalizations in the United States are attributable to four preexisting cardiometabolic conditions, a new study suggests.
The authors estimate that among the 906,849 total COVID-19 hospitalizations that had occurred among US adults as of November 2020, 30% were attributable to obesity; 26% to hypertension; 21% to diabetes; and 12% to heart failure.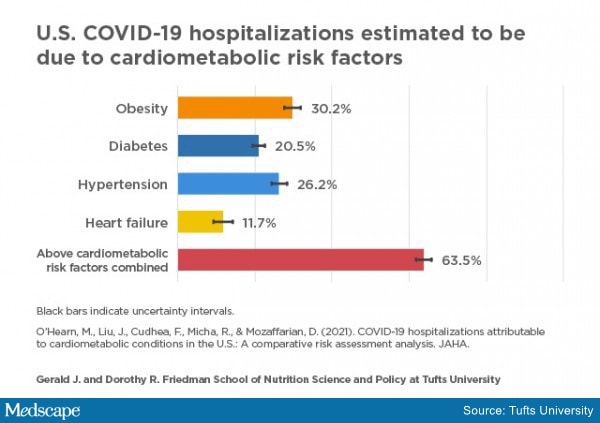 From the data, the investigators estimate that almost two thirds (63.5%) of the hospitalizations were attributable to these cardiometabolic conditions and that those hospitalizations would have been preventable had those conditions not been present.
They estimate that a 10% reduction in these four cardiometabolic conditions would potentially have prevented 11.1% of COVID-19 hospitalizations.
The authors believe more should be done to promote healthy lifestyle measures to improve overall cardiometabolic health and potentially minimize the risk for severe COVID-19.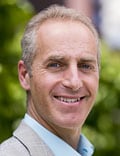 "It is a sad fact that this disease has been around for a whole year with millions dead and tens of millions hospitalized worldwide, and we haven't addressed one of the major ways of preventing such severe outcomes," senior author Dariush Mozaffarian, MD, told Medscape Medical News.
"We are closing businesses and stopping people from seeing their loved ones, but we are not telling them to lose weight and do some exercise. We should be focusing public health messages on reducing diabetes and obesity as a means to reducing severe COVID disease," he said.
Mozaffarian, who is a cardiologist and dean of the Gerald J. and Dorothy R. Friedman School of Nutrition Science and Policy at Tufts University, Boston, Massachusetts, added: "If individuals exercised a little more and ate a bit more healthily, we would see improvements in diabetes and hypertension in just a few weeks. We should be shouting this from the rooftops, along with the messages to wash hands, social distance, and wear masks."
The study was published online on February 25 in the Journal of the American Heart Association.
For their study, the researchers employed a mathematical simulation to estimate the number and proportion of national COVID-19 hospitalizations that could have been prevented had Americans not suffered from four major cardiometabolic conditions.
The researchers used data on the association between COVID-19 hospitalizations and each of the four conditions from a study of factors associated with hospital admission among 5279 patients with COVID-19 at a major health center in New York City.
Data from the Centers for Disease Control and Prevention's COVID-NET system and from the COVID Tracking Project were used to estimate COVID-19 hospitalizations by population subgroup. The data on the national distribution of the four conditions came from the most recent National Health and Nutrition Examination Survey.
The model indicated that age and race/ethnicity were associated with disparities in COVID-19 hospitalizations as a result of these four conditions. For example, about 8% of COVID-19 hospitalizations among adults younger than 50 years were estimated to be due to diabetes, compared to about 29% of COVID-19 hospitalizations among those aged 65 and older. Obesity had an equally detrimental impact on COVID-19 hospitalizations across age groups.
At any age, COVID-19 hospitalizations attributable to all four conditions were higher in Black individuals than in White individuals and were generally higher with regard to diabetes and obesity among Hispanic persons than among White persons.
For example, for persons aged 65 and older, diabetes was estimated to cause about 25% of COVID-19 hospitalizations among White individuals, about 32% among Black individuals, and about 34% among Hispanic persons.
When the four conditions were considered together, the proportion of attributable hospitalizations was highest for Black adults of all ages, followed by Hispanics. For example, among adults aged 18 to 49 years, the four conditions jointly were estimated to cause about 39% of COVID-19 hospitalizations among White persons and 50% among Black persons.
"National data show that Black and Hispanic Americans are suffering the worst outcomes from COVID-19. Our findings lend support to the need for prioritizing vaccine distribution, good nutrition, and other preventive measures to people with cardiometabolic conditions, particularly among groups most affected by health disparities," Mozaffarian said.
"Policies aimed at reducing the prevalence of these four cardiometabolic conditions among Black and Hispanic Americans must be part of any state or national policy discussion aimed at reducing health disparities from COVID-19," he said.
Mozaffarian pointed out that the study used an established analytic modeling approach but that the results are estimates and do not prove cause and effect.
"Association does not equal causation, and our modelling approach does not prove that improvements in cardiometabolic health will reduce the risk of COVID-19 hospitalization. However, the magnitude of our simulated findings supports the need for interventional studies to test this possibility," the researchers state.
Still, Mozaffarian believes the results do reflect cause and effect.
"These conditions are very strongly related to severe COVID infection. We adjusted for age, sex, and other medical conditions, and we still found these four cardiometabolic conditions to be independently associated with COVID hospitalization," he noted. "This is not just a respiratory virus. It causes widespread vascular inflammation, which is consistent with these cardiometabolic conditions. If these conditions weren't there, COVID would be less severe," he commented.
"But even if our 64% estimate is off by half ― which I don't believe it is ― that would still be one third of severe cases caused by four cardiometabolic diseases that can be prevented. These are huge numbers."
COVID-19 is a fast pandemic on top of the slow pandemic of obesity and diabetes.
Mozaffarian stressed the need for the public to understand the importance of good nutrition. "This is the foundation to heath. Poor nutrition is the single biggest contributor to disease globally, and it is also contributing to COVID situation," he said. "COVID-19 is a fast pandemic on top of the slow pandemic of obesity and diabetes."
Commenting on the study for Medscape Medical News, George L. Bakris, MD, professor of medicine and director of the American Heart Association Comprehensive Hypertension Center at the University of Chicago Medicine, Chicago, Illinois, said the data were consistent with observations that older people, especially those with diabetes, heart disease, and pulmonary disease, are at higher risk for more severe disease manifestations of COVID-19.
But he noted that on the basis of many epidemiologic substudies, hypertension alone, in the absence of heart disease, lung disease, or diabetes, has not been implicated as a factor in the severity of COVID.
"The government has previously had campaigns encouraging exercise and weight loss, and all the programs available to help facilitate this have not helped. The concept of cognitive dissonance is applicable. While people are aware of the risks, they have great difficulty changing behavior," Bakris added
Acknowledging the difficulty in persuading people to change their habits, Mozaffarian points out that the COVID pandemic is an exceptional event and has caused the vast majority of people to change their behavior.
"People would also make changes to their diet and exercise habits if they were given a clear message that this could reduce their risk of a severe COVID outcome," he said.
He urges the major stakeholders ― governments, cardiovascular societies, and businesses ― to deliver that message.
"Every single day, we should be hearing advice to eat more vegetables and fewer chips, sodas, and processed foods and walk a bit more," he said. "This could have a massive effect on COVID disease outcomes and on overall public health."
Also commenting on the study for Medscape Medical News, two experts broadly agreed with conclusions reached by the authors.
"These are reasonable conclusions but with the limitations acknowledged by the authors that what is demonstrated here are associations and may or may not be causally related," said Darren McGuire, MD, professor of internal medicine at the University of Texas Southwestern Medical Center, Dallas, Texas. "That is, modifying the risk factor may or may not modify the severity of COVID 19 infection.
"At the very least, these observations provide strong support for the hypothesis that could be tested in randomized trials of lifestyle interventions. But it is also reasonable to consider applying such approaches anyway, given the breadth of health benefits of normal weight, absence of diabetes, and normal blood pressure," McGuire added. "Both government and medical societies should support such efforts."
Robert Eckel, MD, professor emeritus of medicine at the University of Colorado, Denver, and past president of both the American Heart Association and the American Diabetes Association, said he might take some issue with the term "attributable" in the authors' conclusion.
"A better descriptor would be 'associated,' " he said. But he agreed with the idea of a public health campaign urging people to eat more healthily and exercise more as a way of reducing their risk for severe COVID.
The research was supported by the National Institutes of Health and the National Heart, Lung, and Blood Institute. Mozaffarian has received research funding from the Gates Foundation and the Rockefeller Foundation; personal fees from the Global Organization for EPA & DHA omega-3s (GOED), Barilla, Bunge, Indigo Agriculture, Motif FoodWorks, Amarin, the Cleveland Clinic Foundation, and America's Test Kitchen (modest), and Acasti Pharma and Danone (significant). He has participated on scientific advisory boards of startup companies focused on innovations for health, including Brightseed, Calibrate, DayTwo, Elysium Health, Filtricine, Foodome, HumanCo, and Tiny Organics (significant), and has received chapter royalties from UpToDate (modest), all outside the submitted work.
J Am Heart Assoc. Published online February 25, 2021. Full text
For more from the heart.org | Medscape Cardiology, follow us on Twitter and Facebook.
Medscape Medical News © 2021

Send news tips to news@medscape.net.
Cite this: Most Severe COVID Tied to Four Cardiometabolic Conditions - Medscape - Feb 25, 2021.