A Miami-based anesthesiologist has been arrested and charged with a hate crime. As a result, she has been removed from patient care duties.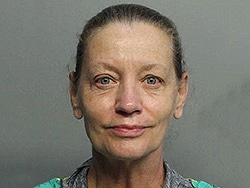 Jennifer Susan Wright, MD, was arrested on February 19 and charged with criminal mischief, tampering with a victim, and battery with prejudice, a felony hate crime, according to the Miami Herald, which first reported the arrest.
In a statement to Medscape Medical News, Wright's attorney, Carlos F. Gonzalez, said the allegations "are simply not true." Gonzalez, who is based in Coral Gables, Florida, added, "We look forward to discrediting this ugly attack against our client that is filled with lies and twisted information to fit someone else's political agenda."
The arrest followed a January 20 incident in which police say Wright took issue with a Hispanic man who had asked her to keep her distance from him while standing in line at a supermarket in Hialeah, Florida. According to the Miami Herald, a Hialeah police report said that Wright later accosted the man in the parking lot, called him an ethnic slur, and shouted, "We should have gotten rid of you when we could."
The woman further said, "This is not going to be Biden's America, this is my America," according to the Miami Herald.
The newspaper said that Wright, who lives in Miami Springs, was an avid supporter of former President Donald Trump. During Halloween, she decorated her front lawn with a dummy resembling President Joe Biden and a sign that said, "Expose the Biden Crime Family," the newspaper reported.
In the January incident, Wright also used her keys to scratch the Hispanic man's car and kicked and punched him while he attempted to call 911, police say. She then fled the scene before officers arrived.
Gonzalez said Wright is not speaking to the press, and he asked news media "to please stay away from her home."
Wright's medical license is currently in good standing, and she has never been disciplined or been the recipient of any public complaints since she was first licensed in 2008, according to the Florida Health Department.
Her employer, the Mount Sinai Medical Center, in Miami, has removed her from patient care duties, according to a statement from Gino R. Santorio, the hospital's president and CEO.
"We are aware of the hate crime arrest of an anesthesiologist who practiced at the medical center," said Santorio in the statement, which was emailed to Medscape Medical News. "The details that have been reported regarding the incident are unacceptable and counter to the culture we foster and the mission that guides us," he said.
Santorio further noted that "since our inception, we have remained dedicated proponents of ensuring equality for all, regardless of our differences, including race, religion, nationality, creed, sexual orientation, and socio-economic status."
Mount Sinai is fully cooperating with law enforcement and other appropriate authorities in the case, he said.
For more news, follow Medscape on Facebook, Twitter, Instagram, and YouTube.
Medscape Medical News © 2021

Send news tips to news@medscape.net.
Cite this: Miami Anesthesiologist Charged in Hate Crime - Medscape - Feb 24, 2021.