Editor's note: Find the latest COVID-19 news and guidance in Medscape's Coronavirus Resource Center.
What happened to Hasan Gokal, MD, should stick painfully in the craws of all physicians. It should serve as a call to action because Gokal is sitting at home today without a job and under threat of further legal action while we continue about our day.
Gokal's "crime" is that he vaccinated 10 strangers and acquaintances with soon-to-expire doses of the Moderna COVID-19 vaccine. He drove to the homes of some in the dark of night and injected others on his Sugar Land, Texas, lawn. He spent hours in a frantic search for willing recipients to beat the expiration clock. With minutes to spare, he gave the last dose to his at-risk wife, who has symptomatic pulmonary sarcoidosis, but whose age meant she did not fall into a vaccine priority tier.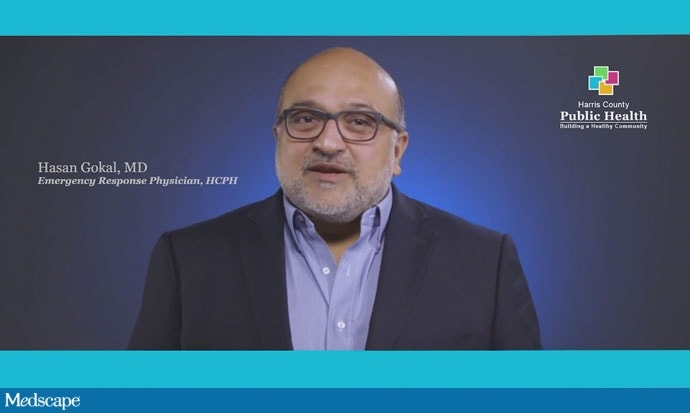 According to the New York Times Gokal's wife was hesitant, afraid he might get into trouble. But why would she be hesitant ? He wasn't doing anything immoral. Perhaps she knew how far physicians have fallen and how bitterly they both could suffer.
In Barren County, Kentucky, where I live, a state of emergency was declared by our judge executive because of inclement weather. This directive allows our emergency management to "waive procedures and formalities otherwise required by the law." It's too bad that the same courtesy was not afforded to Gokal in Texas. It's a shame that ice and snow didn't drive his actions. Perhaps that would have protected him against the harsh criticism. Rather, it was his oath to patients and dedication to his fellow humans that motivated him, and for that, he was made to suffer.
Gokal was right to think that pouring the last 10 vaccine doses down the toilet would be an egregious act. But he was wrong in thinking his decision to find takers for the vaccine would be viewed as expedient. Instead, he was accused of graft and even nepotism. And there is the rub. That he was fired and charged with the theft of $137 worth of vaccines says everything about how physicians are treated in the year 2021. Gokal's lawyer says the charge carried a maximum penalty of 1 year in prison and a fine of nearly $4000.
Thank God, a sage judge threw out the case and "rebuked" the office of District Attorney Kim Ogg. That hasn't stopped her from threatening to bring the case to a grand jury. That threat invites anyone faced with the same scenario to flush the extra vaccine doses into the septic system. It encourages us to choose the toilet handle to avoid a mug shot.
And we can't ignore the racial slant to this story. The Times reported that Gokal asked the officials, "Are you suggesting that there were too many Indian names in this group?"
"Exactly" was the answer. Let that sink in.
None of this would have happened 20 years ago. Back then, no one would have questioned the wisdom a physician gains from all our years of training and residency. In an age when anyone who conducts an office visit is now called "doctor," respect for the letters "MD" has been leveled. We physicians have lost our autonomy and been cowed into submission.
But whatever his profession, Hasan Gokal was fired for being a good human. Today, the sun rose on 10 individuals who now enjoy better protection against a deadly pandemic. They include a bed-bound nonagenarian. A woman in her 80s with dementia. A mother with a child who uses a ventilator. All now have antibodies against SARS-CoV2 because of the tireless actions of Gokal.
Yet Gokal's future is uncertain. Will we help him or will we leave him to the wolves? In an email exchange with his lawyer's office, I learned that Gokal has received offers of employment but is unable to entertain them because the actions by the Harris County District Attorney triggered an automatic review by the Texas Medical Board. A GoFundMe page was launched, but an appreciative Gokal stated publicly that he'd rather the money go to a needy charity.
In the last paragraph of the Times article Gokal asks, "How can I take it back?" referencing stories about "the Pakistani doctor in Houston who stole all those vaccines."
Let's help him take back his story. In helping him, perhaps we can take back a little control. We could start with letters of support that could be mailed to his lawyer, Paul Doyle, Esq., of Houston, or tweet, respectfully of course, to the district attorney @Kimoggforda.
We can also let the Harris County Public Health Department in Houston know what we think of their actions.
On Martin Luther King Day, Kim Ogg, the district attorney who charged Gokal, tweeted MLK's famous quote: "Injustice anywhere is a threat to justice everywhere."
Let that motivate us to action.
Melissa Walton-Shirley, MD, is a native Kentuckian who retired from full-time invasive cardiology. She enjoys locums work in Montana and is a champion of physician rights and patient safety. In addition to opinion writing, she enjoys spending time with her husband, daughters and parents, and sidelines as a backing vocalist for local rock bands.
Follow Melissa Walton, Shirley on Twitter
Follow theheart.org | Medscape Cardiology on Twitter
Follow Medscape on Facebook, Twitter, Instagram, and YouTube
© 2021 WebMD, LLC

Any views expressed above are the author's own and do not necessarily reflect the views of WebMD or Medscape.
Cite this: Melissa Walton-Shirley. Fired for Good Judgment a Sign of Physicians' Lost Respect - Medscape - Feb 23, 2021.