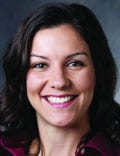 Home-based subcutaneous immune globulin therapy is a promising alternative to intravenous immune globulin therapy for patients with refractory dermatomyositis or polymyositis, Anna Postolova, MD, MPH, declared at the 2021 Rheumatology Winter Clinical Symposium.
"This is really exciting. I think in the years to come we may see a change to having our patients be able to do immune globulin therapy at home," said Postolova, a rheumatologist and allergist/immunologist at Stanford (Calif.) Health Care.
"The technology is there. I think our patients might feel more comfortable getting immune globulin at home," she said. "I would love to switch more patients from IVIg to SCIg [subcutaneous immune globulin] in my practice."
A few caveats: SCIg remains off label for treatment of dermatomyositis (DM) or polymyositis (PM). Its approved indication is as replacement therapy in patients with primary or secondary immunodeficiency diseases. IVIg is approved for this indication, but is also approved for DM/PM refractory to high-dose corticosteroids and immunosuppressants. Yet SCIg is clearly effective for these autoimmune inflammatory diseases, albeit to date the supporting evidence comes chiefly from observational studies and anecdotal experience.
"I don't know if insurers will cover it, but they should because it's obviously a lot cheaper to do it at home," she noted.
SCIg Advantages
SCIg offers compelling advantages over IVIg in addition to its substantially lower cost. These include far fewer systemic side effects, shorter infusion time, greater bioavailability, and better quality of life. Patients self-administer SCIg at home, avoiding the inconvenience of IVIg therapy, which entails travel time for once-monthly hospitalization or long hours spent in an infusion center, she explained.
French investigators recently documented a previously unappreciated further advantage of home-based SCIg. They convened a focus group of patients with DM or PM experienced with both IVIg and home SCIg and determined that participants uniformly preferred home SCIg. The patients cited a new and welcome feeling of autonomy and control.
"All patients with experience of IVIg and SCIg expressed a clear preference for SCIg, which was described to be easy, less disruptive for daily life, well tolerated, and less time-consuming. Preference was mainly related to a restoration of autonomy. Home-based self-administration reinforced the feeling of independence," according to the investigators.
Available Products
Six preparations of SCIg are commercially available. Most are in 10% concentration, as are all IVIg products. However, a 20% formulation of SCIg known as Hizentra allows for a smaller infusion volume and quicker completion of a treatment session. And one SCIg product, HyQvia, uses recombinant human hyaluronidase-facilitated 10% immune globulin, allowing home infusion of large volumes of sustained-release immune globulin on a once-monthly basis.
The relatively recent introduction of home SCIg for treatment of autoimmune inflammatory diseases, including DM, PM, and chronic inflammatory demyelinating polyneuropathy, has been pioneered mainly by European investigators. The treatment is often given by programmable mechanical pump once weekly. Italian investigators have reported efficacy in DM using 0.2 g/kg per week, which is about half the monthly total dose of IVIg employed. The infusion rate is 10-40 mL/hour, with a volume of around 35 mL per injection site.
Alternatively, SCIg can be delivered by rapid push infusions of smaller volumes with a syringe two or three times per week; that's the regimen that was used at 2 g/kg over the course of a month by patients in the French focus group study, who didn't mind the more frequent dosing.
"As they have had severe long-lasting symptoms, SCIg was perceived as a curative rather than a preventive therapy," according to the French investigators.
More than 40% of patients experience adverse reactions to IVIg. These often involve headaches, nausea, back or abdominal pain, arthralgias, and/or difficulty breathing. Thromboembolic events and acute renal failure occur occasionally. For this reason, many physicians give a prophylactic dose of corticosteroids an hour before a patient's first dose of IVIg. These systemic side effects are so rare with SCIg that Postolova has never pretreated with steroids, even though the main reason she resorts to the home therapy is a patient's track record of poor tolerance of IVIg. The lower abdomen and thigh are the most commonly used subcutaneous infusion sites. Mild local infusion site reactions are fairly common.
Formulating IVIg and SCIg is a complex process that entails plasma procurement and pooling, fractionation, and purification. It takes 10,000-60,000 plasma donations to make one lot of IVIg. Donations are accepted only from repeated donors. Samples are held for 6 months and tested for infectious agents. However, efforts are underway to develop bioengineered recombinant immune globulin products that don't require donated plasma. These products are being designed to capture and enhance the most important mechanisms of benefit of plasma-derived immunoglobulins using Fc fragments that target key receptors, rather than relying on full-length immune globulin. The goal is enhanced efficacy at much lower doses than with IVIg or SCIg.
Postolova reported having no financial conflicts regarding her presentation.
This article originally appeared on MDedge.com, part of the Medscape Professional Network.
Medscape Medical News © 2021 WebMD, LLC

Send comments and news tips to news@medscape.net.
Cite this: Consider Home Subcutaneous Immune Globulin for Refractory Dermatomyositis - Medscape - Feb 19, 2021.