Editor's note: The original text has been revised and updated.
As Gavin Giovannoni, MBBCh, PhD, an esteemed British multiple sclerosis (MS) expert, set out for his Saturday morning run on Nov. 7, 2020, the world's weighty problems swirled through his head. Brexit, a U.S. election, a global pandemic, not to mention the daily struggles of his patients with their degenerative illness. As professor and chair of neurology at the Blizard Institute at Barts and the London School of Medicine and Dentistry, Giovannoni's running had been an important release for him during the various stages of the lockdown. He'd lost some weight, logged more distance, and even run a marathon in under 3 hours and 20 minutes a few weeks earlier. At 56 he sometimes felt the aches of a long-distance runner. He suspected he had some arthritis in his hips, he could feel it when he ran, but still, he just kept going, motivated by the times he logged on his Garmen watch and pushing himself to keep pace with others in the Strava online running community.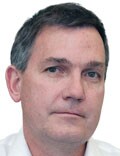 That particular Saturday, working to still his mind, an audiobook piping through his noise-canceling earbuds, Giovannoni stepped off the curb on Acre Lane in the South London district of Brixton, and was hit by a motorbike speeding to beat the red light.
The world went black as his body went hurtling through the air. When he gained consciousness about 15 minutes later, still lying on the road, he knew his neck was broken, but the searing pain told him his spinal cord was still intact.
The next hours revealed the full extent of Giovannoni's injuries: a fractured pelvis, mild head injury, and shattered cervical vertebra. Immobilized in his hospital bed, he found the pain at times unbearable, even with a cocktail of morphine and gabapentin, "which is keeping the gnawing hyena and white lightning at bay," he blogged.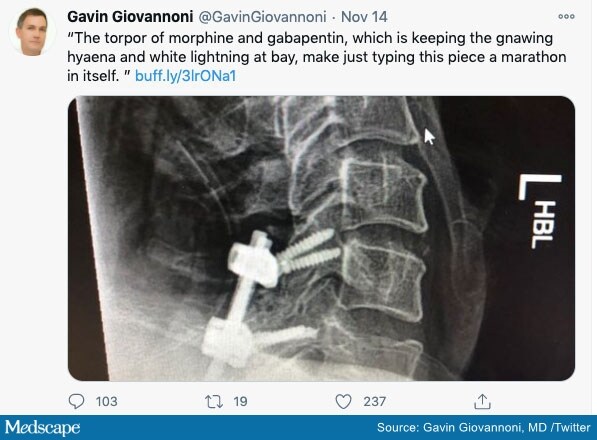 But, determined to focus on the positives of the situation, Giovannoni devised his rehabilitation goal: a fundraising "bed-to-5-km walk," to be achieved by the end of 2020.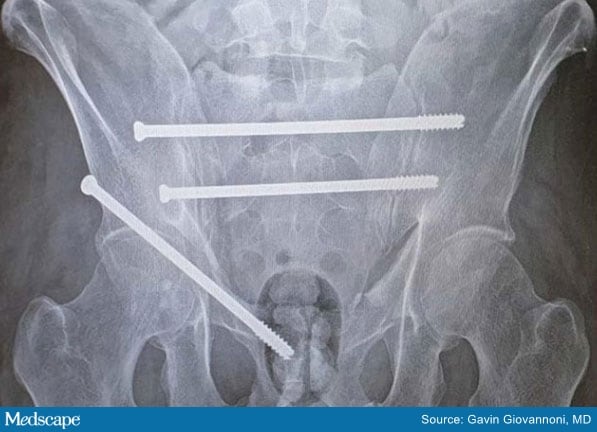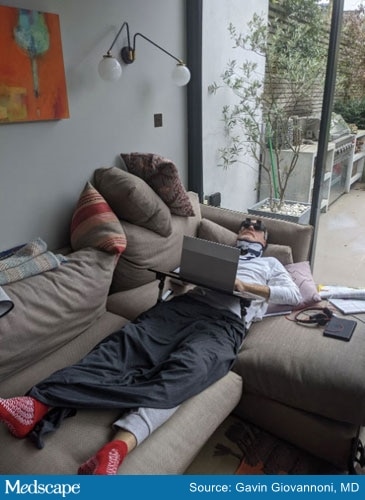 Wearing periscope glasses so he could see the laptop screen from his horizontal position in bed, he began tweeting and blogging about his progress.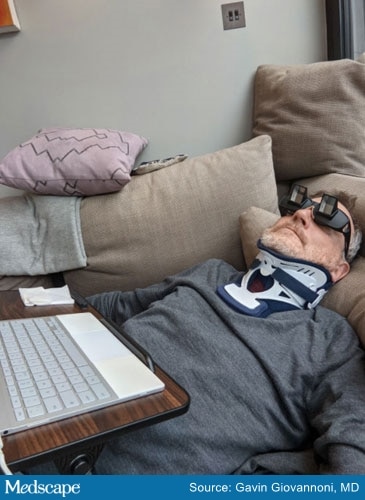 If you'd asked Giovannoni's orthopedic surgeon in those early days he most likely would have said that going from bed to walking 5 kilometers in less than 8 weeks may have been overly ambitious; 2 weeks after the accident, his patient could barely walk 20 meters, even with crutches. But less than 3 weeks after the accident Giovannoni walked 1 kilometer unaided, and at 1 month he had walked 2.7 kilometers and struggled through 15 sit-ups. But it hasn't been easy.
On a zoom call, lying on his couch before Christmas, Giovannoni was realistic about the challenge: "To be honest with you I could go out there and do it now if I wanted to," he insisted. "It would just be very painful, and that would serve nobody's interests. So, I'm not sure it's wise … I'm probably going to cut down a little bit on the walking distance and, try not to overdo it."
One might expect that being forced to move the goalposts would be difficult for someone as ambitious and energetic as Giovannoni, and yet there was not a hint of disappointment or regret in his tone.
"I am focusing on how lucky I am," he wrote in a blog post. "Firstly, to be alive, yes to live another day and secondly not to have had a more severe head injury or spinal cord injury."
In fact, moving goalposts is a big part of what he counsels his MS patients about, and he sees it as a necessary step in symptom management.
"For someone recently diagnosed with MS, the idea of needing a walking stick or a wheelchair is unacceptable, but by the time they get there they've reassessed," he explained. "People's ambitions and aims all change with time. That happens generally with aging, and patients with chronic diseases also readjust."
Spending 2 weeks flat on his back in the hospital gave Giovannoni a new appreciation of the experience of patients – both MS and others – and lots of time to think about how things could be better.
From the foggy aftermath in the ambulance, to the decisions weighed in the operating room, he was struck by the systematic order in his care.
"Acute medicine people run 'pathways,' well-defined protocols of checkboxes designed to make sure they don't miss anything," he said. "I was pretty impressed. I don't think we do it, but we could easily do it in chronic disease."
Standardized pathways in MS care could identify timelines for patients to get MRIs, schedules for bloodwork, and algorithms for medications – all of which would not only ensure patients' timely diagnosis and treatment but also that they are included in their care.
"When you design these things, you have to involve the patients in the design so they understand what's happening to them," he said, recalling how he himself took an active role from the start, insisting on the use of a spinal board at the accident scene, and then weighing in on the benefits of an immediate, less precise surgery versus a delayed, more focused one.
"As MS patients eventually become more informed, they often look back and regret not taking a more active approach at the start," he said. "If you created these standardized care pathways, you would make sure people understood, or at least had the options presented to them."
Clarity of mind is also something that Giovannoni said he didn't fully appreciate before his accident. And now he realizes how easily it can be robbed from his patients. "Being on an opioid for pain is not pleasant," he blogged, describing "visual and auditory hallucinations, torpor, confusion, forgetfulness and depression. A dystopian mental prison."
"I was on gabapentin for neuropathic pain. My goodness me it's bloody terrible, you can't think straight on it … and I'm still on morphine," he said. "The combination of those two just fries your brain – you can't think – and your attention span is literally half an hour. We use tons of gabapentin in MS for pain or spasticity and then we use drugs like baclofen, sedating tricyclics, anticonvulsants, and a lot of antispasticity agents. This is just an enormous class of sedating therapies, and if this is what MS patients feel like, God, how do they get productive? It's terrible."
He said health care professionals "have a habit of reaching for prescriptions before lots of other things," particularly behavioral and lifestyle issues around fatigue management and spasticity. "Our patients are on long lists of medications and we could ask ourselves: Do they really need them all? A lot of them don't."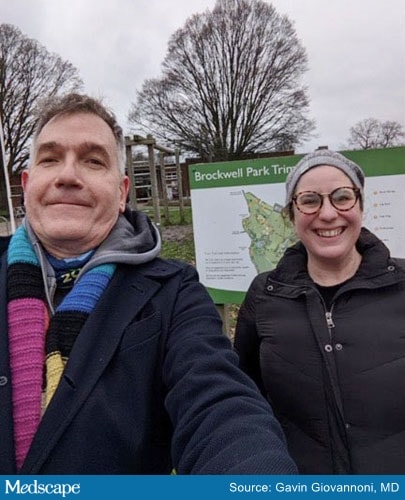 As the days wound down to the end of 2020, Giovannoni faced a new challenge: exposure to a person with COVID-19 forced him to quarantine and confine his walking to home. Still, just before Christmas he had hit the 4-km mark, with more than 70% of his fundraising goal met.
Finally, on Dec. 29 he tweeted: "It's officially over! Prof G has successfully completed his 'Bed-to-5-km Challenge' and in so doing has helped raise £25,000 for the Barts-MS COVID-19 Antibody Study. Thank you to all the supporters who made this possible ."
With his first goal now behind him, he's looking ahead to a return to running – something he's been told is possible, though not guaranteed. "If my weakness doesn't get better it's not going to be the end of the world for me because it's not going to be that disabling for me. But you've got to have a path of hope and even people with chronic diseases have to have something to look forward to."
The Latest
Since the original story published in early 2021, Giovannoni's recovery has continued and he is now back working full-time. He achieved his January goal of walking 10 km ― twice. However, after blogging about his residual pain, balance problems, and limited range of motion, he was flooded with concerned messages suggesting he slow down.
"I was clearly overdoing it and yes I admit you told me so," Giovannoni wrote in a subsequent post.
"When I had an x-ray of my pelvis a few weeks ago, the fracture of my left superior pubic ramus was not healing. Probably because I was doing too much exercise, which was causing some movement at the fracture site and non-union. I have been advised not to do anything that makes the pelvic pain worse," he noted.
"I weaned my anti-inflammatories only to find that were masking a lot of my pelvic pain. As a result, I have dramatically cut down on my walking, stopped using the exercise bike for cardio work-outs, and I am limiting my lower limb exercises to those that aren't painful," Giovannoni added.
Running, which was such a part of his life before the accident, remains a distant goal.
"I really can't imagine a life without running, but who am I to complain when so many of my patients with MS have had to resign themselves to never being able to run or even walk again," Giovannoni wrote. "I think I am beginning to understand the mental toll MS places on people when they realize their physical and mental disabilities are worsening."
Still, he says he remains positive overall and is busy with work and "achieving a little more each day." And Giovannoni has paused his blog updates for now.
"Can I please make this the last update for the next three or four months? If I ever do another update it will be when I am back running again, or not," he wrote.
This article originally appeared on Multiple Sclerosis Journey / MDedge Neurology.
Medscape Medical News © 2021 WebMD, LLC

Cite this: Accident Gives MS Doctor Insight Into Patients' Lives - Medscape - Feb 16, 2021.