Remdesivir (Veklury) is not associated with acute kidney injury, the Pharmacovigilance Risk Assessment Committee (PRAC) of the European Medicines Agency (EMA) has concluded following a safety review.
Remdesivir currently has conditional marketing authorization in Europe for the treatment of COVID-19 in adults and adolescents aged 12 years or older with pneumonia who need supplemental oxygen.
Reports of acute kidney injury in some patients with COVID-19 receiving the antiviral drug prompted the PRAC to launch a safety review in October.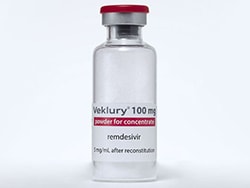 The committee assessed all available information, including data provided by Gilead, analyses of reported adverse reactions, and data from clinical trials and published scientific literature. After considering all the data, the PRAC concluded that there is currently "no evidence" indicating that the reported kidney problems are related to use of remdesivir.
The committee will continue to monitor the potential for kidney injury with the drug through periodic safety update reports and pandemic summary safety reports that are required to be submitted by the manufacturer.
Sinus Bradycardia a Risk?
The PRAC also announced at its February meeting that it has started a new "safety signal" procedure for remdesivir after the Italian Medicines Agency, AIFA, raised a signal regarding 11 cases of sinus bradycardia in patients taking the antiviral medication.
"After reviewing the available evidence provided in these cases, the PRAC decided to request an in-depth evaluation of all available data, including reports from EudraVigilance, clinical trials and the published literature," the PRAC says in a statement.
"At this stage, it is not yet clear whether there is a causal association between Veklury and the reports of sinus bradycardia," the agency notes.
"These reports form a 'safety signal' — information on new or changed adverse events that may potentially be associated with a medicine and that warrants further investigation," the committee explains.
For more news, follow Medscape on Facebook, Twitter, Instagram, and YouTube.
Medscape Medical News © 2021

Send news tips to news@medscape.net.
Cite this: Remdesivir Not Linked to Kidney Injury, EU Investigating for Sinus Bradycardia - Medscape - Feb 16, 2021.