MANCHESTER—A world-renowned oncologist who was "put on a pedestal" and "intimidated" hospital staff prescribed chemotherapy to a dying patient despite concerns being raised about the treatment, a medical tribunal heard.
Professor Justin Stebbing is said to have pressed ahead with the chemotherapy even though the patient was too unwell for it and their condition was "rapidly deteriorating".
He's accused of inappropriately treating terminally ill cancer patients, in some cases overstating life expectancy or the benefits of treatment and continuing to provide treatment when they had just weeks to live.
Professor Stebbing, who specialises in immunotherapy for breast, lung, and gastrointestinal cancers at Imperial College London and has a private practice in Harley Street, has treated wealthy patients from around the world.
They have included New Zealand multi-millionaire Sir Douglas Myers and the actor Lynda Bellingham.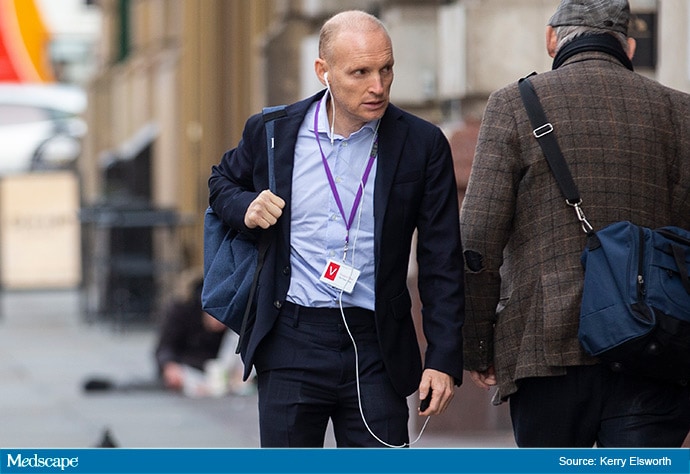 Patient G
A Medical Practitioners Tribunal Service (MPTS) hearing in Manchester heard evidence relating to one patient - named only as Patient G - who was treated at the intensive-care unit (ICU) of the London Clinic - the UK's largest private hospital - in March 2016.
Nuala Close, former matron at the hospital, had challenged Professor Stebbing's decision to give the patient chemotherapy, deeming it "inappropriate" after other staff had also raised concerns.
Mary O'Rourke, QC for Professor Stebbing, suggested that an email sent to Ms Close by a colleague in ICU had indicated that a "multi-disciplinary" group had reviewed the patient and the chemotherapy was appropriate.
Ms Close said: "If you're not an oncologist I think you couldn't make a decision about the chemotherapy.
"What they were doing is following Professor Stebbing's plan…what he had documented he wanted for his patient and they would have got together to see how they deliver that."
Ms Close said she'd become aware the treatment was inappropriate after speaking to a senior nurse who'd raised concerns following conversations with two lung cancer doctors.
"They felt this protocol that had been chosen was with scant evidence."
She said the patient's condition had "significantly deteriorated" and he'd become "extremely agitated" after been examined by Professor Stebbing.
As a result, the chemotherapy was not administered to the patient and Ms Close then received a telephone call from an "annoyed" Professor Stebbing who claimed ICU consultant Sara Polhill was also "furious" at the decision.
The chemotherapy was eventually administered the following day.
Ms Close said she later informed former hospital Director Simon St Clair Carter and then Chief Executive Paul Holdom to "alert" them to concerns that had been raised about the treatment.
'Challenging' Relationship
Ms O'Rourke put it to Ms Close that she'd had a "poor relationship" and poor communication with Professor Stebbing.
Ms Close described the relationship as "challenging" but said they had found a way to communicate albeit in a "short and sharp" manner.
Under questioning from Sharon Beattie, for the GMC (General Medical Council), she said she would often get an "aggressive" phone call from Professor Stebbing when she had challenged him over a patient's treatment.
"My role was about quality of care and governance and good patient care," she said.
"I treated Professor Stebbing as I would treat any other consultant in the building even though he was a high-standing consultant and was treated slightly differently by many other people who put him on a pedestal."
She also told the hearing that many staff felt "intimidated" by him and had not been able to challenge or overrule his decisions.
The hearing was previously told how Professor Stebbing was suspended by the hospital in May 2016 after he "lost the confidence" of staff.
Mr Holdom had described the suspension as a "big decision" given the oncologist's status and 10% of the cancer patients treated at the hospital were his.
Professor Stebbing faces a total of 33 charges - most of which he denies - concerning his failure to provide good clinical care to 11 patients between March 2014 and March 2017.
They include making decisions based on an "unrealistic" or "poor" prognosis given a patient's deteriorating condition, failing to gain informed consent by not discussing the risks and benefits of treatment with patients, and failing to maintain proper records.
The hearing continues.
Ian Leonard is a freelance journalist experienced in covering MPTS hearings.
© 2021 WebMD, LLC

Send comments and news tips to uknewsdesk@medscape.net.
Cite this: Ian Leonard. World-renowned Oncologist 'Gave Chemo Despite Concerns Raised' - Medscape - Feb 10, 2021.