A second-year medical student who quadrupled his investment during the frenzy involving GameStop stock in January used some of the profits to help a children's hospital in his city.
Aaron Schmid, a student at Marion University in Indianapolis, had been playing the stock market for a few years, hoping to boost his retirement savings. This despite the fact that he's already paying thousands of dollars a month on his student debt. Schmid, 30, was a pharmacist before going back to medical school and already had about $200,000 in loans from that education. He estimates his total student debt will reach nearly $500,000 by the time he's finished.
Although he certainly could have used all the stock profits himself, Schmid says giving back is important to him. "If I'm blessed with that money, then I need to pay it forward," he said.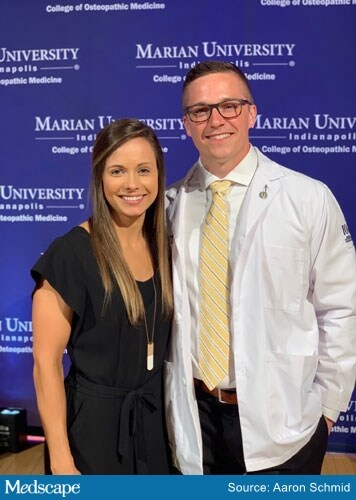 If you haven't been following what's happening with GameStop stock, here's a very quick primer: Members of a Reddit community called WallStreetBets joined together to buy huge volumes of GameStop stock. This drove up the price and devastated some hedge fund managers, who had invested large sums of money in a prediction that the stock would tank. At its lowest point over the last 12 months, GameStop shares sold for about $2.57 a share. At its peak, the stock traded at more than $483 a share, a nearly 19,000% increase.
Schmid had been a member of WallStreetBets for a few months. He had made a little money on another stock and figured, "why not give GameStop a try?" He invested $3000. The last week of January, that $3000 turned into $15,000. The Reddit group collectively advocated for everyone to hold their stocks, but Schmid said he couldn't justify it. "I get their logic, but I'm in med school and I've got a ton of debt and I'm not making any money," he said. "I have to be smart with my money — we have bills to pay."
Schmid is a religious person. His educational institution, Marian University, is a private, Roman Catholic school. He said his beliefs prompted him to give part of the profits away. He had seen a post on the Reddit community from another user who donated a portion of their GameStop profits, and that helped inspire him, too.
After he cashed in, he went to a GameStop in Indianapolis, bought three Nintendo Switches, a stack of video games, and a few Minecraft card games, and took them to Peyton Manning Children's Hospital.

Staff at the Peyton Manning Children's Hospital celebrate donated consoles and games, which will help patients connect to the outside world.
"It was something that was unprompted, and we didn't anticipate it — Aaron did this all on his own," said Kaitlin Knapp, ATR, LMHC, clinical program manager at the hospital. "We were so appreciative."
"These [Nintendo] Switches will be used in our inpatient unit — in pediatric intensive care, for acute medical patients, for postsurgical patients, patients coming in for prolonged infusions, for hematology, oncology, for dialysis," Knapp said. "And we'll be able to clean them in between patients, so they will be used by multiple patients. It's not just a one-time thing."
Nintendo Switches operate like independent consoles, meaning a person can play a game alone or with others. Importantly, players also connect to one another through the internet, meaning the kids who will use these devices can play with fellow patients on separate floors, with friends across town, or with family members across the country. That connection is crucial always, especially during the COVID-19 pandemic, Knapp said, which has limited the number of visitors allowed.
"Giving them this type of technology and something that is familiar to them and fun and developmentally appropriate will help with their social development," she said. "And I think it's really fun that we get to offer this."
Schmid said he intends to keep investing in the stock market. The profits he is making are helping keep his family afloat while he works on his medical degree. But he is not done giving from his windfall. He plans to take some of the GameStop earnings to help fund a nonprofit he started, Embrace Indianapolis. Once it is operational, the organization intends to bring basic medical care to homeless and unsheltered people.
Schmid has lined up nurses, students, doctors and others to help. He has been applying for grants, but has had little luck. "We're going to need some safety supplies, some medical supplies, some over-the-counter medicines and first aid stuff," he said. "We have volunteers and training lined up and everyone is ready to go, but we don't have any funding yet." The GameStop money, he said, could help a little.
"If it doesn't get up and running by April or May, I'm going to pull the trigger and put some of that money into it," he said. "This is why I want to be a doctor — I want to help people. The money can just allow me to do that a little better right now."
Laura Arenschield is a Columbus, Ohio-based, award-winning reporter for MDedge who has been writing about science and health for more than a decade.
Medscape Medical News © 2021

Send news tips to news@medscape.net.
Cite this: Med Student Uses GameStop Stock Profits to Help Community - Medscape - Feb 05, 2021.