Tetrahydrocannabinol (THC), the psychoactive agent in cannabinoids, may provide an alternative to off-label use of antipsychotics and other medications to manage agitation in patients with Alzheimer's disease (AD), a new clinical review suggests.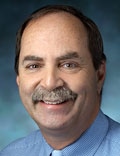 "Cannabinoids are worth a try and they seem to have a tolerable adverse effect profile, although clinicians should be careful about dosing," study investigator Paul B. Rosenberg, MD, professor of psychiatry and behavioral sciences, Johns Hopkins University School of Medicine, Baltimore, Maryland, told Medscape Medical News.
The study was published online January 25 in the American Journal of Geriatric Psychiatry.
Common, Distressing
AD "is a lot more than a purely cognitive disease," Rosenberg said. Neuropsychiatric symptoms, including apathy, depression, and agitation, are a significant part of the illness.
Furthermore, he noted that up to 50% of AD patients have "clinically significant agitation" and that it is a major contributor to patient distress, caregiver burden, and institutionalization.
There are currently no US Food and Drug Administration (FDA)-approved medications to treat agitation in this patient population. As a result, clinicians often turn to prescribing antipsychotics off-label to manage dementia-related neuropsychiatric symptoms. However, the use of these drugs in AD patients is controversial, with mixed efficacy and the risk for adverse events, including death.
In 2005, the FDA issued a "black-box" warning about risks associated with specific atypical antipsychotics in dementia patients and, in 2008, extended it to include all antipsychotics.
Selective serotonin reuptake inhibitors have been shown to be safe and have beneficial effects on agitation, Rosenberg said. Anticonvulsants "sometimes work, but the evidence base is not strong and they have a fair amount of toxicity," he added.
Clearly, more effective and safer treatments for agitation in AD are needed, the investigators note.
Cannabinoids, a class of chemicals that modulate endogenous cannabinoid receptors, may be one potential option.
In addition to THC, which is its primary psychoactive constituent, cannabis also contains cannabidiol (CBD), an FDA-approved medication used to treat seizures associated with Lennox-Gastaut syndrome, Dravet syndrome, and tuberous sclerosis complex.
Repurposing Approved Meds
Rosenberg's group is aiming to "repurpose" already approved medications to determine whether they are effective for agitation in AD patients.
One of these is dronabinol (Syndros, Benuvia Therapeutics Inc), a synthetic oral formulation of THC approved for anorexia and weight loss in AIDS as well as nausea and vomiting related to chemotherapy. As reported by Medscape Medical News, previous research has also shown that the drug is effective in the treatment of obstructive sleep apnea.
In their article, Rosenberg and colleagues note that they are currently conducting a randomized, controlled trial to test the effects of dronabinol for agitation in patients with AD.
His group is researching 10 mg/day of dronabinol, while other studies are experimenting with different doses of THC. "We're really trying to find the right dose," Rosenberg said.
So far, he said, results suggest that THC has a general calming effect in patients with AD and appears to be helping patients with affective regulation. He added that it also appears to be relatively safe in frail AD patients. However, he added, early results suggest there is some risk for seizures, sedation, and drug interactions. Another potential side effect Rosenberg and his team are monitoring for in their study is delirium.
In his own clinical practice, efficacy of dronabinol has been "hit and miss." However, Rosenberg said he has been "pleased by the lack of adverse effects" with a dose of 10 mg/day.
He cautioned, though, that getting insurance coverage for this indication might be difficult.
Before prescribing medication for agitation, clinicians should start with individualized behavioral strategies aimed at distracting patients, or moving their attention to something pleasurable, Rosenberg said.
Environmental changes, such as making the home more structured, can also help so AD patients can move around safely. Eliminating medications such as tranquilizers that can make patients with AD more confused may also be helpful.
Compelling Argument
Commenting on the paper for Medscape Medical News, Prasad Padala, MD, professor of psychiatry and geriatrics, University of Arkansas for Medical Sciences, Little Rock, said the review paper provides "a compelling argument" for considering cannabinoids for AD-related agitation.
"Cannabinoids are an attractive class of chemicals with a potential to improve agitation in AD by modulating endogenous cannabinoid receptors, regulating neurotransmitters, improving mood and behavioral comorbidities, improving circadian rhythm disturbances, and increasing vasodilation and cerebral blood flow," said Padala, who was not involved with the review.
He pointed out that previous research examining the effect of cannabis in AD has varied widely with respect to agent selection, patient demographics, study design, and outcome measures, making it difficult to achieve consensus on its efficacy and side effects.
Padala cautioned that in high doses cannabinoids can produce significant health risks and addiction.
Among other things, future research should determine AD subgroups that do not respond to this treatment and if typical AD medications affect cannabinoid efficacy, Padala added.
The review was supported by the National Institute on Aging (NIA). Rosenberg is supported by grant funding from the NIA, the Alzheimer's Association, Lilly, Functional Neuromodulation, Vaccinex, the Alzheimer's Disease Cooperative Study, the Alzheimer's Disease Trials Research Institute, and the Alzheimer's Clinical Trials Consortium. He has also served as a consultant to GLG, Leerink, Otsuka, Avanir, ITI, IQVIA, the US Food and Drug Administration, Cerevel, BioXcel, Sunovion, and Acadia.
Am J Geriatr Psychiatry. Published online January 25, 2021. Abstract
For more Medscape Psychiatry news, join us on Twitter and Facebook.
Medscape Medical News © 2021

Cite this: Cannabinoids 'Worth a Try' for Agitation in Alzheimer's - Medscape - Feb 02, 2021.