MANCHESTER—World-renowned oncologist Professor Justin Stebbing gave immunotherapy to a terminally-ill patient at a hospice before discussing it with a palliative care doctor, a medical tribunal heard.
The treatment was allegedly inappropriate given there was "no evidence" it would potentially benefit the patient - known as Patient J - whose prognosis was poor, and he died a few weeks later.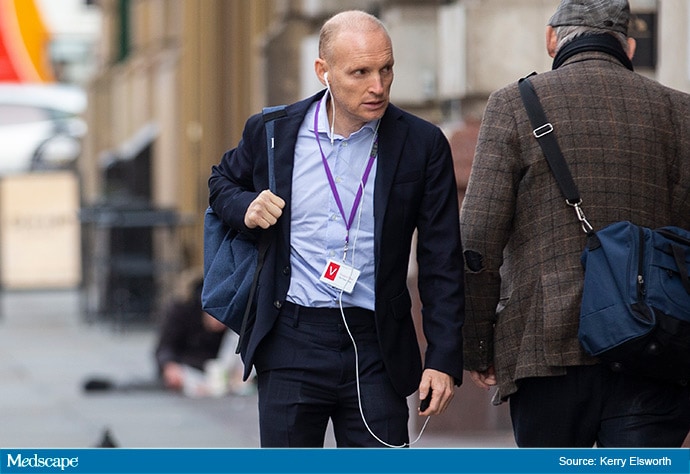 A Medical Practitioners Tribunal Service (MPTS) hearing heard evidence from Dr Elizabeth MacGregor, who at the time in February 2017 was a consultant in palliative medicine for Katharine House Hospice.
She said she'd known that Patient J's family had been in contact with Profr Stebbing, who specialises in immunotherapy at Imperial College London and has a private practice in Harley Street.
But an independent provider - Healthcare at Home - had then administered nivolumab to Patient J at the hospice without Prof Stebbing discussing it with her.
Dr MacGregor told the hearing her "expectation" was a discussion should take place and she later contacted the GMC after becoming aware he was under investigation.
When questioned by Sharon Beattie, for the GMC, she said she'd not known the specific immunotherapy planned for Patient J and had been unable to stop treatment because she wasn't on duty at the time.
"I would expect an oncologist planning to offer treatment to a patient under my care to discuss it with me," she said.
"That's what ordinarily would happen. I had no expectation this would just happen without discussion."
She said she'd "insisted" during a conversation with Patient J's family that the planned treatment be discussed with her and her team because they had clinical responsibility, although a discussion did take place between Prof Stebbing and one of her colleagues the day before it was administered.
Dr MacGregor also told panel she had "no experience" of an oncologist prescribing treatment at the hospice and a patient would receive it in an acute setting instead.
Professor Stebbing's QC Mary O'Rourke asked Dr MacGregor whether she'd become aware that her colleague - Dr Barclay - had had a conversation with Prof Stebbing about Patient J the day before treatment took place.
She agreed she had been made aware of that on returning to work but the conversation had been "initiated" by Dr Barclay.
Prof Stebbing is also accused of failing to carry out a proper assessment of Patient J and obtaining adequate consent for the treatment.
And Mark Thompson, the nurse who'd provided the treatment, told of his "concerns" over whether the dosage was correct given Patient J's weight loss although he agreed with Ms O'Rourke's that his concerns had been "assuaged" following a telephone conversation with Professor Stebbing's assistant.
In total, Prof Stebbing faces 33 charges - most of which he denies - concerning his failure to provide good clinical care to 11 patients between March 2014 and March 2017.
He's accused of inappropriately treating terminally ill cancer patients, in some case overstating life expectancy and the benefits of treatment and continuing to treat patients who were near the end of life.
Other charges relate to his alleged failure to gain informed consent by not discussing the risks and benefits of treatment with patients and failing to maintain proper records.
The hearing continues on Monday.
© 2021 WebMD, LLC

Send comments and news tips to uknewsdesk@medscape.net.
Cite this: Ian Leonard. Oncologist Accused of Giving 'Inappropriate' Immunotherapy to Hospice Patient - Medscape - Jan 29, 2021.