MANCHESTER—A world-renowned oncologist who gave chemotherapy to a patient without the authorisation of his supervisors did discuss the case with a MDT, a medical tribunal heard.

Professor Justin Stebbing, 49, is accused of inappropriately treating terminally ill cancer patients, in some cases overstating life expectancy or the benefits of treatment and continuing to treat patients who were near the end of life.

A Medical Practitioners Tribunal Service (MPTS) heard evidence about one patient - Patient L - under his care who'd been admitted to the private Princess Grace Hospital in March 2017.

Prof Stebbing, who specialises in immunotherapy for breast, lung, and gastrointestinal cancers at Imperial College London, and has a private practice in Harley Street, had restrictions placed on his practice 2 months earlier which required the authorisation of two supervisors before changing a patient's treatment.

He's already admitted failing to get their authorisation before prescribing chemotherapy to Patient L, who died just over 2 weeks later.

The GMC alleges the treatment, which began on 22 March, was inappropriate given a small bowel obstruction shown on an earlier CT scan.

However, Professor Stebbing denies his supervisors had previously advised against it.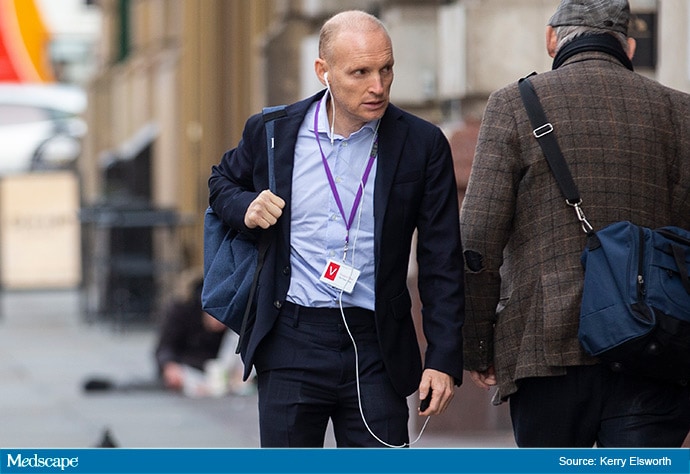 'Dedicated and Compassionate'
The GMC allege that Patient L's case was discussed at a MDT on 30 March - not on 16 March as Prof Stebbing claims - and he then sought to have the chemotherapy retrospectively approved.
He admits backdating a MDT form from 30 March to 16 March and removing a reference to the CT scan (on 18 March) but denies the changes were an attempt to back up his claim.
Under questioning from Dr Freeman's QC Mary O'Rourke, Andrea Frilling, professor of surgery at Imperial College London, said they'd been colleagues and she described him as being "open to critical discussion" and "dedicated and compassionate".
"I always found his opinion always very objective and on a very high level of evidence," she said.
"And to the best of my knowledge all patients referred to him were discussed in multidisciplinary meetings."
She agreed with Ms O'Rourke that Patient L had not appeared on a list of patients to be discussed at the MDT on 16 March, led by Professor Stebbing, and had later been added.
Professor Frilling said it was "not unusual" for this to happen and there were always cases requiring "ad hoc discussion".
She said Dr Freeman had discussed Patient L and a radiologist, Professor Gina Brown, had also presented images of him.
Prof Frilling had told him the patient wasn't a candidate for surgery due to the "advanced stage" of his cancer and "non-surgical options" would have been the recommended treatment.
"I don't think we discussed in detail the treatment options," she said. "I think we were of the opinion that this patient should receive chemotherapy."
She said also it was the practice of MDT leads to review meeting minutes and amend them if necessary.
Sharon Beattie QC, for the GMC, questioned Prof Frilling about how much discussion there had been of Patient L's case at the MDT and she admitted she'd not read any notes about him and the "clear question" had been if he was suitable for surgery.
Under further questions by panel chair Hassan Khan, she said the discussion was not concerned with how Patient L should be "managed" but solely whether surgery was appropriate.
Prof Stebbing faces a total of 33 charges, most of which he denies, concerning his failure to provide good clinical care to 11 patients between March 2014 and March 2017.
They include making decisions based on an "unrealistic" or "poor" prognosis, given a patient's deteriorating condition, failing to gain informed consent by not discussing the risks and benefits of treatment with patients and failing to maintain proper records.
The hearing continues today (Friday).
Ian Leonard is a freelance journalist experienced in covering MPTS hearings.
© 2021 WebMD, LLC

Send comments and news tips to uknewsdesk@medscape.net.
Cite this: Ian Leonard. Oncologist Accused of Giving Unauthorised Chemo 'Did Discuss Case With MDT' - Medscape - Jan 29, 2021.