MANCHESTER—Former British Cycling and Team Sky head doctor Richard Freeman was willing to "cross the line", take risks and dope a rider to improve their performance in order to further his own career ambitions, a medical tribunal heard.
Dr Freeman is accused of ordering banned testosterone to the national velodrome in May 2011 "knowing or believing" it was intended to boost an unknown rider's performance.
He admits placing the order but claims he was "bullied" into it by head cycling coach Shane Sutton - who's denied the claims - to help treat his erectile dysfunction.
The case, which started almost 2 years ago, resumed today with closing submissions before a fitness to practice hearing at the Medical Practitioners Tribunal Service (MPTS).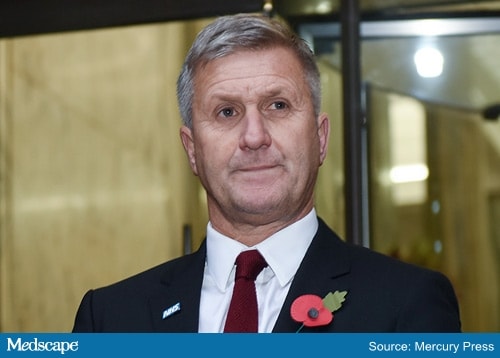 'Dark Arts'
Simon Jackson, for the GMC, told the hearing that the case centred on Dr Freeman's "credibility" and his actions echoed the "dark arts of cycling of yesteryear".
He said the GMC's case was the order - consisting of 30 sachets of Testogel - wasn't for a non-athlete member of staff [Mr Sutton] but was intended to improve an athlete's performance.
He told the hearing: "Why would Dr Freeman do all of this…why would he breach the GMC's good medical practice and WADA (World Anti-Doping Agency) and UCI (Union Cycliste International) codes?
"Why would he risk his professional reputation and abandon all the principle tenets of GMC's good medical practice? Why would he also put a rider at risk in terms of their health and their prospect of committing an anti-doping rule violation?
"The GMC submit that these questions are easily answered. He did it because as the lead team doctor he was under pressure to have riders fit and ready to deliver the expected performance and expected results."
Mr Jackson told the hearing that the arrival of an experienced Italian doctor at Team Sky at the end of 2010 - who'd offered "mystery" solutions to riders' recovery - had also threatened Dr Freeman's position in the team.
"The GMC's case is Dr Freeman was an ambitious doctor but prone to lording his achievements and capabilities," he continued.
"As well as being ambitious, he was a risk taker and he was knowingly prepared to put others at risk with his prescribing practices in respect of riders."
Crossing the Line
Referencing Dr Freeman's book, The Line: Where Medicine and Sport Collide, Mr Jackson said Dr Freeman's prescribing had put athletes at risk and he'd "crossed the line and went way beyond it".
This was despite the doctor's philosophy - spelled out in the book - of "do no harm" and his opposition to "a winning at all costs mentality" with athletes who are "patients first and riders second".
Mr Jackson highlighted Dr Freeman's attempts to cover his tracks - a charge which he admits - by lying about the reasons for the order to colleagues and persuading an employee for suppliers Fit4Sport to say it had been sent in error, returned, and destroyed.
He said Dr Freeman had persisted with the lie in interviews with UKAD (UK Anti-Doping)in 2017 and again during an assessment with a psychiatrist, Dr Max Henderson, in 2019.
"The GMC observe that there's a truism in life," said Mr Jackson. "It's not the lies that get you, it's the cover-up. And what a cover-up it's been."
Mr Jackson said Dr Freeman had embarked on a "campaign of self-preservation" and there was no evidence the Testogel was intended for Shane Sutton.
He dismissed claims Mr Sutton had bullied the doctor, who'd wanted to get "revenge" in the belief the coach was the source of a damaging newspaper article which named him and Sir Bradley Wiggins and who'd stopped him claiming expenses for a flight from Columbia.
Mr Jackson also disputed Dr Freeman's claim, given his expertise in sports medicine, that he didn't know the Testogel was a banned substance when he ordered it.
COVID-19 Vaccination
Earlier, Dr Freeman's QC, Mary O'Rourke, had resubmitted a request to adjourn the remotely-held hearing because the doctor was helping the practice where he now works in Hyndburn, Lancashire, deliver the mass COVID vaccination programme and couldn't attend.
The original request, submitted last week, was turned down by an MPTS legal advisor.
Ms O'Rourke said Dr Freeman's request had been supported by MP Sara Britcliffe and he'd wanted to make the request publicly due to "adverse publicity" and Twitter claims "he was trying to slip the noose and put the matter off".
Ms O'Rourke said that wasn't the case and he'd wanted to attend the hearing, adding: "He feels compelled by his duty in the current COVID crisis to be where he is today, namely giving injections to people in Hyndburn.
"He wanted you to understand that and that there's no disrespect."
Simon Jackson QC, for the GMC, had opposed the adjournment request saying Dr Freeman would not be prejudiced by his non-attendance and the MPTS panel agreed the case could proceed without him.
Dr Freeman has admitted 18 of 22 charges against him, which include attempting to cover-up the order, lying about prescribing medicine to non-athlete members and failing to maintain adequate records.
The four charges he denies all relate to the central charge of allegedly placing the order to improve a rider's performance.
The hearing continues next week.
© 2021 WebMD, LLC

Send comments and news tips to uknewsdesk@medscape.net.
Cite this: Ian Leonard. Former British Cycling Doctor 'Willing to Cross the Line' - Medscape - Jan 22, 2021.