MANCHESTER—A world-renowned oncologist accused of inappropriately treating terminally-ill cancer patients was suspended by London's largest private hospital after he "lost the confidence" of staff, a medical tribunal heard.
Professor Justin Stebbing, 49, who's treated wealthy cancer patients from around the globe, was also investigated by The London Clinic after another oncologist raised concerns about his care.
The hospital later made a referral to the GMC and he faces a total of 33 charges, most of which he denies, concerning his failure to provide good clinical care to 11 patients between March 2014 and March 2017.
They include making decisions based on an "unrealistic" or "poor" prognosis given a patient's deteriorating condition, failing to gain informed consent by not discussing the risks and benefits of treatment with patients and failing to maintain proper records.
In some cases, he's said to have "overstated" life expectancy or the benefits of chemotherapy and continued treating terminally ill patients even where there was "no evidence of potential benefit" or they were nearing the end of life.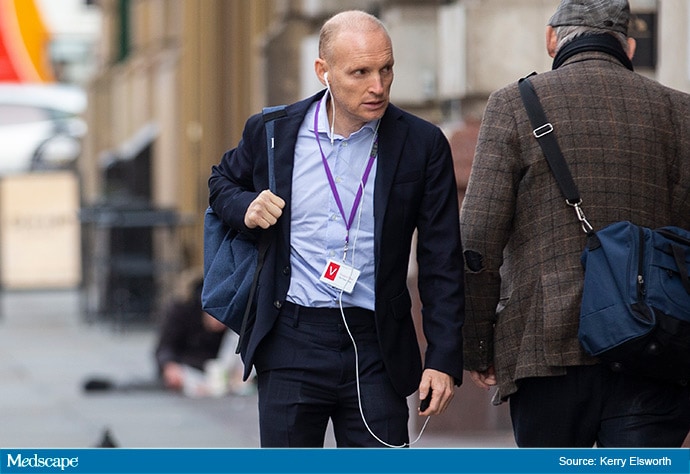 International Reputation
A Medical Practitioners Tribunal Service (MPTS) hearing in Manchester heard how Prof Stebbing, who specialises in immunotherapy for breast, lung, and gastrointestinal cancers at Imperial College, London, and has a private practice in Harley Street, has an "international reputation" for his "innovative" cancer treatment.
His patients have included New Zealand multi-millionaire Sir Douglas Myers and the actor Lynda Bellingham.
However, Paul Holdom, former chief executive of The London Clinic, told the hearing that Professor Stebbing's practising privileges were suspended in May 2016 after he lost the confidence of staff.
Mr Holdom said he became aware of the issue at a staff meeting the previous month but he denied claims by Mary O'Rourke QC, counsel for Prof Stebbing, that the meeting was an "amazing coincidence" given concerns were raised about his treatment of a patient - known only as Patient G - by a colleague.
He denied the meeting had been about Patient G, saying: "The meeting was about staff morale and high turnover but it became apparent the primary reason for those concerns was Professor Stebbing."
Ms O'Rourke accused Mr Holdom of giving Professor Stebbing "a fait accomopli" as he'd not been given a chance to answer comments from staff.
Mr Holdom admitted that the decision to suspend Professor Stebbing was made before he was informed in a meeting and whatever he'd said "would have made no difference" to the decision.
But he added that the suspension had been a "big decision" given the oncologist's status and 10% of the cancer patients treated at the hospital were his.
Prof Stebbing is accused of providing inappropriate cancer treatment to Patient G given he was "too unwell" to receive it and was "rapidly deteriorating".
Colleague's Concerns
The tribunal heard how a colleague - fellow oncologist Dr Rohit Lal - had raised concerns about the treatment and this prompted an investigation by two other doctors at the hospital.
Ms O'Rourke questioned whether this was appropriate given they could be seen as professional "rivals" of Professor Stebbing, who had no input into a report they'd produced.
But Mr Holdom said he'd had "no concerns" about their integrity and ability to conduct the investigation and he'd had "no choice" to later refer the matter to the GMC.
In January 2017, HCA Healthcare placed conditions on Prof Stebbing's practice, which required him to obtain authorisation from two assigned colleagues before he could change a patient's treatment.
But he admits to prescribing chemotherapy to a Patient L from New Zealand from March 2017 without obtaining the colleagues' authorisation and changing information on paperwork.
Judgment Calls
Giving evidence, Dr Maurice Slevin - formerly an oncologist with Leaders in Oncology Care (LOC) - described how he was tasked with supervising Prof Stebbing after claims about his "over-treatment" of patients.
He said he'd disagreed with the treatment given to Patient L because there was "a close to zero chance" he'd respond.
But he said Prof Stebbing dealt with a "high proportion" of patients other oncologists had deemed untreatable and who were prepared to try his "innovative" methods to extend their life.
He said oncologists often had to make judgment calls around whether treatment would have a realistic chance of benefit and they faced pressures from patients who wanted to live longer.
Dr Slevin also praised Prof Stebbing describing him as a "hugely talented" oncologist and that it would be a "huge loss" if he wasn't allowed to treat patients.
The hearing continues later today (Friday).
Ian Leonard is a freelance journalist experienced in covering MPTS hearings.
© 2021 WebMD, LLC

Send comments and news tips to uknewsdesk@medscape.net.
Cite this: Ian Leonard. Leading Oncologist 'Lost Confidence of Staff' - Medscape - Jan 15, 2021.