A commonly used treatment for chronic subdural hematoma appears to be doing more harm than good, a new randomized trial has shown.
The results show that patients given the steroid dexamethasone had worse functional outcomes at 6 months than those who received placebo.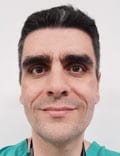 "This trial has a few limitations but shows a clear signal of harm with dexamethasone. These results therefore lead us to recommend that dexamethasone is not used in these patients," Angelos Kolias, MD, the trial's co–chief investigator, told Medscape Medical News.
The trial was published on December 31, 2020, in The New England Journal of Medicine.
Chronic subdural hematoma is a common neurologic condition that mainly affects the elderly. It is often the result of a minor head trauma, Kolias, a neurosurgeon at the University of Cambridge, Cambridge, United Kingdom, noted.
Symptoms include headaches, weakness in arms and legs, difficulty with balance and walking, and cognitive decline. Treatment involves surgery to drain the fluid, which is effective, but the condition recurs in 10% to 20% of patients. Use of steroids is believed to reduce this risk for recurrence, but there is no good randomized evidence to support this, Kolias explained.
The current trial, conducted in the United Kingdom, included 748 adult patients with symptomatic chronic subdural hematoma. The patients were randomly assigned to receive a 2-week tapering course of oral dexamethasone, starting at 8 mg twice daily, or placebo. The decision to surgically evacuate the hematoma was made by the treating clinician.
The mean age of the patients was 74 years, and 94% underwent surgery to evacuate their hematomas during the index admission; 60% of both groups had a score of 1 to 3 on the Modified Rankin Scale at admission.
The primary outcome was a score of 0 to 3, representing a favorable outcome, 6 months after randomization.
The intestigators conducted a modified intention-to-treat analysis that excluded the patients who withdrew consent for participation in the trial or who were lost to follow-up. A total of 680 patients were included in this analysis. A favorable outcome was reported for 83.9% in the dexamethasone group and for 90.3% in the placebo group (P = .01).
Among the patients for whom data were available, repeat surgery for recurrence of the hematoma was performed for 1.7% of the dexamethasone group and for 7.1% of the placebo group.
More adverse events occurred in the dexamethasone group than in the placebo group.
Adverse events of special interest (those believed to be associated with dexamethasone, such as hyperglycemia, new-onset diabetes, hyperosmolar hyperglycemic state, new-onset psychosis, peptic ulceration or gastrointestinal bleeding, and other upper gastrointestinal side effects) occurred in 10.9% of the dexamethasone group and in 3.2% of the placebo group (odds ratio, 3.4). Serious adverse events occurred in 16.0% and 6.4%, respectively (odds ratio, 2.49). The risk for any infection was 6.4% in the dexamethasone group and 1.1% in the placebo group.
"While dexamethasone use did reduce the risk of subdural hematoma recurrence in this trial, it was also associated with worse functional outcomes, which we think is probably related to the higher rate of adverse effects in the dexamethasone group," Kolias commented.
"We know dexamethasone has side effects, but we thought that a short 2-week course would minimize the risk of serious side effects, but that was not the case. This is an elderly population, and developing adverse effect complications would slow recovery time after surgery," he added.
Kolias noted that this is the first major randomized study of the use of dexamethasone for patients with subdural hematoma. There was one previous small randomized study of the use dexamethasone as a stand-alone treatment with a view to avoiding surgery for subdural hematoma. That trial included 20 patients with mild symptoms, but there were too few participants to show much effect, and there were also more adverse effects in the steroid group in that study.
"While these results are disappointing in one way, they are also useful in that we now have evidence against the use of dexamethasone in these patients. This drug has been used quite extensively in this indication, and we can now say that the evidence does not support such use. That will help patients," he added.
"In light of our results, we recommend that clinical use of dexamethasone should be stopped in this setting unless patients are enrolled in an ethically approved clinical study," Kolias said.
Several further studies of dexamethasone for subdural hematoma are ongoing. "We think that it would be premature to stop these studies, and it would be useful to have further results," Kolias commented.
One study currently underway ― the DECSA trial ― is comparing dexamethasone with surgery for patients with milder symptoms.
"In our study, 38 patients (6%) did not have surgery. This group also showed worse outcomes with dexamethasone ― the direction of the effect was the same, although numbers were small," Kolias noted. "But it would be useful to have more data on these patients with milder symptoms."
Some alternative drug treatments are being investigated for this use. Inflammation is thought to play a role in the pathophysiology of subdural hematoma, so anti-inflammatory medications are being tested, including tranexamic acid and atorvastatin. No conclusive results are yet available, and surgery remains the mainstay of treatment, Kolias said.
Reduce the Enthusiasm
In an accompanying editorial, Allan H. Ropper, MD, professor of neurology at Harvard Medical School/Brigham and Women's Hospital, Boston, Massachusetts, concludes: "The results of this trial reduce the enthusiasm for treating chronic subdural hematomas with glucocorticoids."
He explains that the beneficial effects of glucocorticoids in shrinking chronic subdural hematomas have long been intimated, with observational evidence suggesting fewer-than-expected repeat operations with glucocorticoid treatment. Although meta-analyses have suggested a benefit, deficient trial designs and small numbers of patients have led to ambiguous results.
Ropper says that in the current trial, the lower percentage of patients who had a favorable disability outcome and the occurrence of more adverse events in the dexamethasone group "tip the scale against using the drug.
"Although the trial answers an important question that has lingered for 50 years by showing no benefit of glucocorticoids with respect to the disability outcome, it is perhaps less certain on the issue of whether glucocorticoids shrink the subdural collection and reduce the need for reoperations," Ropper notes.
The study was funded by the National Institute for Health Research (NIHR), with further support from the NIHR Cambridge Biomedical Research Center, the NIHR Brain Injury MedTech Co-operative, the Royal College of Surgeons of England, and the Rosetrees Trust. Kolias is supported by a lectureship at the School of Clinical Medicine, University of Cambridge, and the Royal College of Surgeons of England. Ropper is deputy editor of The New England Journal of Medicine.
N Engl J Med. Published online December 31, 2020. Abstract, Editorial
For more Medscape Neurology news, join us on Facebook and Twitter.
Medscape Medical News © 2021

Send news tips to news@medscape.net.
Cite this: Dexamethasone Harmful in Chronic Subdural Hematoma - Medscape - Jan 07, 2021.