Editor's note: Find the latest COVID-19 news and guidance in Medscape's Coronavirus Resource Center.
The first month of the coronavirus pandemic created almost as much psychological distress among American adults as they had experienced in the year before February 2019, according to the results of two representative surveys.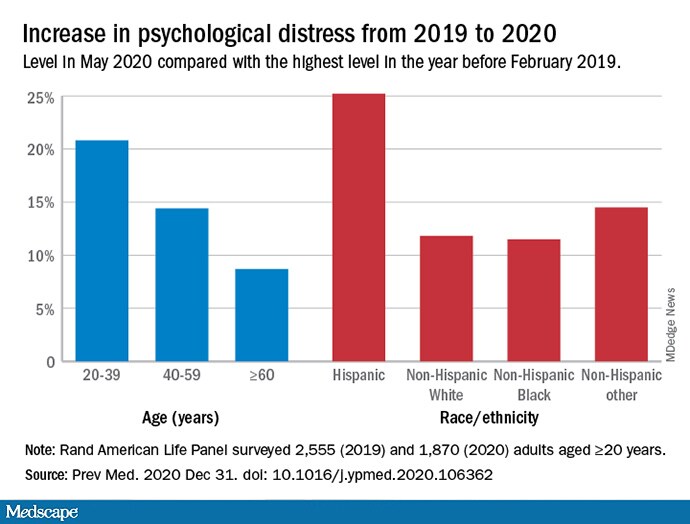 "The 30-day prevalence of SD [serious distress] in May 2020 did not differ from the past-year prevalence of SD assessed with the same instrument [the Kessler-6 distress scale] in February 2019. In other words, equal numbers of people experienced SD in 30-days during the pandemic as experienced SD over an entire year prior to the pandemic," Joshua Breslau, PhD, and associates at the Rand Corporation wrote in Preventive Medicine.
In May of 2020, the prevalence of SD was 10.1% in the previous month among 1,870 adults aged 20 years and older who had participated in the two Rand American Life Panel surveys, the first occurring in February 2019. In that earlier poll, 10.9% of the 2,555 respondents said that they experienced SD in the worst month of the previous year, the investigators said.
The prevalence of overall psychological distress increased by 12.8% from February 2019 to May 2020, with increases higher among women (17.7%) than men (10.6%); adults under age 60 years, compared with those over 60 (see graph); and Hispanics, compared with other races/ethnicities. Disparities also were seen among income groups: Distress rose 10.2% for those earning over $100,000, compared with 15.4% for those making less than $35,000 and 18.2% for Americans earning between $35,000 and $60,000, the researchers reported.
A high level of stress in the prepandemic survey strongly predicted serious distress during the pandemic. "Risk for SD during the pandemic among those with SD during a year before the pandemic was almost 3 times higher than among those reporting mild/moderate distress and 15 times higher than among those reporting no/low distress during the prepandemic year," they noted.
Distress levels often return to normal after a disaster, Breslau and associates pointed out, but "the pandemic's influence on economic stressors, disruption of usual activities and subsequent effects on population health may continue for an extended period and affect different regions of the country at different points in time."
SOURCE: Breslau J et al. Prev Med. 2020 Dec 31. doi: 10.1016/j.ypmed.2020.106362.
This article originally appeared on MDedge.com, part of the Medscape Professional Network
Medscape Medical News © 2021

Cite this: Pandemic Packed a Year of Distress Into 1 Month - Medscape - Jan 06, 2021.