The US Food and Drug Administration (FDA) granted accelerated approval on July 24, 2020, for the chimeric antigen receptor (CAR) T-cell therapy brexucabtagene autoleucel (Tecartus) for the treatment of adults with relapsed or refractory mantle cell lymphoma (MCL). Medscape reached out to lymphoma specialist Ann S. LaCasce, MD, MMSc, to discuss what brexucabtagene autoleucel, the first FDA-approved CAR T-cell therapy for MCL, may mean for the treatment of patients. LaCasce is an associate professor of medicine at Harvard Medical School, Boston, Massachusetts, and director of the Dana-Farber/Mass General Brigham Fellowship in hematology/oncology. This interview has been edited for length and clarity.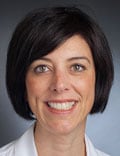 Medscape: What is the major takeaway from the ZUMA-2 trial, which led to the approval of the CAR T-cell therapy brexucabtagene autoleucel?
Dr Lacasce: Brexucabtagene autoleucel is an exciting option for our patients with relapsed or refractory MCL. For those who progress after Bruton tyrosine kinase (BTK) inhibitors, our options until this time were limited. The response rates and duration of response thus far, albeit with short follow-up, are very encouraging and may lead to long-term disease control in a subset of patients.
Brexucabtagene autoleucel carries a black box warning for potentially fatal cytokine release syndrome (CRS) and neurologic toxicities. Can you elaborate on these side effects and how they are managed? When do these adverse effects usually appear?
CRS and neurotoxicity are common and very similar to what has been seen with axicabtagene ciloleucel in diffuse large B-cell lymphoma.
In ZUMA-2, the median time to onset of CRS was 2 days. Although more than 90% of patients developed CRS, grade 3/4 occurred in only 15% of patients. Supportive care and tociluzumab are the mainstays of therapy for CRS, with steroids used in higher-grade events. All events resolved within a median of 11 days.
With regard to neurotoxicity, this occurred in 63% of patients, with grade 3/4 in 31% of patients. The median onset was 7 days, with a median duration of 12 days. Neurotoxicity is managed with steroids. Patients also receive prophylactic antiseizure medications and close observation.
Brexucabtagene autoleucel is approved with a risk evaluation and mitigation strategy. What does this entail?
As with the CAR-T products approved in aggressive lymphoma and acute lymphoblastic leukemia, all providers must complete risk evaluation and mitigation strategy training. This includes scoring 100% on a follow-up test to ensure they are intimately familiar with the management of CRS and neurotoxicity, which can be life threatening.
Where does brexucabtagene autoleucel fit in the treatment paradigm for MCL?
At this point, the therapy will be mostly in the third line, after initial chemoimmunotherapy with or without autologous transplant followed by BTK inhibitor therapy.
A subset of patients are receiving up-front therapy with BTK and chemoimmunotherapy in the context of clinical trials. These patients will likely receive brexucabtagene in the second line.
For patients with TP53 mutation/17p deletion, stem cell transplant and possibly chemoimmunotherapy do not provide adequate disease control. In the future, these patients may receive CAR-T earlier in the course of therapy, but clinical trials will need to study this approach.
Can you comment on some of the practical aspects of this therapy, including the cost of incorporating it into clinical practice?
As with all patients being considered for CAR-T therapy, one important issue is timing and whether patients will require bridging therapy, which, in our "real-world" experience with diffuse large B-cell lymphoma, has been associated with inferior outcomes.
These therapies are very expensive and require specialized teams at the treatment centers for apheresis and administration. In addition, having well-trained staff to manage toxicities is critical. Costs will need to be negotiated with insurance and treatment centers.
Are other CAR T-cell therapies being developed for MCL?
There are a number of new strategies, including allogeneic or "off-the-shelf" CAR-T therapy, which constructs targeting multiple cell surface proteins. Though still early in development, this approach and technology will continue to improve.
How might ZUMA-2 influence future clinical trials for MCL therapies?
The new unmet need will focus on patients who relapse after CAR T-cell therapy. If the progression-free survival curves stay steady, fewer patients will need additional therapy. Having CAR-T available may also decrease the use of up-front stem cell transplant, as providers would know that an effective strategy exists for relapsed patients.
LaCasce has disclosed no relevant financial relationships.
Kate O'Rourke is a freelance writer in Portland, Maine. She has covered the field of oncology for over 10 years.
For more news, follow Medscape on Facebook, Twitter, Instagram, and YouTube.
Medscape Medical News © 2020

Send news tips to news@medscape.net.
Cite this: First CAR T-cell Therapy for Mantle Cell Lymphoma Fills Unmet Need - Medscape - Dec 31, 2020.