The US Food and Drug Administration (FDA) has approved the EndoRotor System (Interscope, Inc) for removal of necrotic tissue in patients with walled-off pancreatic necrosis (WOPN).
"This device has shown its potential to provide a minimally invasive way to remove harmful necrotic pancreatic tissue in patients with walled-off pancreatic necrosis," Charles Viviano, MD, PhD, acting director, Reproductive, Gastro-Renal, Urological, General Hospital Device and Human Factors Office, FDA Center for Devices and Radiological Health, said in a statement.
"Currently, in order to remove dead tissue from a patient's necrotic pancreatic cavity, health care providers need to perform an invasive surgery or use other endoscopic tools not specifically indicated to treat this condition. With [this] marketing authorization, patients with walled-off pancreatic necrosis now have a new treatment option," said Viviano.
WOPN is a potentially deadly condition that occurs in about 15% of patients with severe pancreatitis. Often, the dead tissue must be removed.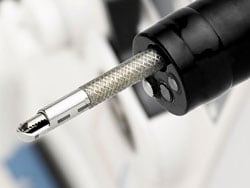 The EndoRotor System is made up of a power console, foot control, specimen trap, and single-use catheter.
The device is used to perform endoscopic necrosectomy. In this procedure, a stent is used to create a portal between the stomach and the necrotic cavity in the pancreas to accommodate a standard endoscope through which the EndoRotor cuts and removes necrotized tissue.
The FDA approved the EndoRotor System on the basis of a clinical trial involving 30 patients with WOPN who underwent a total of 63 direct endoscopic necrosectomies with the EndoRotor System (average, 2.1 procedures per patient).
The effectiveness of the EndoRotor System was determined by how well it cleared pancreatic necrotic tissue measured during CT with contrast before and after the procedure, endoscopy, or MRI 14 to 28 days after the last procedure.
Results showed an average 85% reduction in the amount of necrotic tissue, with half of the patients having 98.5% clearance of necrotic tissue, the FDA said.
Three patients suffered procedure-related serious adverse events (10% complication rate). Two patients experienced gastrointestinal bleeding. One patient had a pneumoperitoneum and later died after suffering from sepsis and multiorgan system failure caused by massive collections of infected pancreatic necrotic tissue.
Other serious adverse events, which were thought to be due to the patient's underlying condition and not related to the device or procedure, included hematemesis, deep vein thrombosis, and pancreatitis.
The EndoRotor System should not be used for patients with known or suspected pancreatic cancer, and the device will carry a boxed warning stating this.
The FDA said it knows of one patient who died from pancreatic cancer 3 months after having necrotic pancreatic tissue removed with the EndoRotor System.
"This patient did not have a diagnosis of pancreatic cancer prior to treatment, although the patient's outcome is believed to be unrelated to the device or procedure," the FDA said.
The EndoRotor System should only be used after patients have undergone other procedures to drain the WOPN.
It is also not appropriate for patients with walled-off necrosis who have a documented pseudoaneurysm greater than 1 cm within the cavity or with intervening gastric varices or unavoidable blood vessels within the access tract.
The EndoRotor System was approved under the de novo premarket review pathway for new low- to moderate-risk devices.
For more news, follow Medscape on Facebook, Twitter, Instagram, and YouTube.
Send news tips to news@medscape.net.
Cite this: FDA Clears Device to Remove Dead Pancreatic Tissue - Medscape - Dec 24, 2020.