Editor's note: Find the latest COVID-19 news and guidance in Medscape's Coronavirus Resource Center.
Federal law enforcement officials have issued an eight-count indictment against a doctor they say illegally imported and sold hydroxychloroquine (HCQ) as a curative for COVID-19.
Jennings Ryan Staley, MD, who ran the Carmel Valley, California–based Skinny Beach Med Spa, was charged in April, in part on allegations of selling $4000 "COVID-19 treatment packs." For that sum, he offered a telemedicine evaluation followed by a prescription for the medications in the kit, which included 20 tablets of HCQ, chloroquine, a "Z-pack" (azithromycin), 30 alprazolam pills, and 30 sildenafil pills. Purchasers also had 24/7 access to Staley and his team.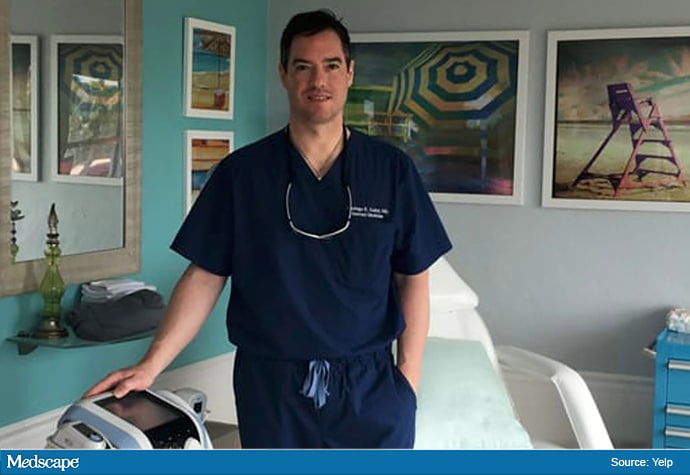 Dr Jennings Ryan Staley
Staley is also accused of selling a different kit containing HCQ and azithromycin for $595. This kit could be purchased online and would be shipped to the patient "after establishment of a patient-doctor relationship."
On December 3, the US Attorney's Office for the Southern District of California indicted Staley on charges of mail fraud, illegal importation, making false statements, and identity theft.
"People must be able to trust their doctors to offer honest medical advice instead of a fraudulent sales pitch, especially during a global pandemic," said US Attorney Robert Brewer in a statement. "Medical professionals who lie about their treatments to profit from a desperate, fearful public will face criminal charges and serious consequences like any other lawbreaker."
Staley's San Diego–based attorney, Patrick Griffin, did not return Medscape Medical News' request for comment by press time. He told the San Diego Union Tribune in May that Staley was merely following the lead of President Donald Trump, who had actively promoted HCQ to prevent COVID-19. Griffin also said that pharmacies were selling HCQ for COVID-19.
He suggested that Staley had been manipulated by federal agents into making claims about HCQ's efficacy.
The US Food and Drug Administration (FDA) granted emergency use authorization for HCQ on March 28 but said it should only be dispensed from the Strategic National Stockpile and could only be used to treat hospitalized patients with COVID-19 or in situations in which a trial wasn't available or participation in a trial wasn't feasible. The agency revoked the authorization in June, saying the known benefits did not outweigh the risks.
"Miracle Cure"
Staley is accused of offering his kits for sale via email to the Skinny Beach Med Spa mailing list in late March. He soon caught the attention of FBI and FDA agents.
An FBI undercover agent responded to the email, saying he wanted to buy six of the COVID-19 kits for his family. Staley called the prospective customer and, according to the indictment, described HCQ as a "miracle cure." When asked by the agent if either that medication or mefloquine, which was part of the kit, could cure COVID-19, Staley responded, "100%," and added that both medications could give him immunity "for at least six weeks," according to the indictment.
When the FBI later went to Staley's office to interview him — with Staley understanding that he was under investigation — he denied having made the statements. That constituted one of the counts against him: lying to federal agents.
The indictment also charged Staley with illegally importing HCQ. China and India had halted exports, but Staley contacted a Chinese supplier, and the two agreed to lie to US Customs about a shipment that Staley thought had 12 kg of HCQ powder but actually contained baking soda.
Federal agents also said that Staley used information about an employee to submit a sham prescription to obtain HCQ from online pharmacies. The information — which Staley obtained without that person's consent — included facts about the person's health condition. Staley is also accused of using a friend's information to create sham prescriptions to obtain more of the medication.
It is not clear when the case will go to trial.
For more news, follow Medscape on Facebook, Twitter, Instagram, and YouTube.
Medscape Medical News © 2020

Send news tips to news@medscape.net.
Cite this: Physician Indicted on Charges of Selling Hydroxychloroquine as COVID-19 Cure - Medscape - Dec 18, 2020.