Dermatologists are more likely than are nondermatologists to follow practice guidelines when prescribing antihistamines to treat pruritus associated with atopic dermatitis (AD), according to an analysis of a national database.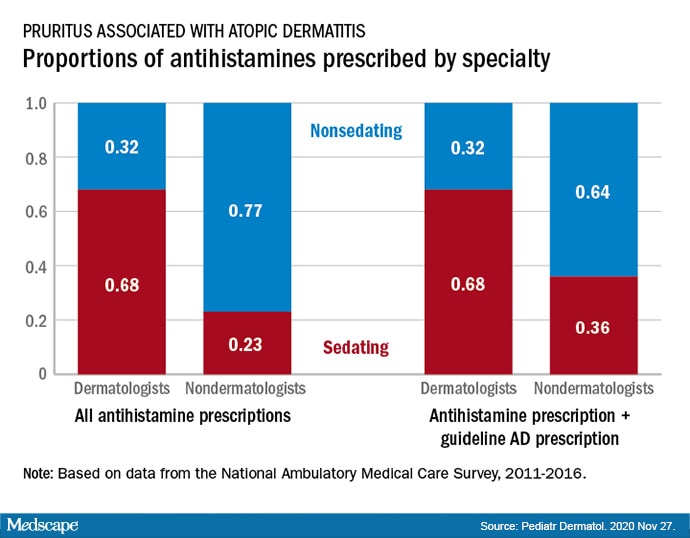 The American Academy of Dermatology's guidelines on AD management recommend against using antihistamines, particularly the nonsedating variety, to treat pruritus, but "sedating antihistamines may still be used to help alleviate negative impacts on sleep … particularly in pediatric populations," Swati Garg, BA, and associates at Northwestern University, Chicago, wrote in Pediatric Dermatology.
Dermatologists were more likely to prescribe sedating than nonsedating antihistamines (0.68 vs. 0.32) for patients with AD, but the reverse applied to nondermatologists, whose antihistamine distribution was 0.23 sedating and 0.77 nonsedating, based on 2011-2016 data from the National Ambulatory Medical Care Survey.
The numbers were similar for new antihistamine prescriptions, with sedating/nonsedating proportions of 0.60/0.40 for dermatologists and 0.24/0.76 for nondermatologists. Addition of guideline-recommended drugs such as topical corticosteroids and calcineurin inhibitors to the AD equation did not change the result, as dermatologists again showed a preference for sedating antihistamines, compared with nondermatologists, the investigators said.
The data also showed that Black patients with AD were more likely than were White patients to receive prescriptions for first-generation antihistamines and for therapies recommended by the AAD guidelines, and that patients under 21 years received more sedating antihistamines than did patients over age 21, they reported.
The age disparity "may be due to patient preference, as sedation effects may be less desirable to adult patients," the investigators noted.
SOURCE: Garg S et al. Pediatr Dermatol. 2020 Nov 27. doi: 10.1111/pde.14445.
This article originally appeared on MDedge.com, part of the Medscape Professional Network.
Medscape Medical News © 2020 WebMD, LLC

Cite this: Antihistamine Prescribing for AD Varies by Specialty - Medscape - Dec 15, 2020.