President-elect Joe Biden has nominated Vivek H. Murthy, MD, MBA, to serve as the 21st surgeon general of the United States.
If he is confirmed, it will mark the second time in the role as "America's Doctor" for Murthy, who was appointed the 19th US surgeon general during the Obama administration in December 2014 but was relieved of his duties by President Donald Trump in April 2017.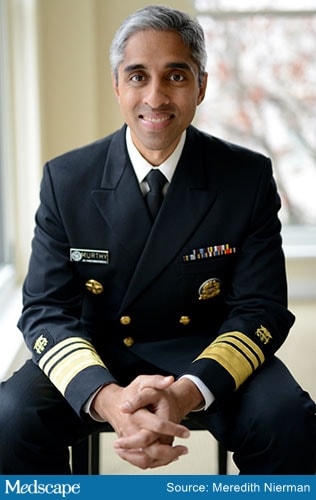 Dr Vivek Murthy
A longtime adviser to President-elect Biden, Murthy currently serves as co-chair of the incoming administration's COVID-19 transition advisory board.
As the 19th US surgeon general, Murthy issued a number of landmark reports on topics that he chose during his inaugural "listening tour" of America shortly after his tenure began. including Facing Addiction in America: The Surgeon Genera's Report on Alcohol, Drugs, and Health, Turn the Tide Rx: The Surgeon General's Call to End the Opioid Crisis, and the Surgeon General's Report on e-Cigarette Use Among Youth.
Since 2017, Murthy has focused his attention on chronic stress and isolation as prevalent problems in the United States. This led to the publication of his book Together: The Healing Power of Human Connection in a Sometimes Lonely World. Just as printed copies of Together became available, the COVID-19 pandemic placed a chokehold on American life that has yet to subside.
"I never imagined writing this book that we would be in a pandemic that would separate us even more deeply and so rapidly from each other," he told Medscape Medical News in August. "Because this pandemic has physically separated us from one another at a time of great stress, it has underscored just how important our connections with each other are. Sometimes we can take our relationships for granted; we assume they'll always be there. Even though loneliness is a topic that I was deeply immersed in and committed to, this period of separation from family and friends has been hard. It's led me to feel even more strongly that we need to build a people-centered life, that we need to build a relationship-centered society if we truly want to ensure that we have the greatest chance at fulfillment, good health, and deep happiness."
Murthy earned his bachelor's degree from Harvard and his MD and MBA degrees from Yale. He completed his internal medicine residency at Brigham and Women's Hospital in Boston and later joined Harvard Medical School as a faculty member in internal medicine.
He is married to Alice Chen, MD. The couple have two children.
For more news, follow Medscape on Facebook, Twitter, Instagram, and YouTube.
Medscape Medical News © 2020

Send news tips to news@medscape.net.
Cite this: Biden Taps Vivek Murthy, MD, for Surgeon General - Medscape - Dec 07, 2020.