Editor's note: Find the latest COVID-19 news and guidance in Medscape's Coronavirus Resource Center.
The Oregon Medical Board has suspended the license of family doctor Steven A. LaTulippe, MD, who proclaimed at a political rally that neither he nor his staff wear masks while working in their Dallas, Oregon, clinic.
The board had not answered Medscape Medical News' request for more information by publication time, but the board indicates on its website that it voted on Thursday evening to issue an order of emergency suspension.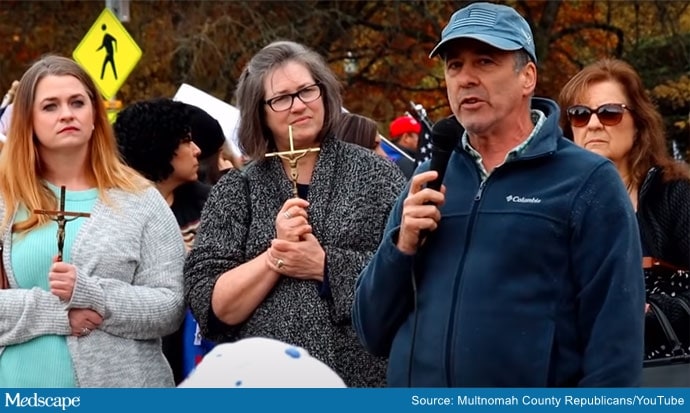 Dr Steven LaTulippe
The board voted "to immediately suspend [LaTulippe's] medical license due to the Board's concern for the safety and welfare of [LaTulippe's] current and future patients.
"This Order is in effect until otherwise ordered by the Board," the directive said. The order prevents LaTulippe, who has been licensed in Oregon since 2000, from practicing anywhere in the state.
By Sunday, Oregon had exceeded 1000 deaths from COVID-19 and had confirmed more than 83,000 total cases.
LaTulippe's office was closed on Friday and attempts to reach him by publication time were unsuccessful.
Comments Made at a Political Rally
LaTulippe, who owns the South View Medical Arts clinic in Dallas, spoke on November 7 outside the state capitol in Salem at a "Stop the Steal" rally in support of President Donald Trump and said that neither he nor his staff wear a mask while working in their clinic.
That violates an order in Oregon requiring healthcare workers to wear face coverings in healthcare settings.
"We have been utterly duped, and I want you to know that this is insanity and the purpose was only to shut down the American people," LaTulippe said at the rally. "This is a threat to your freedom, a threat to our Constitution. I petition all of you, take off the mask of shame."
He told NBC in an interview on December 2, "I have absolutely zero problems with infectivity, and I have completely successful treatments, so I ask, What is the problem? Why would I be demonized if I know what I'm doing?"
The order of suspension gave some examples of practices at his clinic.
It stated that a patient who contacted the clinic in July to get advice on being tested was told, "asymptomatic persons should not be tested, that wearing masks does not prevent transmission of COVID-19, and was directed not to self-isolate because being around other people would provide [the patient] with immunity to COVID-19."
On July 23, after questioning the advice, the person was terminated as a patient.
Additionally, the suspension order said that LaTulippe repeatedly told elderly and pediatric patients incorrectly "that it was 'very dangerous' to wear masks because masks exacerbate COPD and asthma and cause or contribute to multiple serious health conditions, including but not limited to heart attacks, strokes, collapsed lungs, MRSA, pneumonia, and hypertension."
LaTulippe's stance also goes against the directives of the Federation of State Medical Boards (FSMB).
In an October statement, the FSMB board of directors said, "When seeing patients during in-person clinical encounters, physicians and physician assistants have a professional responsibility to wear a facial covering for their own protection, as well as that of their patients and society as a whole."
Joe Knickrehm, a spokesperson for FSMB, told Medscape Medical News that FSMB was not aware of any other actions taken against physicians for COVID-19–related complaints.
He said that in an October survey of member boards, FSMB asked boards whether they had received complaints about doctors failing to wear masks while caring for patients. Of the 33 boards that responded, 21 confirmed that they had received complaints about maskless doctors treating patients. The survey did not ask for a total number of complaints.
LaTulippe's website says he is a diplomate with the American Academy of Family Physicians (AAFP). A spokesperson for the group said that although they could not comment on a member's status, the AAFP and the Oregon AAFP continue to advocate mask wearing for all.
CDC Clear on Benefit of Masks
The Centers for Disease Control and Prevention issued a statement on December 4 urging universal mask wearing for the first time since the pandemic began.
The agency concluded in a November 20 report that seven studies in various settings "confirmed the benefit of universal masking in community-level analyses: in a unified hospital system, a German city, a US state, a panel of 15 US states and Washington, DC, as well as both Canada and the US nationally.
"Each analysis demonstrated that, following directives from organizational and political leadership for universal masking, new infections fell significantly," the CDC said.
Complaints against providers who do not wear masks have been lodged across the country with many state medical boards, the Atlanta Journal Constitution reports. And reports calling out maskless providers have surfaced repeatedly on social media.
Last week, Medscape Medical News reported that a celebrity doctor who has repeatedly advocated for mask wearing was vilified for flouting social distancing and mask-wearing protocols on a birthday boating excursion. The story noted that an Oregon nurse who bragged on TikTok about not wearing a mask was put on leave at the end of November.
Board Made the Right Move
Lewis Kaplan, MD, president of the Society of Critical Care Medicine, told Medscape Medical News that the Oregon board made the right move in suspending LaTulippe's license.
LaTulippe's stance "flies in the face of medical education," he said. "Everything you learn in medical school, your training and then care of patients says you should act in the best interest of patients."
He noted that LaTulippe went against the state mandate on mask wearing and has put his patients "in a dangerous situation.
"We know from every other pandemic that public health measures decrease viral transmission," Kaplan said.
It's the state medical board's responsibility to make sure patients are being treated safely, and in this case, suspending the license accomplishes that, he said.
"This is a patient safety event. The temptation is to politicize it," he said.
Kaplan said he would expect other states to follow suit under similar circumstances.
"I would expect any state medical board where the state has said, 'You must wear a mask,' and someone chooses not to wear a mask and publicly identifies that they have chosen to violate that mandate during the pandemic, the board should take appropriate action to ensure patient safety," he said.
"It's no different than someone practicing outside the scope of their license," Kaplan said. "The state medical board should intervene. This is partly what we have charged them to do."
Kaplan has disclosed no relevant financial relationships.
Marcia Frellick is a freelance journalist based in Chicago. She has previously written for the Chicago Tribune and Nurse.com and was an editor at the Chicago Sun-Times, the Cincinnati Enquirer, and the St. Cloud (Minnesota) Times. Follow her on Twitter at @mfrellick.
For more news, follow Medscape on Facebook, Twitter, Instagram, and YouTube.
Medscape Medical News © 2020

Cite this: Family Doctor's License Suspended After Refusal to Wear Mask - Medscape - Dec 07, 2020.