Osteoarthritis patients report significant pain relief after treatment with cooled radiofrequency ablation, a new technique that "stuns" sensory nerves in shoulder and hip joints to reduce — and sometimes eliminate — pain.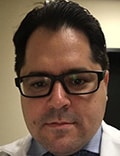 "We send a small current to the sensory nerve to heat up the tissue and disrupt the fibers," study lead Felix Gonzalez, MD, from the Emory University School of Medicine in Atlanta, told Medscape Medical News. "The effect is that the transmission of pain is significantly slowed or halted altogether."
"We damage something to fix something," Gonzalez continued. "We target only the problematic nerve and get a very localized effect."
Two-Phase Treatment
The treatment is performed in two phases. First, patients with shoulder pain are given an anesthetic to block their suprascapular, lateral pectoral, and axillary sensory articular nerves. Patients with hip pain have their obturator and femoral sensory articular nerves blocked.
A week or two later, the same nerves are treated with cooled radiofrequency ablation. Guided by x-ray imaging, a clinician heats up the affected nerve tissue using the tip of a needle, which is pointed at the nerve. "It's a 22-gauge needle, slightly thicker than an acupuncture needle," Gonzalez explained. "We heat up the nerve for about 2 minutes to about 60 degrees Celsius — it stuns the nerve," he said.
"The result disrupts or slows down pain transmission while leaving the nerve intact."
To test the efficacy of the technique, researchers treated 12 shoulders in patients with an average age of 61 years, and 11 hips in patients with an average age of 62 years.
Three months after treatment, patients with hip pain reported improvement in Hip Disability and Osteoarthritis Outcome Score (HOOS) from a baseline of 17.0 to 52.9 (P <.0001).
Shoulder pain was also reduced significantly. Using the American Shoulder and Elbow Surgeons (ASES) score, researchers reported an improvement from 17.2 (±6.6) at baseline to 65.7 (±5.9) at 3 months (P < .0001).
"We are targeting a subset of patients for this that don't qualify for surgery," Gonzalez noted. For patients with a BMI above 35, or a history of hypertension, heart disease, or multiple strokes, opioids are the most common treatment, he said.
These patients "fall through the cracks," he explained. Those who have mild to moderate pain are managed with physical therapy and injections, and those with severe pain go into surgery. "But what about the ones in the middle…who are not eligible for surgery? They are at risk for opioid overuse," he said. "So this treatment is a good option for them."
Treats the Symptoms, Not the Cause
"This study shows the efficacy of this method in taking care of shoulder and hip pain," Luca Maria Sconfienza, MD, PhD, from Galeazzi Orthopedic Hospital in Milan, told Medscape Medial News. Sconfienza was not involved in Gonzalez's study.
However, like corticosteroid injections, "the drawback of radiofrequency ablation is the fact that it only treats the symptoms and not the cause, and efficacy is usually limited over time," she said.
Sconfienza said this study leaves her with three pertinent questions. "First, whether pain control extends beyond the 3-month follow-up reported by authors in the abstract; second, [what] is the efficacy of this method compared to other interventions (e.g., physical therapy, injections) or to doing nothing; and last, radiofrequency ablation is usually not a cheap treatment, thus a cost-efficacy analysis would be desirable, especially in comparison to other procedures."
Coauthors are Omar N. Kallas, MD, Nima Kokabi, MD, Zachary Bercu, MD, David Reiter, Monica B. Umpierrez, MD, Yi N. Guo, Adam D. Singer, MD, Janice M. Newsome, MD, Shervin Oskouei, Nickolas Reimer, and Philip K. Wong, MD.
Radiological Society of North America (RSNA) 2020 Annual Meeting.
Gonzalez and Sconfienza have nothing relevant to disclose.
Follow Medscape on Facebook, Twitter, Instagram, and YouTube
Medscape Medical News © 2020

Cite this: Radiofrequency Ablation Blocks Hip, Shoulder Arthritis Pain - Medscape - Dec 04, 2020.