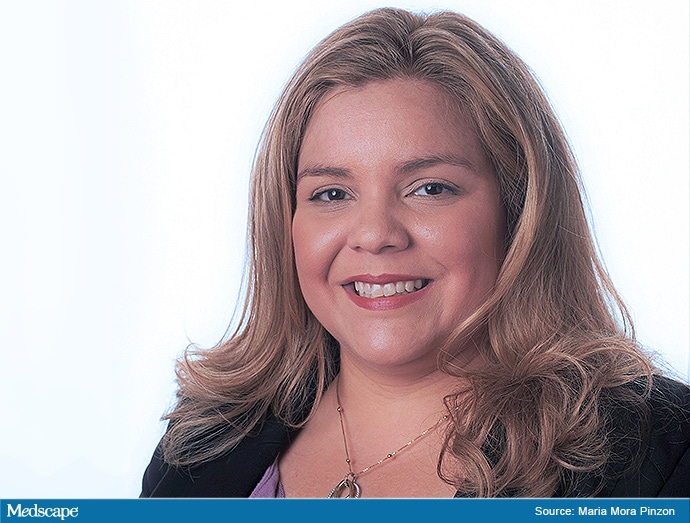 Maria Mora Pinzon, MD, is a preventive medicine physician, with a focus on geriatrics, at the University of Wisconsin-Madison. She has received an award to establish an evidence-based program to reduce the risk for falls among Black and Latinx seniors, and has done research to address the disparity in health outcomes for minority seniors with Alzheimer's disease and related dementias.
For Maria Mora Pinzon, MD, building a community is crucial to her work in preventive medicine.
"All of my work is interconnected with people," says Pinzon, a preventive medicine physician who focuses on geriatrics at the University of Wisconsin-Madison, where she completed her residency in 2017. "I rely a lot on community partners, mentors, and professors. It's very interdisciplinary and that, for me, is one of the best things in my research."
Pinzon helped launch an 8-week fall-prevention program for Latinx seniors called "Pisando Fuerte." Seniors learn how such things as their blood pressure and exercising will affect their balance, how to avoid falls, and how to do a few simple exercises to help them stay safe at home.
She was amazed to see that even during the pandemic, once a group of seniors had started the injury prevention program, they stuck with it and helped expand it. They had created a community.
COVID-19 also has shown Pinzon and other clinicians that older adults could adapt to using technology and still connect with physicians. Many seniors had relied on in-person meetings, for everything from billing to special events. Now they know how to connect via video camera.
Before, some in medicine might not have given a virtual option to seniors, but now, "I've seen people say, 'OK, let's make it easier for them to attend,'" Pinzon says.
Her goal is to make sure that all Latinx and Black seniors are part of the picture when healthcare systems roll out new innovations.
"It's fantastic to see that seniors have the capacity to learn, and we're making sure they have the tools they need," she says.
As part of Medscape's celebration of our 25th anniversary this year, we're recognizing 25 young physicians who are rising stars in medicine, poised to become future leaders of their fields. View the full list here.
Medscape © 2020 WebMD, LLC

Any views expressed above are the author's own and do not necessarily reflect the views of WebMD or Medscape.
Cite this: Medscape at 25: Recognizing Medicine's Rising Stars - Medscape - Dec 07, 2020.