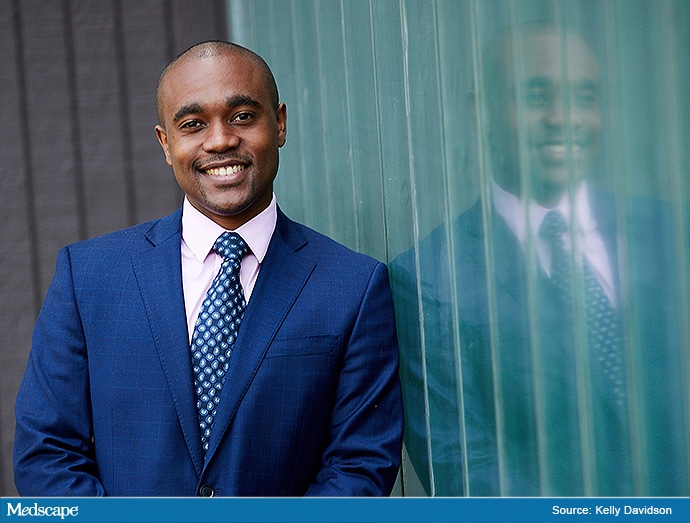 Adewole "Ade" Adamson, MD, is a dermatologist, health services researcher, and melanoma expert. He is the director of research in the Division of Dermatology and the director of the Pigmented Lesion Clinic at University of Texas at Austin's Dell Medical School. Adamson routinely uses evidence to challenge the conventional wisdom around skin cancer screening, prevention, and the use of artificial intelligence in dermatology, particularly in dermatologic care for people of color.
It was his fascination with the immune system and the science of skin that drew Adewole "Ade" Adamson, MD, into dermatology. He also knew he'd enjoy taking care of patients of all ages and developing a relationship with them over time. However, he realized that dermatology as a field was not very diverse — and saw a way he could contribute.
Adamson finished his residency in 2015; spent 3 years on the faculty at the University of North Carolina at Chapel Hill; and in 2018 moved to Dell Medical School at the University of Texas at Austin, where he oversees dermatology research and directs the Pigmented Lesion Clinic. His research includes two prongs: the recent national uptick in melanoma diagnoses and healthcare disparities for people with lower socioeconomic status.
Adamson wants to understand "why it is that people of color have worse outcomes for melanoma, in particular, than for folks who are White," and what can be done to reduce the disparity.
The work starts with making sure everyone has accurate information about skin cancer. Often, people of color aren't diagnosed with melanoma until the disease has progressed much further compared with people with light skin.
Adamson is working with dermatologic organizations as well as tech groups to try to improve diagnosis, particularly in people of color. He would like to develop a digital reference that includes high-quality images of skin cancers and skin diseases in people of color, so that healthcare providers could potentially identify cancers earlier.
But screening has its own issues, namely overdiagnosis — which Adamson thinks would explain the sixfold increase of melanoma incidence overall in the past 40 years.
"How do we address that?" he asks. "We don't know which [cases] of melanoma will kill people or not. Is there way to figure out which ones?"
As part of Medscape's celebration of our 25th anniversary this year, we're recognizing 25 young physicians who are rising stars in medicine, poised to become future leaders of their fields. View the full list here.
Medscape © 2020 WebMD, LLC

Any views expressed above are the author's own and do not necessarily reflect the views of WebMD or Medscape.
Cite this: Medscape at 25: Recognizing Medicine's Rising Stars - Medscape - Dec 07, 2020.