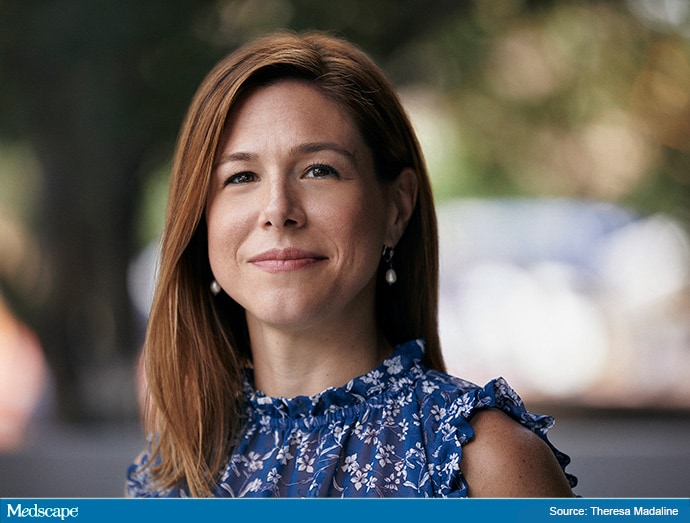 Theresa Madaline, MD, is the chief quality officer and oversees hospital epidemiology at New York Health and Hospitals/Coney Island. She previously was the head of infection and disease control at Montefiore Healthcare System, and is an associate professor at the Albert Einstein College of Medicine.
If there were one phrase that captures the world of Theresa Madaline, MD — and most in healthcare right now — it's this: Plan for the worst and hope for the best.
In her new role as chief quality officer at New York City Health and Hospitals/Coney Island, Madaline consistently asks herself and other staff at the public hospital what they learned about COVID-19 during the city's first bout, and what they would choose to do differently.
She wants all of the logistical and structural decisions of the spring, on everything from policies governing personal protective equipment to addressing supply chain problems, to inform how the hospital operates now.
"As we admit patients with COVID-19 here, how can we look at our physical space and the way that people who work in the hospital [function], and create the safest possible environment?" Madaline says.
After finishing her internal medicine residency at Mount Sinai Hospital and completing an infectious diseases fellowship in 2013 at Montefiore Health System and Albert Einstein College of Medicine, Madaline realized she was always drawn to solving problems. So she sought additional training in quality improvement.
"It's a continuous process of, 'How do we constantly work to make the care we give people better and better?'" Madaline says.
And during COVID-19, that work goes well beyond healthcare workers. It means enlisting the public support that was so apparent at the start of the pandemic. Despite the challenge of fatigue, everyone can work to slow the spread, she says, such as by not gathering with extended family over the holidays.
"There was so much gratitude back in the spring," Madaline says. "Now, the version of the 7 PM clapping and free food [we need] is for people to make those hard choices they don't want to make."
As part of Medscape's celebration of our 25th anniversary this year, we're recognizing 25 young physicians who are rising stars in medicine, poised to become future leaders of their fields. View the full list here.
Medscape © 2020 WebMD, LLC

Any views expressed above are the author's own and do not necessarily reflect the views of WebMD or Medscape.
Cite this: Medscape at 25: Recognizing Medicine's Rising Stars - Medscape - Dec 07, 2020.