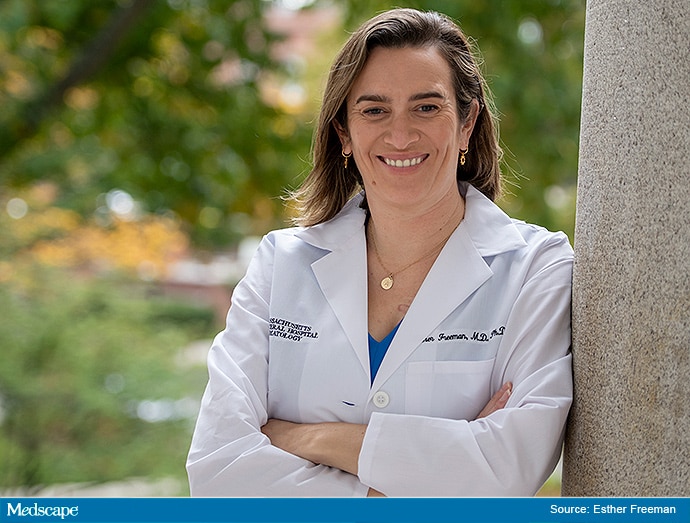 Esther Freeman, MD, PhD, is the director of Global Health Dermatology at Massachusetts General Hospital and an assistant professor at Harvard Medical School, where she conducts research in epidemiologic dermatology with an emphasis on HIV/AIDS and global health. She is a member of the COVID-19 Dermatology Task Force and has published key research on "COVID toes," a common dermatologic symptom of the novel coronavirus.
When Esther Freeman, MD, PhD, trained in mathematics, infectious disease, and dermatology, she had no idea that all those fields of expertise would be the ideal combination to help track COVID-19 worldwide in 2020.
As the leader of a global COVID-19 dermatology registry, she's helped give primary care physicians and others an additional way to identify infection: through the skin. The registry now has data and analysis from more than 1000 cases in 41 different countries.
Freeman, who earned her medical degree in 2009 from Harvard Medical School, had to pivot quickly in her current role as director of Global Health Dermatology at Massachusetts General Hospital. Before the COVID-19 registry, she primarily focused on HIV and HIV-related skin disease, particularly in sub-Saharan Africa.
Through the work of the global registry, she started seeing a pattern: what's now called COVID toes, in which an infected patient's toes become inflamed.
"We were able to form hypotheses as we were seeing the data," Freeman says. "The goal is to contribute to medicine and stop the pandemic however we can."
Freeman says COVID toes seem to appear in people with relatively mild infections, which perhaps may indicate those patients are fairly good at controlling the virus.
However, "It does raise the question, if there is prolonged inflammation in the toes, is there prolonged inflammation elsewhere?" she says.
In the midst of the pandemic, Freeman has continued her work on the HIV-associated cancer Kaposi sarcoma, studying how to diagnose the condition earlier and then get patients through chemotherapy treatment.
She also is working to develop cheap diagnostics for skin cancers — a "lab in a shoebox" that healthcare providers in areas with few resources could deploy to diagnose a condition and begin chemotherapy on the same day.
As part of Medscape's celebration of our 25th anniversary this year, we're recognizing 25 young physicians who are rising stars in medicine, poised to become future leaders of their fields. View the full list here.
Medscape © 2020 WebMD, LLC

Any views expressed above are the author's own and do not necessarily reflect the views of WebMD or Medscape.
Cite this: Medscape at 25: Recognizing Medicine's Rising Stars - Medscape - Dec 07, 2020.