Ashton Glover Gatewood, 31, a member of the Choctaw Nation and descendent of both the Chickasaw and Cherokee Nations, has long lamented the glaring lack of Native American physicians. So she decided to become one.
Gatewood is a student in the inaugural class of the first tribally affiliated medical school in the United States, the Oklahoma State University (OSU) College of Osteopathic Medicine at the Cherokee Nation. The school opened this fall on Cherokee land in Tahlequah, the capital of the Cherokee Nation's 14-county reservation in the rolling hills of rural Oklahoma, about an hour east of Tulsa.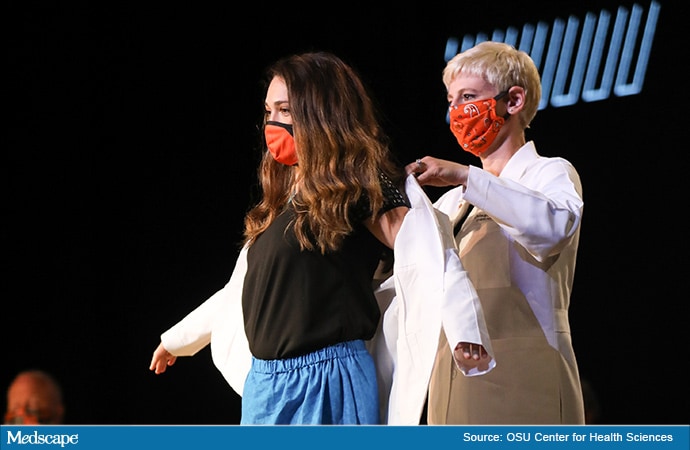 First-year medical student Ashton Glover Gatewood, a citizen of the Choctaw Nation, receives her white coat from Natasha Bray, DO, associate dean of academic affairs at the OSU College of Osteopathic Medicine at the Cherokee Nation.
"When I first read in the paper that OSU and the Cherokee Nation were starting this school, I knew I had to be a part of it," said Gatewood, an RN with an MPH degree who had been working as a public health nurse at the Oklahoma City Indian Clinic. "I want to help the Native community and know, as a physician, I'll have a larger platform and voice."
Tribal communities have long lacked resources and medical care. They face crushingly high rates of poverty, substance abuse, and suicide, as well as an increased incidence of chronic health conditions such as heart disease, diabetes, and obesity. The coronavirus pandemic has further highlighted the healthcare disparities that affect these medically underserved people.
Medical educators have struggled for decades — with little success — to boost the number of Native American physicians and to train physicians to staff clinics for chronically underserved rural populations such as the Cherokee Nation. Nationwide, fewer than half of 1% of US physicians are Native American. In the first class at the new school, 22% identify as such.
"After we were removed from tribal lands and there were no teachers, we invested our treasury into teachers," said Bill John Baker, former principal chief of the Cherokee Nation. "This is a natural progression. Just as our ancestors grew their own teachers 150 years ago, we want to grow our own doctors."
"A Match Made in Heaven"
Many credit the creation of the school to Baker's vision. During his tenure as principal chief from 2011–2019, Baker made healthcare a priority for a population struggling with high death rates from cardiovascular disease and lung cancer. Baker sold off the nation's private jet to help pay for healthcare services and allocated $300 million to refurbish rural clinics and create and equip a new state-of-the-art outpatient facility. The Cherokee Nation now operates the largest tribally operated healthcare system in the United States; 27% of its working physicians are tribally affiliated, according to a tribal spokesperson.
The investment in healthcare caught the attention of OSU leaders, who approached the chief with the prospect of opening a medical school on tribal lands. "It was a match made in heaven," Baker said. "We've been investing in our young people for quite some time, sending them to medical school at Harvard and Stanford and all over the country, but when we saw an opportunity to have a medical school right here and not have to ship our kids off, that made perfect sense."
Cherokee leaders feel lucky to have the campus on their land. "The symbol of having a medical school in our capital is just so powerful," said current Cherokee Nation Principal Chief Chuck Hoskin, Jr, who has helped oversee a continuing outflow of healthcare spending.
Hoskin says these moves came in response to years of governmental neglect. "We're not waiting for the federal government to meet its healthcare obligations to American Indian people and their sovereign governments," he said.
Students and medical school leaders say they are thoroughly impressed with how the Cherokee Nation is now handling healthcare in general, as well as COVID-19. Before the pandemic, the tribe built new clinics with high-grade ventilation and enough space to easily segregate infectious patients. The tribe also has its own COVID-19 dashboard. In addition to widely disseminating flu shots, it implemented a mask mandate early on. The state of Oklahoma still doesn't have one.
A Singular Student Experience
Many students are drawn to the school because of its location. "When they announced this partnership with the Cherokee Nation, I had five different family members send it to me," said Connor West, 24. "I think it was meant to be." Although he is a citizen of the Cherokee Nation, West said he has never lived on tribal lands. He's thrilled to see signs around town written in both English and Cherokee, to see so many cars with Cherokee Nation license plates, and to be able to meet tribal leaders. "It's like being in Washington, DC, and meeting the president," he said.
The Cherokee Nation paid to construct the $40 million, 84,000 square foot building that will house the new medical school starting in January. Construction was delayed because of the pandemic. When finished, the halls will be filled with artworks by Cherokee artisans. The grounds will be landscaped with plants used by Cherokee medicine men and women, plants such as coneflower, yarrow, rattlesnake master, blue indigo, and elderberry.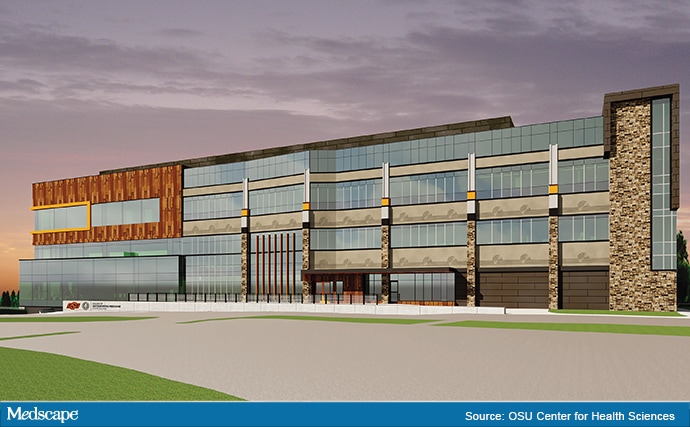 An architectural rendering of OSU College of Osteopathic Medicine at the Cherokee Nation.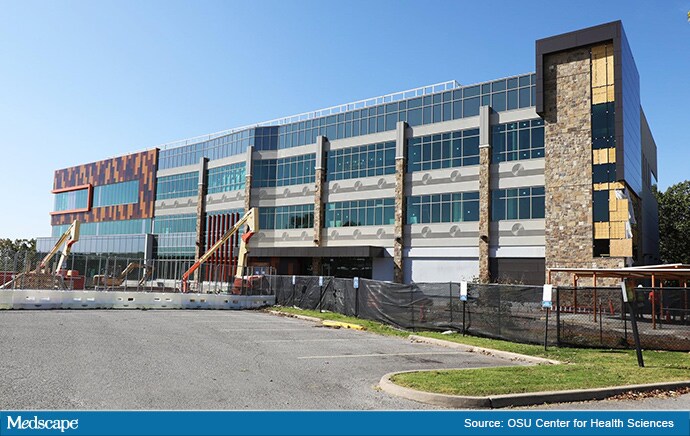 Construction is almost complete on the 84,000 state-of-the-art facility, which will be ready for use in the spring semester of 2021.
The hope is that the physical building and its surroundings will reflect its ties to the community. The medical school sits on Cherokee land, but the agreement to form the school was signed by an additional four area tribal nations: the Chickasaw, Choctaw, Muscogee (Creek), and Seminole. All five tribes are providing funds for scholarships and clinical rotation sites within their tribal clinic systems.
Although the pandemic has put many of the school's plans on hold, courses will involve students interacting with and learning from Native elders and healers who are scheduled to be guest lecturers and will share wisdom with the new students. "We're hoping an unwritten curriculum will emerge from the healing practices of the Cherokee people," said Natasha Bray, DO, the school's associate dean for academic affairs and accreditation.
Decolonizing the medical school curriculum sits well with many Native American physicians. Areas of consideration include how to work with cadavers, something that can be traumatizing for more traditional tribal students, who often seek purifying ceremonies from healers after completing required dissections. "This is so exciting the Cherokee Nation is taking this on," said Gayle Diné Chacon, MD, who served as surgeon general for the Navajo Nation and founded the Center for Native American Health at the University of New Mexico. "I think this will be a model for other tribes."
Opening during the pandemic has been challenging, especially because a major draw of the school is its focus on community. As is the case on other medical school campuses, students at the new school haven't been able to study together or hold parties after tests. When a number of students gathered on Zoom to be interviewed for this article, they commented that they had never before seen each other without masks on. "It's been so hard. They can't do all the bonding things young people would normally do," said Bray.
Students are being patient but are eager to proceed with the unique opportunities the school has offered, including spending time with Cherokee healers and volunteering in the community. Some had hoped to donate their time at nursing homes and other medical facilities. For now, their learning is a blend of remote lectures and in-person osteopathic and physical diagnostic labs, with reduced class sizes and social distancing.
Some students view lectures and study at home. Others, like Gatewood, who has a young child, come to campus and wear masks. The school is using empty Cherokee Nation medical office space while students await their January move-in date. Families were barred from attending the students' white coat ceremony on July 31. So far, there have been no cases of on-campus transmission of COVID-19, Bray said.
As chaotic as it has been, the students say they are very proud to be part of a historic class. "Once we move in, it will kick in that, 'I'm the first one to sit in this chair,' " said Caitlin Cosby, 21, a member of the Choctaw tribe. She was inspired to enter medicine after seeing treatment given to her sister, who was born without eardrums. "Being an inaugural class, we're all leaders."
Creating a Pipeline
Pandemic-related lessons in adaptability may prove valuable to those headed to work in the Indian Health Service, where physician postings are considered "unusually difficult" because of isolation and chronic understaffing, according to a 2018 U.S. Government Accountability Office report. "The fortitude and grit we're developing this year are really going to serve us well," Gatewood said.
The tribal partnership is considered a win-win for the Cherokee Nation and the surrounding community because it creates a pipeline to train Native physicians as well as help ease physician shortages in rural parts of Oklahoma. Oklahoma ranks among states with the fewest physicians per capita and the lowest life expectancy. Forty percent of the students in the inaugural class come from rural areas. When it comes to the school's mission, "it's a shared vision," said Dean William J. Pettit, DO. "The tribal leaders want to keep their population healthy, and we want to train rural physicians."
Although relationships between the Cherokee Nation and the federal government have at times been fraught, Chief Hoskin says his nation's partnership with the state university is a strong one. "When we find friends and neighbors with whom we can build coalitions," he said, "we prosper, and they prosper."
The school also hopes to create new residency programs at area tribal health networks in an effort to keep the students they train practicing in nearby rural and tribal areas. New physicians tend to set up practices near where they completed residency, Pettit said, so setting up rural and tribal residency options is key to increasing the state's rural physician workforce.
Although the medical school is a promising start, those working to increase the ranks of tribal physicians say the pipeline should start much earlier. "We have to get down to the middle school and high school level and mentor these kids. Sometimes they just have to hear, 'Yes, you can do this. Yes, you can take that next step,' " said Tim Ridgway, MD, dean and vice president for health affairs at South Dakota's Sanford School of Medicine, which has also been grappling with ways to increase enrollment of Native American medical students.
OSU has been doing precisely that kind of work. In a program called "Operation Orange," medical school faculty and students go into rural areas hoping to inspire students by letting them experience a day in the life of a medical student. "We let them hold a brain, hold lungs, put on splints and do intubations, things that will excite a younger person," Pettit said.
Diné Chacon agrees that mentoring and better tribal education systems are critical. Currently, the system may not adequately prepare young students for the academic rigor and ability to ace standardized tests that they need to succeed in college and beyond. "It's not just 'open a medical school and they will come,' " said Diné Chacon, who grew up in the center of the Navajo Nation in Chinle, Arizona. "We need to plant the seeds and prepare the field so we have enough good, healthy, competitive applicants to enter medical school."
Even as they look toward ways to improve the future, leaders of the Cherokee Nation are celebrating the potent symbolism of having a medical school rise on their land, the powerful coalition they are building with OSU, and the home-grown physicians they expect to see graduating for years to come.
Usha Lee McFarling is an American science reporter who has written for the Los Angeles Times, The Boston Globe, STAT News, and the Knight Ridder Washington Bureau. In 2007, she won a Pulitzer Prize for Explanatory Reporting. Follow her on Twitter: @ushamcfarling.
For more news, follow Medscape on Facebook, Twitter, Instagram, and YouTube.
Medscape Medical News © 2020

Send news tips to news@medscape.net.
Cite this: First-of-Its-Kind Med School Makes History - Medscape - Nov 18, 2020.