A Louisiana emergency department pediatrician was arrested Wednesday, accused of punching and verbally assaulting a woman walking on Monday near Louisiana State University, according to a Baton Rouge Police Department press release.
According to WAFB News, the woman is a member of the track team at Southern University in Baton Rouge. She reportedly claims the physician shouted a racial slur at her, along with the physical assault.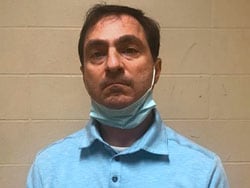 Police identified the suspect as Shane McKinney, 54, a pediatrician at Our Lady of the Lake (OLOL) Children's Hospital in Baton Rouge, and said he was booked into East Baton Rouge Parish Prison on simple battery. The report said the incident occurred just before 7 pm Monday CST.
According to police, the woman was punched in the chest and verbally assaulted while walking around the lakes near Louisiana State University.
"The suspect quickly ran away from the area after the incident occurred," police said, adding that Crime Stoppers tips assisted in identifying the suspect.
The Advocate reported that McKinney's arrest came several hours after OLOL employees received an email from President and Chief Executive Officer Scott Wester informing them that one of their physicians had been "identified as the suspect in an alleged racially motivated attack that surfaced online and in the media Tuesday evening."
The hospital's email to employees did not disclose the doctor's name but said he had been placed on leave, pending an internal investigation. A hospital spokesman later confirmed that McKinney was the doctor, The Advocate reported.
Police Report Doesn't Mention Racial Slur
The initial police department press release, however, makes no mention of a racial slur.
WAFB reports that Baton Rouge Police detectives said Thursday "they don't have any evidence to support the claim that the Monday attack was racially motivated."
The news site added, though, "that [racial] allegation was, however, included in a police news release sent out Tuesday."
McKinney's attorney said in a statement posted by WAFB that the doctor is innocent and "allegations that [McKinney] threw a punch and made a racially offensive comment are not true and not supported by police action."
WAFB reports that an officer wrote in the police report that the woman was walking with a friend when the suspect jogged past them.
"The victim advised that the Defendant (McKinney) deliberately raised his elbow and struck her in the shoulder/chest area, with enough force to cause the victim to turn 180 degrees," the police report states.
OLOL Children's Hospital did not respond to a request for comment by Medscape Medical News by publication time, but WAFB reports that the hospital released this statement: "We don't tolerate hate, racism or violence by any member of our organization against another person. We take the allegations placed against one of our physicians seriously and understand their gravity. We have placed the physician on administrative leave pending a thorough internal investigation. Based on the outcome of our investigation, we may consider further action."
McKinney's LinkedIn page indicates that he has been an OLOL pediatrician for 2 years. His hospital profile online is listed as unavailable.
A Second Incident Is Being Investigated
According to WAFB, the East Baton Rouge Parish District Attorney's office is now also investigating a second case earlier this year allegedly involving McKinney.
WAFB reports that "incident also involves a woman, who claims McKinney physically assaulted her on a jogging area near LSU in July."
Police did not charge McKinney in the previous incident, the report states.
The attorney's statement added that "[McKinney] was not arrested for any type of hate crime because the evidence does not support it. And the misdemeanor simple battery is based upon his elbow contacting the accuser's bicep or shoulder as he jogged past her on the narrow sidewalk. A simple battery requires the 'intentional use of force or violence.' There was none. The contact was unintentional."
The attorney also made an appeal for any video of the encounter from a cell phone or surveillance camera to be turned in to police.
Marcia Frellick is a freelance journalist based in Chicago. She has previously written for the Chicago Tribune, Science News, and Nurse.com, and was an editor at the Chicago Sun-Times, the Cincinnati Enquirer, and the St. Cloud (Minnesota) Times. Follow her on Twitter at @mfrellick.
For more news, follow Medscape on Facebook, Twitter, Instagram, and YouTube.
Medscape Medical News © 2020

Cite this: Louisiana Pediatrician Arrested, Accused of Punching Student - Medscape - Nov 13, 2020.