Although he will be retiring from the role of chief medical officer at the American Society of Clinical Oncology (ASCO) this coming February, Richard Schilsky, MD, is quick to point out he is not finished with professional life.
After 8 years in the position, a newly created role when he took the helm in March 2013, he has a lot more than grandparenting planned — although a newborn third grandchild certainly sweetens that role.

"The only thing I'm sure of is that I'm not seeking additional full-time employment," he said in a recent interview with Medscape Medical News. "If I'd wanted to continue full time I would've just continued at ASCO."
The most prominent of his "unfinished things," as he calls them, may be the TAPUR study, which is tracking outcomes of molecularly targeted cancer drugs outside of indications approved by the US Food and Drug Administration (FDA).
"In essence I've tried to spend much of my time at ASCO building what I've come to refer to as the ASCO research enterprise, which started with TAPUR," he said.
TAPUR tops the list of things Schilsky is proud of — he refers to it as is his "baby" — and ASCO Chief Executive Officer Cliff Hudis, MD, concurs.
"That's been one of his key achievements," said Hudis, who adds that TAPUR set out a new course for the society. "Rich saw there was a critical research opportunity that ASCO could uniquely fill."
"I think TAPUR is going to be one of his most important legacy projects," agreed Monica Bertagnolli, MD, chief of the Division of Surgical Oncology at Brigham and Women's Hospital in Boston, Massachusetts and a longtime ASCO colleague of Schilsky's.
The inspiration for TAPUR was no doubt fueled by Schilsky's blank slate when he entered the newly-created CMO position at ASCO.
"My job was to invent the position and by virtue of my knowledge and experience make ASCO better," he recalls. "And it became clear to me in my first couple of years that ASCO had enormous opportunity to actually engage in research, which it had never done before."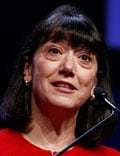 He had already left his research-oriented mark as chair of the Cancer and Leukemia Group B (CALGB), said Bertagnolli, who stepped into that role after him. "Before that, most of the cooperative groups were really clinical in nature; they had much less of a translational focus. But what attracted me to the group was the opportunity to really turn results from the laboratory into meaningful advancements in the way we treated patients with cancer, and Rich was really one of the leaders in that."
Developing TAPUR within ASCO also required building a research team, the Center for Research & Analytics (CENTRA); a network of clinical research sites; and a research quality database. "We now have all those things, and that provides ASCO with an infrastructure to do other research studies whenever we see the right opportunity," said Schilsky.
Indeed, TAPUR has been "a test-bed and a platform" for a number of other reforms to clinical research that Schilsky has championed, said Hudis, including less expensive, simplified study designs, improved access for study participants, and greater enrollment of traditionally underserved populations.
Aside from research, administrative leadership has been another critical part of Schilsky's position at ASCO. "He is a phenomenally effective administrator with an encyclopedic understanding of the function and flows of the organization," said Hudis.
"Rich has all the qualities of an absolutely brilliant leader," added Bertagnolli. "He knows how to pick important strategic directions for the field — he has that depth of scope — and then he knows how to find people who can move those strategic aims forward and support them. He knows how to make connections — connections of ideas and connections of people."
Public Voice of ASCO
Making connections has also been a very visible component of Schilsky's role as the public face and voice of ASCO. "I was asked to establish a relationship with the media so we would be a consistent resource that journalists would rely on," he said.
"A key issue for me has always been that, by and large, the work we do with the media is, and should be, very collaborative. They are the mechanism by which we transmit important scientific information to the general public, and even to our own colleagues who can't always come to our annual meeting."
Schilsky has been a regular presence at the annual meeting press briefings and has made himself readily available as a spokesperson, always ready to explain complex research to journalists, and to place a new finding into a wider context.
One of his most recent achievements has been the creation of the ASCO Survey on COVID-19 in Oncology Registry (ASCO Registry), which aims to shed light on how COVID-19 is affecting the delivery of cancer care and patient outcomes.
"It showed me again how ASCO is well-positioned to respond quickly to the emerging needs of our members," he said.
His decision to retire preceded the pandemic, and he is not tempted to linger through this current crisis. The timing of his departure "is right for me," he said.
"Throughout my career I have made a determination in every position I've had about when seemed like the right time to step aside…I am kind of a believer that change is good for organizations, and for individuals, and after talking with family and thinking about where I was in my personal life and professional life and after what will have been 8 terrific years at ASCO it seems like now's a good time to transition my role," he said.
ASCO has been looking for a replacement for several months ahead of Schilsky's February 28 retirement. Although Hudis acknowledges that Schilsky's are big shoes to fill, he is not worried about finding a new CMO.

"If your goal in replacing anybody is simply to find a clone of them you're going to fail. What's important is we're not going to get the same size feet, and maybe they're going to wear sandals instead of sneakers, and that's OK," Hudis said.
"The key is the opportunity that the position and the environment create and then the courage and vision of the right person to exploit it," Hudis added. "For sure Rich shaped the department and created the role, but the truth is, the next person has every opportunity to reshape it and remold it."
For more from Medscape Oncology, join us on Twitter and Facebook
Medscape Medical News © 2020

Send news tips to news@medscape.net.
Cite this: ASCO's First CMO, Richard Schilsky, MD, Plans Next Projects - Medscape - Nov 11, 2020.