In early January of 2011, Georgetown University freshman Michelle Konkoly returned to campus from a training trip to Puerto Rico with the school's NCCA Division I women's swimming & diving team. She was pumped for a postseason run and for her second semester as a biology major. The future looked bright. "I had a pretty good fall semester," she said. "I was in the middle of the swim team with a lot of potential and had my eyes on the record board." Her focus would soon dramatically change.
On the evening of January 11, Konkoly opened a window in her dorm room to let in some fresh air. She stood on a desk to pry it open, lost her footing, and fell feet-first out the window to the ground, five stories below. She shattered multiple bones, including her L2 vertebrae in her spine. She was rushed to George Washington University Hospital, where she underwent three surgeries to fuse her shattered spine and heel bones.
Now 28 years old, Konkoly is a fourth-year medical student at Sidney Kimmel Medical College in Philadelphia, Pennsylvania. She still sees her future as bright. In fact, the accident paved the way for her to become a Paralympian and influenced the type of physician she intends to be.
Finding Hope
In the initial aftermath of her fall, Konkoly had no idea what her life would hold. "Doctors avoided giving a long-term prognosis right away, which is reasonable," she said. "I could wiggle my toes a little bit right after the accident. Because of that, there was hope."
That hope would fuel a long recovery. After an initial 2-week hospital stay, Konkoly was transferred to Magee Rehabilitation Hospital in Philadelphia. She spent several weeks there — initially as an inpatient and later as an outpatient — engaged in activities and exercises meant to help wake up the damaged nerves in her legs. Konkoly began to question how much her plans for the future would have to change.
"I was telling everyone I was going to walk out of the hospital in a few weeks," she said. "No one told me I wouldn't, but at the same time, my parents were told to build a wheelchair ramp for the house." Konkoly says the initial consensus was that she was likely to regain some function in her legs, although the degree of possible recovery remained unclear. "People were saying I might need a wheelchair for longer distances, or braces or crutches."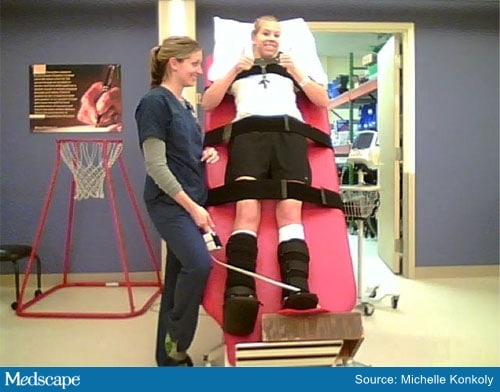 In February of 2011, halfway through her inpatient rehabilitation at Magee, Michelle Konkoly was placed on a tilt table in order to allow weight bearing through her feet.
During her inpatient stay at Magee, Konkoly received a surprise visit from Adam Taliaferro, a former cornerback for the Penn State Nittany Lions football team who sustained a paralyzing spinal cord injury in September 2000 and underwent rehab at Magee. "When he walked into my room and told me that he works out on the elliptical every day I was like, 'Wow. People with spinal cord injuries can get married, have kids, have a job, and work out every day,'" she said. "That gave me hope that my day-to-day life would be normal and fulfilling."
Swimming Into a Golden Future
About 3 months after her fall, Konkoly took her first steps. Before long, she was back in the pool.
Konkoly continued outpatient rehabilitation, including locomotor training, which helps retrain the brain's neural pathways on a gait pattern. After 6 months, she regained the ability to walk unassisted. In August of 2011, she returned to Georgetown for her sophomore year and rejoined the swimming and diving team, which eventually named her a captain.
Swimming soon became her sole mode of exercise and rehabilitation. During her childhood growing up in Eagleville, Pennsylvania, Konkoly was drawn to swimming because of its direct correlation between work and results. "Generally, if you work really hard in swimming, you will get faster and have tangible results," she said.
Although swimming did help her become stronger and faster after her injury, she eventually realized that — no matter how hard she worked — some weakness in her legs would be permanent. "The competitive swimming part of my life was not going to be the same," Konkoly said. "I grappled with that a little bit."
Christopher S. Formal, MD, an attending physician at Magee who was part of Konkoly's care team, was impressed by how well she recovered. "In my experience, most people with similar injuries would not have been able to gain so much function," he said. "I think her being naturally athletic and hardworking were in her favor." That determination and hunger for competition still needed an outlet.
After earning her undergraduate degree at Georgetown, she deferred her acceptance to medical school for 2 years in order to train full-time for the 2016 Summer Paralympics in Rio de Janeiro. "On the one hand I was worried, like, 'Would I forget how to study? Would I be behind academically when I started med school?'" she said. "My parents were shocked when I conveyed this plan to them."
Konkoly moved to Naples, Florida to train full-time, living on a stipend from the US Paralympic team, along with some financial help from her no-longer-shocked parents and sponsors, including a swimsuit company. She also worked part-time jobs to make ends meet. The sacrifice paid off: she earned a gold medal in the 100-meter freestyle, a gold medal in the 50-meter freestyle, and silver and bronze medals in relay races.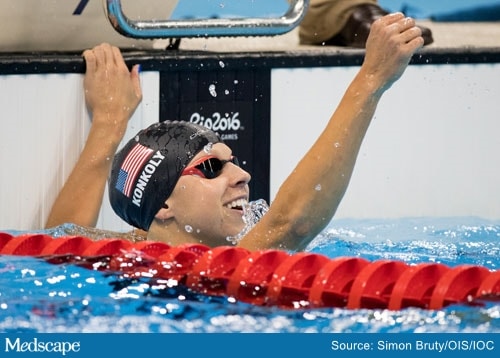 Michelle Konkoly realizes that she won the gold medal in the 100-meter freestyle at the 2016 Summer Paralympics in Rio de Janeiro.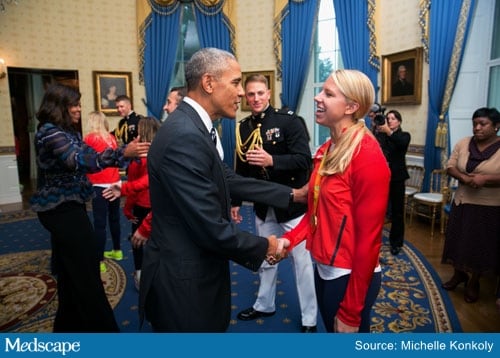 Following the 2016 Summer Paralympics in Rio de Janeiro, Michelle Konkoly and other members of the US Paralympic team met with President Barack Obama in the White House.
From the Pool to Med School
In July 2017, Konkoly began medical school, grateful to be in that environment after devoting so much time training for the Paralympics. "The 'post-Games depression' symptoms are so real, even for athletes who are very successful," she said. "For so long, you have such a defined purpose, schedule, and goals, and then once the Games are over, all of that just evaporates. Medical school also provides all of those goals, however, so having that next on my horizon really helped my transition."
Her biggest takeaway from being back in the hospital — this time as a trainee — was how frightening the experience of having a seriously injured child is for family members. "When I was the patient, I really didn't grasp how difficult that time was for my family," Konkoly said. "Seeing a patient from an outside perspective, however, and having conversations with terrified family members really enlightened me to how scary these experiences are."
Families of injured loved ones often spend hours anticipating what could be just a 5-minute conversation with a physician, she said. Now intimately familiar with both sides of the physician–patient relationship, Konkoly feels an extra weight of responsibility. "This realization has motivated me to be as clear and compassionate as possible when speaking with families, because this can significantly impact their trust and confidence in the provider, which in turn, can significantly impact the patient's outcome."
In the summer of 2020, Konkoly returned to Magee, the place where she had relearned how to walk. She was reunited with Formal, this time for her rotation in physical medicine and rehabilitation. She trained under his supervision. She is currently applying for residency programs and hopes to practice pediatric rehabilitation. "I loved pediatrics as soon as I started it," she said. "Kids are just fun; you can joke around with them and be silly. A lot of medicine is very serious, so I like bringing [an aspect of fun] to increase morale."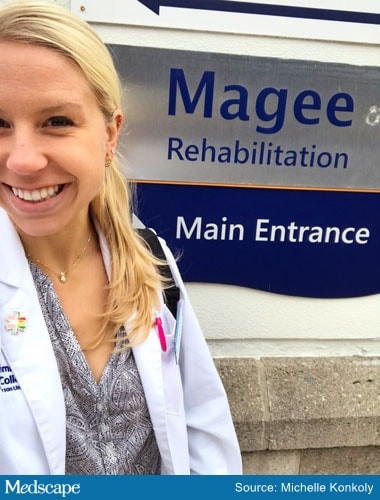 Michelle Konkoly at her rotation in physical medicine and rehabilitation at Magee Rehabilitation Hospital in Philadelphia, where she was cared for following a spinal cord injury in 2011.
Formal predicts a bright future for Konkoly, who is the first of his former patients to later spend a medical rotation under his supervision. "As a patient, I think she wanted to make herself as better as she could," he said. "Now, I think she wants to make other people as better as they can be." Formal believes the injury that first brought them together will help her excel as a physician. "She's been through having a significant impairment. I think that perhaps is going to make her a better practitioner for patients who have impairments."
Konkoly says that she does not share the story of her injury and recovery from a major spinal cord injury often with patients and their families. "I try to reserve it for times when it might be relevant" she said. Having spent so much time receiving care, Konkoly believes she is now uniquely positioned to provide it.
"In general, I think that my experience helps me to better communicate with people who have disabilities, remembering to see the person and not the diagnosis," she said. "That is something that my injury and my subsequent experience in the Paralympics really reinforced."
Doug Brunk is a San Diego-based award-winning reporter for MDedge who began covering health care in 1991. His work has been syndicated by the Los Angeles Times, and he is the author of two books related to the University of Kentucky Wildcats men's basketball program.
Follow Medscape on Facebook, Twitter, Instagram, and YouTube.
Medscape Medical News © 2020

Cite this: Paralympian Overcomes Spine-Breaking Fall to Pursue Medicine - Medscape - Nov 09, 2020.