The presence of certain complicating features on plaques in the carotid artery are an under-recognized cause of ischemic stroke, a new study suggests.
The CAPIAS (Carotid Plaque Imaging in Acute Stroke) study showed that complicated nonstenosing carotid artery plaques (American Heart Association lesion type VI) could account for about 30% of ischemic strokes currently classed as cryptogenic, or of underdetermined etiology, and about 5% to 10% of all ischemic strokes.
The study is published in the November 10 issue of the Journal of the American College of Cardiology.
"Our findings substantiate the role of nonstenosing ipsilateral complicated carotid artery plaques as an under-recognized cause of stroke," the authors state. "We believe these findings add to the understanding of stroke etiologies and have potential implications for the development of diagnostic algorithms."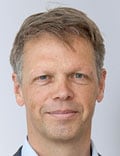 "We have shown that complicated carotid artery plaques appear to be causally related to ischemic strokes in a significant number of patients," co-senior author of the study, Martin Dichgans, MD, University Hospital LMU Munich, Germany, told Medscape Medical News.
He noted that the most frequent type of complicated plaque implicated in stroke was those with intraplaque hemorrhage. "This is easily detected with a simple MRI scan of the neck," Dichgans said. "We therefore recommend that when clinicians are doing a cranial MRI in ischemic stroke patients, they also include an MRI scan of the neck, which can give useful additional information and pick up these intraplaque hemorrhages. This would only take an extra few minutes."
Patients found to have these complicated plaques could then be reclassified and in the future may become eligible for specific therapeutic options, he suggested.
Around 30% of ischemic strokes are classified as cryptogenic with no etiology identified. "This is a problem as we can't use targeted therapies for secondary prevention in these patients," Dichgans commented.
At present, if an ischemic stroke patient has a stenosis of more than 50% of the carotid artery, this is classed as a large artery stroke and the patient would be considered for intervention to remove the plaque, he explained.
But patients who have a low-grade stenosis of the carotid artery (less than a 50% stenosis) are not classified as having had a large artery stroke. They fall into the cryptogenic category and no treatment is given, he noted.
"We may be able to identify features which cause the plaque to be vulnerable and more likely to be cause a stroke," Dichgans said.
The objective of this study was to determine if nonstenosing carotid plaque can play a causal role in ischemic stroke, and if it is possible to determine MRI characteristics of carotid plaque that are related to strokes.
Recent MRI studies have shown that complicated carotid plaques (those that have intraplaque hemorrhage, a ruptured fibrous cap, or a mural thrombus), are associated with increased risk of cerebrovascular events, the researchers report. These are the plaques that were the subject of interest in this study.
The CAPIAS study tested two prespecified hypotheses: (1) that in patients with cryptogenic stroke, the prevalence of complicated carotid plaques would be higher ipsilateral to the infarct vs contralateral to the infarct; and (2) that the prevalence of ipsilateral-complicated carotid plaques would be higher in cryptogenic strokes compared with a reference group of patients with either cardioembolic stroke or small vessel stroke.
An additional comparison group made up of patients with large artery stroke with 50% to 69% carotid stenosis was also included for proof of concept.
The study involved 196 patients with ischemic stroke, of whom 104 were classified as cryptogenic stroke, 73 had had a cardioembolic or small vessel stroke, and 19 had a large carotid artery stenosis (50%-69%).
Results showed that both predefined hypotheses were positive. In patients with cryptogenic strokes, the prevalence of complicated carotid lesions was 31% ipsilateral to the stroke vs only 12% contralateral to the stroke (P = .0005). And the cryptogenic stroke patients had a higher prevalence of ipsilateral complicated carotid plaques than the reference group (31% vs 15%; P = .02).
The large artery stroke patients had a rate of ipsilateral complicated carotid lesions of 68%, which the authors say "underscores the importance of ipsilateral complicated carotid artery plaques in anterior circulation stroke."
Dichgans and his colleagues are now working to establish this protocol in their clinics, and they are planning a multicenter study to identify how frequently these patients are found in normal clinical practice. The next step would be to conduct an interventional trial to investigate treatment options in these patients.
"It may be that it is no longer just the grade of stenosis that determines treatment but also plaque features," Dichgans said.
Focus on Stenosis Resistant to Change
In an accompanying editorial, Christopher M. Kramer, MD, University of Virginia Health System, Charlottesville, and Gerald S. Treiman, MD, University of Utah School of Medicine, Salt Lake City, point out that the fundamental goal of carotid artery evaluation is to determine the stroke risk from carotid disease and the appropriate guidelines for intervention.
"For more than 50 years, stenosis has been the basis for counseling and risk stratification. Despite several studies correlating plaque complexity with stroke risk, independent of stenosis, this long-held tenet has proved quite resistant to change," they note.
They suggest that these new findings from the CAPIAS study "may help to shift the focus of carotid artery evaluation from arterial narrowing to plaque composition."
The editorialists say that to move forward with this approach, prospective studies on patients with complex plaques and less than 50% stenosis, who are followed for at least 5 years, are needed.
"This report is thus one more step in the right direction and will hopefully spur others to continue to challenge the conventional dogma that carotid stenosis is the basis for stroke risk determination. Only then will we be able to choose the most vulnerable plaques in the most vulnerable patients on which to intervene," they conclude.
This work was supported by the Vascular Dementia Research Foundation and the German Research Foundation. The authors have disclosed no relevant financial relationships. Kramer reported a research grant from Regeneron.
J Am Coll Cardiol. 2020;76(19): 2212-22, 2223-25. Abstract, Editorial
For more Medscape Neurology news, join us on Facebook and Twitter.
Medscape Medical News © 2020

Cite this: Sue Hughes. Small Complicated Carotid Plaques May Be Culprit in Some Strokes - Medscape - Nov 06, 2020.