Editor's Note: This article is adapted from Medscape's Physician Business Academy course on Physician Payment Incentives, Bonuses, and RVUs.
Employers want to make sure that their employed physicians are creating profits for the organization or hospital. As a result, they've developed several different types of incentive payments, which differ in how much physicians can earn, and how easily you can be successful with that particular plan.
Some physicians are happy with their hospital's or organization's plan and feel that it's very fair. Other physicians sometimes feel that achieving their plan's goal has been made unnecessarily hard, and that they're unable to earn what they think is appropriate.
The most common kind of incentive payment is based on physician productivity.
Productivity incentives are usually measured in one of four ways: by net collections, gross charges, number of visits, and relative value units (RVUs).
Productivity Incentives Based on Net Collections
The traditional productivity measure for incentive payments is net collections, which has been used in private practices for generations. The incentive is based on the actual cash received for services that the physician rendered. It is relatively simple to capture this information, since these are the reimbursements paid to the practice.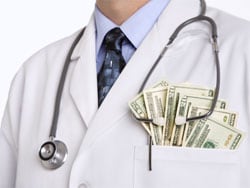 Traditionally, this model is used for the entire compensation. For example, each physician would be paid 50% of his or her own collections, with the remaining 50% earmarked for overhead expenses and small quarterly bonus based on revenues from the group's ancillary services.
However, use of net collections has been declining. By 2019-2020, net collections made up just 13% of production incentives, based on search assignments by Merritt Hawkins, a physician recruitment firm. There are several flaws in this approach:
Since payers have different levels of reimbursement, a net collections model will vary according to payer mix. This model penalizes physicians who treat patients with low reimbursement, such as Medicaid.

Certain services are reimbursed less than others, meaning that physicians who provide a lot of those services showed lower productivity.

Physicians have little control over the collections process for billing, particularly in a hospital organization, where there is a centralized billing office removed from the practice. When the bill isn't paid, the physician is not credited.
Because of the problems with the net collections model, many physicians avoided positions that used this model, prompting some employers to abandon net collections.
Alternatives to Net Collections
Gross charges. Some practices try to put physicians on a more equal footing by measuring incentives based on gross charges or gross billings, which are the full, nondiscounted fees charged, before any contractual or other adjustments are applied.
However, gross charges are harder to measure. By 2019-2020, they accounted for just 2% of production incentives in the Merritt Hawkins search assignments.
Number of visits. Some organizations don't use reimbursements to measure productivity, basing it instead on the number of patient visits per doctor. Then doctors don't have to worry about what kind of payer their patients have.
This model is used by many community health centers designated as federally qualified health centers (FQHCs). Typically, the employer sets an expected number of patient encounters per day and pays doctors extra for each patient exceeding that benchmark.
In the 2019-2020 search assignments handled by Merritt Hawkins, 12% of positions with a productivity incentive used patient encounters as the measure.
This model also has flaws. Basing production on the sheer number of patients pressures doctors to cut appointments short to meet the targeted number of visits. Primary care physicians may order more tests and refer more patients to specialists, rather than spend the time to come up with their own diagnosis.
Relative Value Units
Relative value units have become the most common metric for incentive payments. By 2019-2020, 70% of production incentives in Merritt Hawkins search assignments were based on RVUs, up from 57% in 2013.
Like most of the other incentive measures, RVUs are derived from the billing process. An RVU is a value assigned to each current procedural terminology (CPT) code, which payers use to determine reimbursements.
Unlike net collections or gross charges, RVUs are not dependent on bills sent out or bills paid. You still earn the RVUs even if your billing department fails to send the bill out or make sure it gets paid. Moreover, RVUs are blind to payer reimbursement, so work measurements can be standardized.
A Brief History of RVUs
RVUs were introduced for Medicare payments in 1992 and were quickly adopted by many private payers. Previously, payers based reimbursements on the historical charges physicians billed for their services — referred to as "usual, customary, and reasonable" (UCR) charges.
The old UCR system was confusing, however. Payments by the same payer for the same service varied widely, depending on each physician's customary payment. Also, each payer determined its own UCR level for each doctor, based on fairly subjective criteria, which added to the confusion and made it difficult for doctors to challenge the UCR level.
Although RVUs were first used for reimbursement in the 1990s, they did not catch on as a measurement for productivity incentives until the 2000s. Adoption had to wait until electronic health records (EHRs) caught on, making it possible to easily capture RVUs for each physician.
Incentive Payments Use the Work RVU
An RVU-based incentive usually uses just one component of the full RVU — the work RVU (wRVU), a figure that accounts for a little over half the value of the full RVU. The wRVU attempts to measure the time, technical skill and effort, mental effort and judgment, and stress that the doctor undergoes to provide a service.
The two other components of the RVU are the practice expense RVU (which accounts for office expenses and work done by nonphysicians) and the professional liability RVU (which accounts for the cost of malpractice insurance premiums).
Each CPT code is given a certain number of work RVUs, which can be carried out two figures beyond the decimal point. The employer then adds together all wRVUs for each employed physician in a given time period, which can be a month, a quarter, or a full year. Quarterly payments are the most common time frame.
Compiling wRVU Benchmarks
To get an incentive bonus, the physician must attain a certain number of RVUs, called the benchmark. To set the benchmark, employers use directories showing the average number of RVUs performed by physicians in each specialty and each region of the country.
These directories are based on surveys of physicians. The most prominent directory is issued by the Medical Group Management Association (MGMA), but similar directories come from the American Medical Group Association (AMGA), for large group practices, and the University HealthSystem Consortium (UHC), for academic physicians. The consulting firm SullivanCotter also provides directories, and there are specialty-specific directories for many specialties.
The directories benchmark physician compensation at varying levels — such as the 25th percentile, 50th percentile, 75th percentile and 90th percentile. Employers typically use the 50th percentile to create a benchmark for incentive payments.
Each directory can provide a different level from the others, as a result of the different groups of physicians surveyed and relatively small sample sizes. Therefore, some employers blend two different directories together to obtain their benchmarks.
Advantages of wRVUs
They level the playing field. Care for Medicare, Medicaid and indigent patients is valued the same as for private payers. This fits many hospitals' business model of treating all patients, no matter what the payer is.
They are easy to calculate. The employer is already calculating RVUs for payment, so calculating wRVUs is relatively easy to do. The employer can use these data to measure the efficiency of the practice and complexity of patients.
They lower physicians' financial risk. Since RVUs are based on work done, physicians are shielded from losses the employer bears from not getting paid or getting paid a scanty amount. However, some employers undertake "claw-backs" from physicians' pay — and from their incentive RVUs — if the payer rescinds payments.
Disadvantages of wRVUs
They reward volume, not quality. The system rewards faster physician work, irrespective of outcome or patient satisfaction, and penalizes a thoughtful, thorough management approach that requires more time with the patient.
They favor certain work. Medical procedures tend to be allotted more RVUs per time spent than cognitive visits. Likewise, physicians who have a sicker patient panel can gather more wRVUs than physicians with healthier patients.
Some tasks get fewer wRVUs. Office visits generate fewer RVUs than many procedures, even when accounting for the amount of time spent. For example, an office visit is worth from 0.18 to 2.11 RVUs, while a colonoscopy is worth from 3.36 to 4.67 RVUs.
They are not aligned with value. RVUs rely on traditional fee-for-service physician incentives of doing more work — not necessarily work that is considered to have higher quality or value of the work done. For example, RVUs do not align well with capitated payments, which pay a specific amount per member, per month.
Pointers on Working With wRVUs
Documentation counts. Since wRVUs are based on documentation in the medical record, insufficient documentation by the physician can substantially reduce the number of wRVUs assigned to the physician for a specific service. Scanty documentation on RVUs also means that the employer is being underpaid by insurers. Therefore, employers will be vigilant about the level of documentation.
Don't accept unattainable thresholds. The added income may look good on paper, but if you can't reach it, it will be meaningless. To see how attainable a wRVU threshold is, consult national directories issued by MGMA, AMGA, and others. Also, having a bonus ladder will help you attain at least some of the bonus.
Pure Productivity Payments
Quite often, employed physicians are paid solely or almost solely on their productivity, usually measured by RVUs or net revenue. This means that the physician gets a designated percentage of what he or she brings into the practice or hospital.
In this case, because the physician's entire income already has the effect of an incentive, a productivity incentive is not needed, but the physician may be under an incentive payment for value.
The 'pure productivity' model, based on reimbursements, has existed for physician-owners in private practices since time immemorial. Basically, the practice earmarks the reimbursements that each physician billed for, takes out a portion for overhead, and pays the remainder to the physician.
However, many private practices have shifted to other payment models, such as the 'equal distribution' model, in which each physician gets a designated portion of the reimbursement pie. A 2016 analysis by the American Medical Association found that 27.7% of practice owners were still paid based on pure productivity.
The pure productivity model is also used to pay many employed physicians at hospitals and other organizations, typically based on wRVUs. The AMA analysis found that 12.4% of employed physicians were on this model in 2016.
Pure productivity can be a boon for physicians with consistently high productivity, but they have to put up with fluctuating payments, representing their fluctuating reimbursements. Even under RVUs, the amount of work RVUs fluctuate, meaning that compensation can vary by as much as several thousand dollars month by month.
This problem became particularly apparent in the COVID-19 crisis, when the number of office visits and procedures plummeted. Doctors in pure productivity models were earning next to nothing, while their colleagues on salaries still managed to earn a living.
Also, depending on the terms of the employment contract, a doctor on a pure productivity model may not be paid for treating uninsured patients who are charity write-offs. This could amount to a big loss for those who treat lots of uninsured patients. So it's important to know the details of the contract.
After you're employed and have the contract in place, it may be difficult to make changes in your incentive bonus arrangement, but it is worth discussing to see if you can renegotiate for an arrangement that would be more profitable for you.
Are you satisfied with your incentive bonus plan? Tell us why (or why not) in the comments.
Michael Belkin, JD, is Divisional Vice President, Merritt Hawkins & Associates, Dallas, Texas.
For more news, follow Medscape on Facebook, Twitter, Instagram, and YouTube.
Medscape Medical News © 2020

Send news tips to news@medscape.net.
Cite this: Could You Be Earning More With a Different Incentive Bonus Plan? - Medscape - Nov 04, 2020.