Former New York orthopedic surgeon Spyros Panos, previously convicted on healthcare fraud charges, pleaded guilty last week to new fraud charges that included impersonating a physician, according to the US Attorney's Office in the Southern District of New York.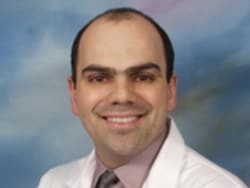 Panos, 52, of Hopewell Junction in upstate New York, was charged with wire fraud, healthcare fraud, and aggravated identity theft in a scheme in which he assumed the identity of an orthopedic surgeon and received more than $876,000 for reviewing patient files in workers' compensation cases.
He now faces repayment of that money and up to 20 years in prison.
The Poughkeepsie Journal reported that, according to court documents, Panos submitted defense exhibits in advance of his trial, slated to begin today, that included fraudulent records and emails.
It was the second time in 7 years Panos pleaded guilty to healthcare fraud charges.
Released From Prison in 2017
He was released from prison in March 2017 after serving less than 3 years of his 4 ½ year sentence, the Poughkeepsie Journal reported
He had pleaded guilty to one count of felony healthcare fraud in November 2013, as reported by Medscape Medical News, and admitted to running a multimillion-dollar scheme that defrauded multiple insurance providers. He surrendered his medical license that year.
"Spyros Panos, a former surgeon who surrendered his medical license after a prior conviction in this District for healthcare fraud, has admitted to committing healthcare fraud again, this time by impersonating a licensed doctor. Now, for a second time, Panos awaits sentencing for his criminal conduct," Acting US Attorney Audrey Strauss said in a press release.
Among allegations in the indictment were that Panos submitted the credentials of a licensed surgeon and used those credentials to conduct peer reviews in worker compensation cases, the press release states.
Panos pleaded guilty October 29 to one count of wire fraud, which carries a maximum sentence of 20 years in prison, one count of healthcare fraud, (maximum sentence 10 years in prison) and one count of aggravated identity theft, which carries a mandatory minimum sentence of 2 years in prison, according to the press release. He faces sentencing in March.
Medscape Medical News previously reported that in early 2019 a New York arbitrator awarded $140 million to resolve 255 medical malpractice lawsuits against Panos. The arbitration agreement also covered the "vicarious liability" of Mid Hudson Medical Group, Panos' former practice in Poughkeepsie, Nancy McGee, an attorney who represents 149 of the plaintiffs, told Medscape Medical News.
The suits alleged that Panos routinely performed 15 to 20 surgeries a day and saw up to 90 patients a day in his office over a decade. Some of the procedures were unnecessary, and some were faked or botched, according to the lawsuits.
Marcia Frellick is a freelance journalist based in Chicago. She has previously written for the Chicago Tribune, Science News and Nurse.com and was an editor at the Chicago Sun-Times, the Cincinnati Enquirer, and the St. Cloud (Minnesota) Times. Follow her on Twitter at @mfrellick
For more news, follow Medscape on Facebook, Twitter, Instagram, and YouTube.
Medscape Medical News © 2020

Cite this: Convicted Ex-Surgeon Pleads Guilty to New Fraud Charges - Medscape - Nov 02, 2020.