Hospitalization for heart failure (HF) marks a pivotal event in the disease course of our patients, one that carries a 1-year mortality rate of 25%. Despite advances in pharmacologic and cardiac resynchronization therapies, the number of hospitalizations for HF remains high (an estimated 809,000 patients in 2016) with 30-day HF readmission rates of 20%.
Noninvasive monitoring of physiologic changes and invasive implantable devices and sensors capable of tracking intrathoracic impedance or pulmonary artery (PA) pressure have been used in the hopes of reducing readmission or extending survival. Unfortunately, clinical trials of noninvasive approaches have shown mixed results, with most of the larger studies failing to demonstrate a reduction in readmission or mortality. Regarding invasive technologies, although decreases in intrathoracic impedance have been shown to better predict events resulting from decompensated HF than monitoring of daily weights, one meta-analysis found that intrathoracic impedance did not prevent admissions of patients with HF or reduce all-cause mortality. Yet, increases in PA pressure, which precede decreases in intrathoracic impedance, weight gain, and congestive HF symptoms, have shown to be an early predictor of decompensated HF. Current implantable remote monitoring devices focus on direct measurement of PA and left atrial (LA) pressures. How effective are these devices in preventing rehospitalization? Here is an overview of data for current and upcoming remote monitoring systems.
A "Champion" in Preventing Rehospitalization of Patients With HF
The CardioMEMS HF System (Abbott; Sylmar, California) is a fully implantable, permanent monitoring device that utilizes microelectromechanical system technology and does not require wires or batteries. The device is inserted via a femoral or internal jugular venous approach, and the sensor is deployed in a branch of the PA (after pulmonary arteriography confirms that the branch of the PA is the appropriate size) and anchored within the vessel by nitinol loops. The sensor is powered and activated by an external antenna housed within a special pillow. After the pillow is properly positioned with the thickest part placed under the patient's head, a push of a button activates the sensor and transmits the patient's PA pressure findings to the healthcare team.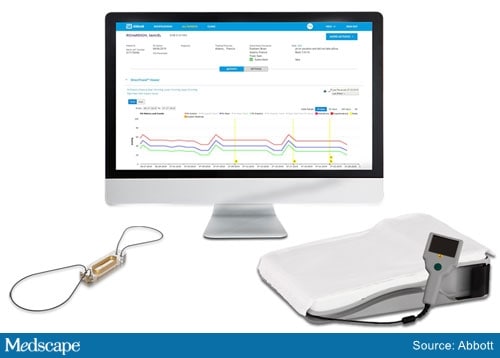 CardioMEMS HF System.
To assess the effectiveness of this device for remote hemodynamic monitoring, the CHAMPION trial, a single-blind study, evaluated 550 patients with New York Heart Association (NYHA) Class III HF (regardless of left ventricular ejection fraction) who had been hospitalized within the prior year. Following the implantation of the CardioMEMS HF sensor (all patients had the sensor implanted to eliminate bias), participants were randomly assigned to receive either PA pressure-guided management plus standard of care (SOC) management or SOC management alone. Key findings from this landmark study included a relative risk reduction of 28% for HF hospitalization during the first 6 months in the PA pressure-guided management group. During the entire follow-up period (mean, 15 months), there was a 37% relative risk reduction in HF hospitalizations for patients in the PA pressure-guided management group. Device safety endpoints were met, and there were no sensor failures. In addition to these findings, a prespecified subanalysis of the CHAMPION trial comparing mortality rates of patients with HF with reduced ejection fraction demonstrated a trend toward reduction in mortality in the group whose care was guided by PA pressure management.
At the request of the US Food and Drug Administration, Abbott conducted a post-approval study to confirm the effectiveness and safety of PA pressure-guided therapy in clinical practice and in underrepresented clinical subgroups (Black patients, female patients, patients with HF with preserved ejection fraction, patients with cardiac resynchronization and implantable defibrillators). The 1200 patients enrolled in the post-approval study had a 57% relative risk reduction in HF hospitalization rates at 1 year post-implant compared with HF hospitalization rates at 1 year pre-implant. The 1-year post-implant hospitalization rates were lower, independent of ejection fraction. Additionally, patients with HF hospitalizations at 1 year post-implant were significantly reduced in the underrepresented clinical subgroups.
The ongoing GUIDE-HF trial will be the largest trial of hemodynamic-guided HF management. The trial consists of a single-blind randomized arm and an observational single-unblind arm. Unlike CHAMPION, the single-blind randomized arm in GUIDE-HF will include patients with NYHA Class II, III, or IV symptoms. Additionally, patients enrolled in GUIDE-HF need not have had a HF-related hospitalization within the prior year. In the absence of prior HF hospitalization, participants must have elevated natriuretic peptide levels. Patients in this arm will be randomly assigned to the treatment group (PA pressure-guided therapy plus SOC therapy) or the control group (SOC therapy alone). The primary endpoint is the composite of cumulative HF events and all-cause mortality at 12 months. The observational arm will include and compare patients with NYHA Class III symptoms who have either an HF hospitalization in the last year or elevated natriuretic peptide levels but not both.
What's Next in Remote PA Pressure Devices?
Other PA sensors are in various phases of development, one of which is the Cordella Pulmonary Artery Pressure Sensor (Endotronix, Inc.; Chicago, Illinois). Similar to the CardioMEMS HF System, the Cordella sensor also uses microelectromechanical system technology. The device is delivered via a femoral venous approach, and it is implanted into the right PA (preferably an anterior branch) using a unique self-aligning anchoring system. PA pressure is measured by a handheld device positioned over the anterior chest wall. Unlike the CardioMEMS HF System, PA pressure can be measured while the patient is upright. The Cordella sensor is incorporated into the Cordella Heart Failure System (Endotronix, Inc.), which uses an interactive telemonitoring system to transmit vital signs and patient-reported symptoms to the healthcare team.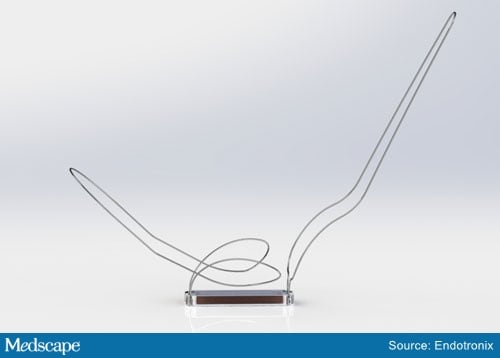 Cordella Pulmonary Artery Pressure Sensor.
In the SIRONA first-in-human trial, the sensor met the primary safety endpoints of freedom from device-related adverse events through 30 days and sensor failure. The primary efficacy endpoint of accuracy of PA pressure measurement at 90 days was also met. The currently enrolling PROACTIVE-HF trial will assess 970 patients with NYHA Class III (patients with HF with preserved or reduced ejection fraction) who had an HF-related hospitalization or outpatient intravenous diuretics within the prior year, and/or who had a significantly elevated natriuretic peptide level. Patients will be randomly assigned to an HF management strategy using daily vital signs vs a strategy employing daily vital signs plus PA pressure data. Primary endpoints to be assessed are mortality and HF hospitalizations as well as system and device safety (estimated study completion date is May 2024).
Running LA Pressure Checks
Early hemodynamic studies have shown the correlation between PA pressure and left-sided filling pressures, particularly pulmonary capillary wedge pressure. The favorable outcomes observed in the CardioMEMS HF System studies (CHAMPION and the post-approval study) are at least in part attributed to this relationship. However, increased pulmonary vascular resistance and pulmonary hypertension, both of which are prevalent in patients with HF, weaken this correlation. Potential inaccuracies in the correlation of PA pressures and left-sided filling pressures have made direct measurement of LA pressure an exciting target for monitoring.
One of the first direct LA pressure-monitoring devices, the HeartPOD (Abbott; Sylmar, California [formerly St. Jude Medical/Savacor, Inc.]) LA pressure monitoring system consisted of a sensor lead implanted transvenously into the left atrium through a transseptal puncture. An external patient advisory module communicated with the sensor and recorded LA pressure. The HOMEOSTASIS trial evaluated the effects of the HeartPOD system to determine whether physician-directed patient self-management of LA pressure improved hemodynamics, symptoms, and outcomes in patients with advanced HF. Although results of this small study showed improvements in survival in patients without HF decompensation and in mean daily LA pressures, the larger LAPTOP-HF trial was stopped early due to numerous implant-related complications. Currently, HeartPOD is not FDA-approved or available commercially in the United States.
The V-LAP (Vectorious Medical Technologies; Tel Aviv, Israel) is one of the latest LA pressure-monitoring devices. Unlike HeartPOD, V-LAP has no leads; it is a battery-free sensor fixated into the interatrial septum via transeptal puncture. The device transmits high-resolution LA pressure waveforms to a secure cloud-based server through an external home unit (a portable sash or belt). V-LAP is unique in that it uses artificial intelligence and machine learning to identify atrial arrhythmias, variabilities in heart rate, and valvular disease, which provide potential opportunity for earlier intervention. The VECTOR-HF first-in-human study will evaluate the devices safety in 30 patients with NYHA Class III HF (left ventricular ejection fraction > 15%) who have been hospitalized for HF within the past year or have an elevated natriuretic peptide level.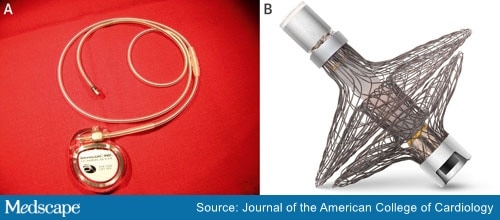 HeartPOD LA pressure monitoring system (left); V-LAP sensor (right).
Also in development is the Titan (ISS Inc.; Ypsilanti, Michigan) LA pressure monitoring system, a surgically implanted wireless microelectromechanical pressure sensor that is activated by radiofrequency from an external recording unit. The device has been evaluated in a small number of patients with end-stage HF who are undergoing left ventricular assist device implantation. Early findings in this small cohort suggest that accurate LA pressure measurement by the Titan LA pressure monitoring system could help guide the optimization of left ventricular assist device pump speed.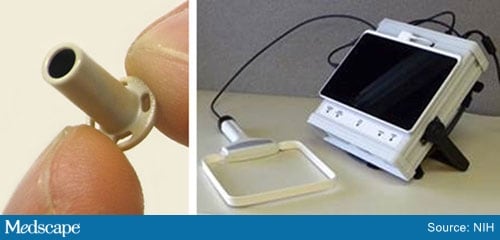 Titan LA pressure monitoring system.
Looking Ahead
The use of invasive remote hemodynamic monitoring devices gives us the opportunity to identify and treat patients in the early stages of decompensated HF prior to the development of symptoms. There is evidence that these devices can reduce the number of HF rehospitalizations. These novel devices represent an exciting use of technology to aid in the management of patients with HF.
Follow theheart.org | Medscape Cardiology on Twitter
Follow Medscape on Facebook, Twitter, Instagram, and YouTube
© 2020 American College of Cardiology & Medscape

Cite this: Remote Monitoring Systems in Heart Failure: What's the Current Status? - Medscape - Nov 10, 2020.