Currently we can't hop a plane, check into a hotel, and hit the convention floor in search of a great conference presentation. But you can still log on and learn. To escape the ongoing isolation, I jumped at the chance to virtually attend the 2020 meetings of the European Society of Cardiology (ESC), the Kentucky Chapter of the American College of Cardiology (KY-ACC), and the European Association for Cardio-Thoracic Surgery (EACTS).
My experiences varied from absolute glee at successfully navigating the day's schedule to frustration trying to create an avatar or get CME credit.
ESC and KY-ACC
The ESC was very user friendly. I happily clicked in to live presentations or prerecorded sessions. I took notes while I ate lunch at my breakfast table. The ESC broadcast from a virtual studio in Amsterdam with in-person discussants and prerecorded late-breaking presentations.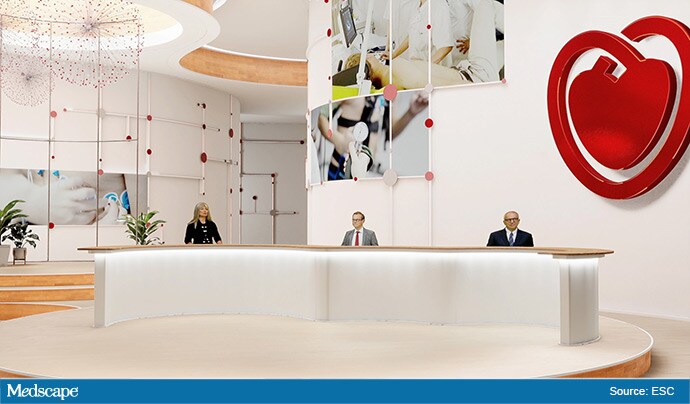 Studio for ESC broadcast
The KY-ACC meeting had similar endorphin-producing results, with a notable difference in technical aesthetics. Fake attendees chatted among themselves, heads bobbing while mechanically gesticulating. When I clicked on a room to watch a presentation, some of these virtual attendees seemingly joined me. I appreciated that nonintrusive attempt to humanize my meeting experience.
My only difficulty for both meetings was requesting proof of CME credit. I learned that obtaining CME credit for virtual attendance is purposefully delayed to allow time to verify attendee log-in hours, do the appropriate calculations, and then email the certificate. This process seems sorely outdated and contrasts with the technical advances used to choreograph virtual meetings of this magnitude.
I give credit to the ESC for waiving registration fees. Free anything is good, especially in the pandemic era. My hours of sitting and learning earned me a sore butt and 12 CME credits.
EACTS and the Avatar Experience
With two virtual meetings under my belt, I accepted Medscape's challenge to navigate more sophisticated technical wizardry to attend the EACTS as an avatar. No, I didn't have a large tail or blue skin like the Na'vi, but James Cameron would still have been impressed.

Melissa Walton-Shirley's Avatar at EACTS
The novelty of my nonhuman incarnation was short-lived. It took me 90 minutes to find the door to the "dressing room" to build my avatar. After email requests for assistance, I was finally able to slick my avatar hair into the smooth ponytail that I've always coveted. I donned some rocking black boots and black and white pants but opted for a nerdy white coat and stethoscope so my editor could easily identify me for my photo shoot (see above). Using the arrow keys I ventured onto the convention floor with my finger on the "shift" button for speed.
I trotted up to someone who looked exactly like a colleague (in real life), but a quick click confirmed we weren't acquainted. We stood awkwardly gawking face-to-face in a sleep-like trance. I turned to leave and ran smack into a glass wall. I actually blushed in real life while my avatar was held captive by the wall, feet still moving.
I spied two physicians who seemed good targets for an attempt at a chat only to be completely ignored. Our avatars stood gently rocking like extras on the Walking Dead. In theory, you could communicate with other avatars through a chat function, but in reality, the human behind the avatar was most likely watching a presentation, oblivious to your presence.
Academic Programs and Virtual Museums
While fun for a few minutes, the avatar experience seemed an effort unworthy of the time spent in its creation. Maybe this appeals to younger physicians or surgeons, but for me the most important aspect of any meeting is the academic content.
I'm happy to report that all of the conferences provided virtual comfort food from that perspective. The programs were comparable to every medical meeting I've been privileged to attend in person.
And there were other perks to attending from the comfort of my own home. Instead of a windowless conference room, I could sit facing my backyard surrounded by sun-filled circle-topped windows. I could interrupt recorded presentations for bathroom breaks or other obligations.

A Virtual La Sagrada Familia in Barcelona
As an extra treat, the EACTS portal offered virtual tours of the sights and museums of Barcelona. Sweeping orchestral strains accompanied my walk through La Sagrada Familia. I had visited most of these places in person and enjoyed the slower pace and the ability to view areas of interest for a second and even third time.
Zoom Reminder of Human Connection
But during a zoom Q&A at the KY-ACC meeting, I was reminded of what I was missing. A former mentor, Walter Sobczyk, MD, was presenting and spied my "head." We briefly reminisced about the first adult congenital ICU patient we shared as attending and fellow. It was truly the next best thing to being there.
I appreciate the great efforts and technical advances being used to make us all feel socialized and educated. I accept that the way we attend meetings and transmit ideas is likely changed forever. But an avatar is no substitute for human interaction. The isolation I feel from missing my colleagues is palpable. My human form is happiest when I'm sitting among them writing in the press room or discussing the day's presentations over dinner.
No amount of free CME or fashion-forward avatars can replace the need for the human connection. Nothing replaces that.
Melissa Walton-Shirley, MD, is a native Kentuckian who retired from full-time invasive cardiology. She enjoys locums work and is a champion of physician rights and patient safety. In addition to opinion writing, she enjoys spending time with her husband, daughters, and parents and sidelines as a backing vocalist for local rock bands.
Follow Melissa Walton, Shirley on Twitter
Follow theheart.org | Medscape Cardiology on Twitter
Follow Medscape on Facebook, Twitter, Instagram, and YouTube
© 2020 WebMD, LLC

Any views expressed above are the author's own and do not necessarily reflect the views of WebMD or Medscape.
Cite this: Melissa Walton-Shirley. An Avatar Is Not a Human: Virtual Meetings Have Their Limitations - Medscape - Nov 02, 2020.