The treatment of ovarian cancer has evolved considerably in the last few years, with the approval of several PARP inhibitors, antiangiogenic agents, and other therapies for a multitude of indications. Additional treatments are likely to soon join this already diverse spectrum of available options, if their promising efficacy and safety continues to be borne out in ongoing research.
To better understand the individual merits and potential drawbacks of these treatments, Medscape recently spoke with Rebecca Stone, MD, an ovarian cancer expert and associate professor of gynecologic oncology at Johns Hopkins University School of Medicine in Baltimore. This interview has been edited for length and clarity.
Medscape: We're starting to see preliminary data on pamiparib , an investigational inhibitor of PARP1 and PARP2, for the treatment of ovarian cancer. What is the evidence supporting this drug?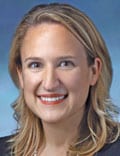 Stone: Currently, six different PARP inhibitors — olaparib, rucaparib, veliparib, niraparib, talazoparib, and pamiparib — have been in clinical development at different stages. In clinical applications, PARP inhibitors, including olaparib, rucaparib, niraparib, and talazoparib, have demonstrated sustained anti-tumor responses as single agents in patients with BRCA1 or BRCA2 mutations. Those with US Food and Drug Administration (FDA) indications in ovarian cancer include olaparib, rucaparib, and niraparib. The preclinical and clinical data with pamiparib is limited as of now. But, in a xenograft breast cancer model, it was found to be over 10 times more potent than olaparib.
If approved, where would pamiparib fit in the treatment paradigm for ovarian cancer?
It would potentially fit as monotherapy as well as in combination with agents other than standard chemotherapy for the treatment of BRCA mutated ovarian cancer. It could also be considered for maintenance therapy at the conclusion of chemotherapy treatment of newly diagnosed or recurrent BRCA mutated ovarian cancer.
What adverse events are associated with pamiparib? How does the toxicity profile compare with other drugs for ovarian cancer?
With respect to PARP inhibitors, the differences in potency (PARP trapping) correlate with their toxicity profiles. The most common adverse events are gastrointestinal, hematological, and constitutional (fatigue). Even though it is difficult to compare toxicities across different trials with heterogeneous patient populations, there are few points worth noting.
Rucaparib leads to inhibition of renal transporter proteins involved in secretion of creatinine and can lead to increased creatinine (any grade: 15%; grade 3: ≤ 1%). Transaminitis is generally self-limiting and highest with rucaparib (any grade: 34%; grade 3: 10%). Hematological toxicities are the highest with niraparib (any grade: thrombocytopenia 61%, anemia 50%, neutropenia 30%; grade ≥ 3: thrombocytopenia 34%, anemia 25%, neutropenia 20%).
Toxicities are more common in the first few cycles of treatment, warranting closer early monitoring. This differs somewhat from the gastrointestinal, hematological, and constitutional (fatigue) adverse events that we see with common chemotherapeutic agents used to treat ovarian cancer, which are generally cumulative.
PARP inhibitor treatment is also associated with an increased risk of developing myelodysplastic syndrome/acute myeloid leukemia (MDS/AML). That being said, therapy-related leukemia, or t-MDS/AML, is a well-recognized complication of conventional chemotherapy used to treat a variety of primary malignancies, including ovarian cancer.
The expected toxicity profile for pamiparib is based on what we have seen with the other PARP inhibitors. This includes any grade nausea (50%), fatigue (33%), anemia (20%), vomiting (15%), and neutropenia (13%). Toxicity of grade 3 or higher includes anemia (13%), neutropenia (8%), and fatigue (5%).
Where do the newest drugs to be approved for ovarian cancer in recent years fit within the treatment paradigm? What do the research findings show about their efficacy and safety?
Data from phase 2/3 trials support the use of PARP inhibitors as monotherapy as well as in combination with other agents (most commonly agents other than standard chemotherapy) for the treatment of BRCA mutated or otherwise homologous recombination deficient (HRD) ovarian cancer. They can also be considered for maintenance therapy at the conclusion of treatment of newly diagnosed or recurrent BRCA mutated/HRD ovarian cancer.
Large phase 3 studies have resulted in the approval of the antiangiogenic agent bevacizumab in combination with chemotherapy for the treatment of newly diagnosed and recurrent ovarian cancer, as well as for maintenance therapy at the conclusion of combination chemotherapy plus bevacizumab treatment of newly diagnosed (GOG 218 and ICON 7 trials) or recurrent ovarian cancer (GOG 218, OCEANS, and AURELIA trials). The most common toxicity with antiangiogenic agents is hypertension. Women also commonly experience arthralgia/myalgia. There is an increased risk of proteinuria, blood clots, bleeding, and serious gastrointestinal events such as fistula and bowel perforation.
Data from the phase II KEYNOTE 158 trial supports pembrolizumab for microsatellite high or mismatch repair-deficient ovarian cancers. Common side effects associated with the use of pembrolizumab include fatigue, itchy skin, diarrhea, nausea, decreased appetite, rash, fever, cough, difficulty breathing, musculoskeletal pain, constipation, and joint pain. Pembrolizumab can cause the immune system to attack normal organs and tissues in the body resulting in serious side effects, including inflammation of such organs as the lungs, colon, liver, endocrine glands, and kidneys.
Evidence for hormonal therapy (ie, aromatase inhibitors like letrozole) for the treatment of newly diagnosed and recurrent low-grade serous/endometrioid epithelial ovarian cancer comes from largely retrospective cohort studies. A large phase 3 study examining if letrozole monotherapy/maintenance is non-inferior to intravenous paclitaxel/carboplatin and maintenance letrozole with respect to progression-free survival in women with stage II-IV primary low-grade serous carcinoma of the ovary or peritoneum after primary surgical cytoreduction is enrolling.
Hormonal therapies are generally very well tolerated. Common side effects may include hot flashes, warmth or redness in the face or chest, headache, dizziness, weakness, bone pain, muscle or joint pain, swelling, weight gain, increased sweating, or increased cholesterol in the blood.
What other drugs are in development for ovarian cancer?
VEGF receptor tyrosine kinase inhibitors, such as cediranib, are in development. Anlotinib is another drug being investigated. It is a new multi-target tyrosine kinase inhibitor that targets VEGFR, PDGFR, and FGFR. Drugs targeting folate-alpha receptor, such as mirvetuximab, are under investigation, particularly for patients with high folate-alpha receptor membrane staining by immunohistochemistry. Drugs targeting cell cycle arrest, such as CDK4/6 inhibitors, are also being considered.
Can you provide some of the highlights of ovarian cancer research presented at this year's American Society of Clinical Oncology meeting ?
My take is that we have gone from a monotonous landscape of platinum doublet chemotherapy to an exciting, diversified landscape over the past several years. All of this activity has driven median overall survival up from 3 years to 5 years and progression-free survival following first platinum sensitive recurrence to well beyond 6 months.
Since last year's meeting we have seen several new approvals, including niraparib for the treatment of BRCA mutated and HRD disease, as well as for first-line maintenance in all comers. In May, the FDA expanded the indication for olaparib to include its combination with bevacizumab as first-line maintenance for BRCA-mutated and HRD disease based on the results of PAOLA-1. With certainty, our treatment paradigms will continue to evolve in response to these and other new data.
At this year's meeting, the SOLO-2 investigators revealed the first overall survival data for second-line PARP inhibitor maintenance, which is the first suggestion that PARP inhibitor maintenance improves overall survival.
We have a new understanding about the genetics of long-term responders to rucaparib on ARIEL-2.
We also understand how the role of secondary cytoreductive surgery and how nonchemotherapy options for the treatment of platinum sensitive relapse compare in terms of efficacy and toxicity (ie, AVANOVA-2 and GY004 trials). We see again the importance of R0 cytoreduction when surgery is pursued. Achieving anything less than R0 cytoreduction for the treatment of first platinum sensitive recurrence may translate into shorter survival compared to chemotherapy alone.
We are also becoming increasingly familiar with the limited therapeutic benefit of single-agent anti-PD-1/PD-L1, which is so different from our experience in mismatch repair-deficient endometrial cancer. In the small percentage of responders, there are some durable responses and a suggestion of particular efficacy among women with clear cell ovarian cancer.
What other recent findings in ovarian cancer research should oncologists be aware of?
Data supporting improved efficacy of a gastrointestinal-type chemotherapy regimen for mucinous epithelial ovarian cancers come from a retrospective cohort study of patients with ovarian mucinous carcinoma who received postoperative adjuvant chemotherapy at two academic centers.
Identification of inactivating SMARCA4 mutations as the driver of small cell carcinoma of the ovary, hypercalcemic type, and the idea that CDK4/6 inhibitors could be effectively repurposed to treat this rare but highly aggressive type of ovarian cancer is also new and exciting.
Stone has disclosed no relevant financial relationships.
Kate O'Rourke is a freelance writer in Portland, Maine. She has covered the field of oncology for over 10 years.
For more from Medscape Oncology, join us on Twitter and Facebook
Medscape Medical News © 2020

Cite this: A Guide to the New Agents Reshaping Ovarian Cancer Treatment - Medscape - Oct 30, 2020.