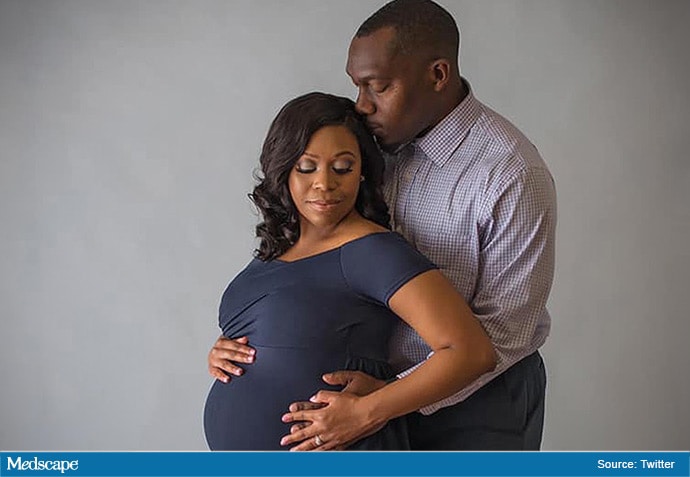 Chaniece Wallace, MD, and Anthony Wallace
Chaniece Wallace, MD, a chief pediatric resident at the Indiana University School of Medicine in Indianapolis, died on October 24 after complications from preeclampsia 4 days after giving birth prematurely by cesarean delivery, according to her husband, Anthony Wallace.
Their daughter, Charlotte Wallace, was born on October 20 weighing 4.5 pounds. The medical team moved her to the neonatal intensive care unit.
Anthony Wallace told Chaniece's story on a GoFundMe page, writing: "On October 20th, 2020 [Chaniece's] doctors informed us that she was developing symptoms of preeclampsia." He added that she had a ruptured liver and high blood pressure and that her kidney function was declining.
"Chaniece fought with every piece of strength, courage, and faith she had available," he continued.
In announcing Wallace's death, Riley Hospital for Children wrote that "it is with grievous and broken hearts that we announce the loss of one of our beloved friends, colleagues, and co-chiefs." Chaniece "suffered postpartum complications after delivering a healthy 35wk baby girl. [S]he received excellent care at her delivery hospital by a complete and equally devastated healthcare team."
Fellow co–chief resident Eric Raynal, MD, told Medscape Medical News that Chaniece's preeclampsia "developed unusually rapidly. It was captured immediately and was especially severe," he said.
"I think everyone in our community and the medical community that took care of her while hospitalized is at a loss for why her case of preeclampsia was so severe and did not improve after she delivered her baby, Charlotte," he said.
"As physicians, we try to find answers and reason for everything we do in our practice of medicine, and it is so immensely frustrating when families ask us to explain things that are unexplainable," Raynal said.
The statement from Riley Hospital said Wallace had completed her pediatrics residency in June and was beginning to explore career options as a general outpatient pediatrician.
"[H]er future impact, sure to be expansive, was taken away from her all too suddenly," the announcement said.
Black Women at Triple the Risk for Maternal Death
Clinicians commented on social media that Wallace's death highlights a grim statistic in healthcare in the United States: Black, Native American, and Alaska Native women are two to three times more likely to die from pregnancy-related causes than White women, according to recent Centers for Disease Control data.
Newborn hospitalist Shawnté James, MD, mourned Wallace's death on Twitter, saying, "Childbirth isn't safe for Black Women in America. This is crushing."
Rachel Vreeman, MD, added: "Heart-broken over a new loss: a female pediatrician at a great academic medical center, with the same terrible pregnancy complication that I had. Except she is Black and she died."
Raynal said, "What we know and can verify is that preeclampsia is more common in Black women. We would not say Chaniece's preeclampsia and preeclampsia in women in general is 'preventable.' "
Wallace was well aware of her risk, and they had talked privately about it routinely, Raynal said. She had also discussed the risks with her medical team.
"Her medical team was exceptional and diverse and included multiple specialties. Why we say it's so frustrating is that it didn't matter for her. She still died," he said.
Jerry Rushton, MD, MPH, pediatric residency program director at Indiana University, said Wallace delivered at St. Vincent Health Center in Indianapolis, outside Indiana University Health.
He said that while women of color face healthcare disparities, "I don't know to what degree that played a role in her care. It's still an issue we all need to address and that she was passionate about."
Childhood in Mobile, Alabama
Chaniece Wallace grew up in Mobile, Alabama, and spent her undergraduate years at the University of Alabama, according to the Indiana University School of Medicine residents' page.
She was interested in advocacy, and her hobbies included "dancing and Netflix marathons," her Indiana University resident profile says.
Rushton remembered Chaniece had talked in her interview 4 years ago about the children in Alabama she taught ballet to, many of them girls of color, and how she wanted to be a pediatrician to promote their health and wellness as well.
He talked about her self-assurance even as a young physician. "She was a quiet leader by her actions," he said, "just by doing the right thing."
Rushton said Chaniece was focused on community pediatrics and had planned to work with underserved populations either in Alabama or Indiana after residency.
A close friend in residency, Rupal Joshi, MD, now a primary care physician in Chicago, told Medscape Medical News that Wallace was a perfect choice to be a chief resident.
"When I say brilliant, I mean that in every sense of the word," she said. She said Wallace also had a compassion for patients that set her apart, talking directly to the kids and getting to know their families.
Wallace had a particular talent for educating other medical students, Joshi said. She had told Joshi that she wanted to continue that once she was practicing independently.
"I knew that care and compassion combined with that kind of intelligence in medicine was a great combination for someone who needs to lead the next class of residents," Joshi said.
Rushton said Wallace was committed to improving the lives of children of all backgrounds, but especially from poorer and more rural communities.
"I think part of her legacy is also being an organ donor. That's something we all take comfort in," he said.
Rushton said a book drive is also being organized in Chaniece's name. The books will help promote reading and literacy and parent bonding as children come in for their checkups.
By Wednesday evening, the crowdfunding page, which asked for $5000 to help the family, had surpassed $107,000.
Marcia Frellick is a freelance journalist based in Chicago. She has previously written for the Chicago Tribune and Nurse.com and was an editor at the Chicago Sun-Times, the Cincinnati Enquirer, and the St. Cloud (Minnesota) Times. Follow her on Twitter at @mfrellick.
For more news, follow Medscape on Facebook, Twitter, Instagram, and YouTube.
Medscape Medical News © 2020

Send news tips to news@medscape.net.
Cite this: Black Chief Resident Dies After Childbirth, Highlights Tragic Trend - Medscape - Oct 28, 2020.