Only 30.6% of American adolescents complete three routinely recommended vaccinations, new research has found, but that number varies widely by state.
The Advisory Committee on Immunization Practices recommends that by age 17, adolescents complete three key immunizations: human papillomavirus (HPV); quadrivalent meningococcal conjugate (MenACWY); and tetanus toxoid, reduced diphtheria toxoid, and acellular pertussis (Tdap).
Sara Poston, PharmD, senior director for health-outcomes research at GlaxoSmithKline, said at an IDWeek press conference that her team set out to determine how many teens were completing the vaccinations and how the number varied by state and by behavioral factors.
Completion of the vaccines means getting the HPV series (two doses for people aged 9 – 14 years at first vaccination or three doses for those aged 15 years or older at first vaccination); completion of the MenACWY series (two doses); and getting a Tdap vaccine (one dose).
Rhode Island Has the Highest Rates
Some states are clearly doing better than others. Idaho had the lowest completion rate (11.3%; 95% CI, 6.9% – 18.0%), and Rhode Island had the highest (56.4%; 95% CI, 49.8% – 62.8%).
In the 2018 National Immunization Survey — Teen (NIS-Teen), Rhode Island had the highest vaccination coverage rate in the nation for meningococcal vaccine (98.7%) and the second-highest coverage rate for Tdap (96.3%) for adolescents aged 13 to 17 years. Also in 2018, the state had the highest vaccination rates in the nation for the HPV series for both male and female adolescents 13 to 17 years of age (78.1%), well above the national average of 51.1%.
Researchers used information from the Centers for Disease Control and Prevention (CDC) as well as 2015–2018 NIS-Teen data to estimate national and state-level completion rates by age 17. They then combined NIS-Teen data with public state-level data to evaluate what was driving or discouraging completion.
"The good news is, we found some variables that we consider actionable and can be used by states and local health departments to improve the rates," Poston said.
Those include encouraging a healthcare visit at age 16 or 17, provider recommendations to families to get the HPV vaccine, and state-level mandates for the MenACWY vaccine.
Those who had a healthcare visit at 16 or 17 were more than twice as likely to complete their vaccines (odds ratio [OR], 2.35; 95% CI, 1.80 – 3.07). Those for whom HPV vaccination had ever been recommended by a healthcare provider were more than three times as likely to complete their vaccinations (OR, 3.24; 95% CI, 2.76 – 3.80).
Other factors predictive of completing the vaccines included being Black or Hispanic and having Medicaid insurance.
At the state level, "living in a state with a mandate for the meningococcal ACWY vaccine in elementary or secondary school was also associated with likelihood of vaccination," Poston said. Teens in states with mandates were 60% more likely to complete the vaccines than those in states without mandates. (OR, 1.6; 95% CI, 1.2 – 2.3)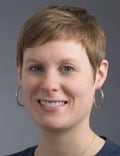 Marielle Fricchione, MD, assistant professor of pediatric infectious diseases at Rush Medical College in Chicago, Illinois, told Medscape Medical News, "Teen vaccines are notoriously hard to get into kids because it's hard to get them back into the office for second doses."
She said that Illinois is one of the states with a two-dose mandate for MenACWY before entering 6th grade and 12th grade and that that has kept vaccination coverage high.
Educating providers on how to recommend HPV vaccination is the biggest vaccine focus, she said.
Schedule Next Dose at First Visit
One thing her department has found successful in HPV completion (three doses at age 15 and older) is scheduling the second dose while the teen is in the office for the first dose.
"Also, you have to recommend it just as strongly for boys as you do for girls, because oropharyngeal cancer is like an epidemic right now for men, and HPV-related oropharyngeal cancer is on an exponential rise," Fricchione said.
According to the CDC, HPV is thought to cause 70% of oropharyngeal cancers in the United States.
Equipping providers with statistics on the effectiveness of HPV vaccination in preventing cancer can take away the uneasiness in talking about sexual transmission.
"That really seems to help them give a strong recommendation. It puts them in a data-driven position to talk about the vaccine," she said. "Once you put that data in front of the providers, they're floored."
Research was funded byGlaxoSmithKline. Poston is employed by GlaxoSmithKline. Fricchione has disclosed no relevant financial relationships.
For more news, follow Medscape on Facebook, Twitter, Instagram, and YouTube.
Medscape Medical News © 2020

Send news tips to news@medscape.net.
Cite this: Two Thirds of US Teens Fail to Get Needed Vaccines - Medscape - Oct 23, 2020.