A combination therapy using the experimental drug relugolix was effective in treating pain and heavy bleeding from uterine fibroids for a full year, according to findings from a long-term extension study of the phase 3, open-label LIBERTY trials.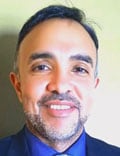 The drug was also well tolerated, with retention of bone mineral density and no new adverse events, said Ayman Al-Hendy, MD, PhD, who presented the results October 17 at the virtual American Society for Reproductive Medicine (ASRM) 2020 Scientific Congress.
"Relugolix combination therapy represents a potential long-term treatment for women with heavy menstrual bleeding associated with uterine fibroids," said Al-Hendy, a gynecologist and endoscopic surgeon at the University of Chicago, in Illinois.
Al-Hendy, who consults for the company that makes the drug, on October 20 presented results showing improvement in quality of life with relugolix therapy.
"The fact that this longer-term study shows continued, persistent results at a year really gives us confidence that we'll be able to use these drugs as a long-term therapy to treat fibroids," Hugh S. Taylor, MD, president-elect of ASRM, told Medscape Medical News. Taylor, a professor and chair of ob-gyn and reproductive sciences at the Yale School of Medicine, New Haven, Connecticut, was not involved in the study.
"A drug like this is so necessary," Taylor continued. "We don't have any other drugs on the market approved for long-term use."
Relugolix is an oral gonadotropin-releasing hormone (GnRH) receptor antagonist under investigation for long-term management of uterine fibroids. The once-daily combination therapy includes 40 mg relugolix, 1 mg estradiol, and 0.5 mg norethindrone acetate.
Extension Study Shows Prolonged Benefits
The extension trial enrolled women aged 18 to 50 years who were experiencing heavy menstrual bleeding from uterine fibroids and who completed the 24-week phase 3, double-blind, placebo-controlled LIBERTY 1 or 2 trials. Heavy menstrual bleeding was defined as bleeding in which at least 80 mL of blood was lost per cycle for two cycles or 160 mL was lost during one cycle. Ultrasound imaging was used to confirm the presence of fibroids.
In LIBERTY 1 and 2, women were randomly assigned to receive relugolix combination therapy, placebo, or relugolix alone for 12 weeks followed by combination therapy for the remaining 12 weeks (delayed group). Those trials found that relugolix combination therapy was effective through 6 months in reducing menstrual blood loss and pain in women with uterine fibroids without loss of bone mineral density.
LIBERTY 3 extended the trial to 52 weeks, with all participants receiving relugolix combination therapy.
As in the earlier trials, the primary endpoint was reduced menstrual blood loss. By the end of the study, women needed to have at least a 50% reduction in blood loss from the initial study's baseline while maintaining a blood loss of <80 mL. The investigators also evaluated the mean percentage of menstrual blood loss reduction, amenorrhea rate, and improvements in anemia as secondary endpoints and assessed changes in bone mineral density.
The extension study enrolled 78% (n = 477) of the 610 women who completed the initial study; of those, 363 women completed the extension study.
Among the 163 women who began with relugolix combination therapy in the first two trials, 87.7% met the primary endpoint in a per-protocol analysis through week 52. The proportion of responders in the extension study was 75.6% among the group that formerly received placebo (n = 164) and 79.9% in the delayed group (n = 149).
The overall average reduction in menstrual blood volume was 89.9%. Most of the women experienced amenorrhea at the end of the year: 70.6% in the relugolix group, 57.9% in the group that formerly received placebo, and 68.5% in the delayed group.
Reductions in uterine volume and uterine fibroid volume were also sustained from week 24 through week 52. For the relugolix combination therapy group, the mean loss of uterine fibroid volume from baseline was 13.5% at week 24 and 18.3% at week 52. Similarly, the delayed group's average loss in fibroid volume was 28.1% at week 24 and 33.9% at week 52. The placebo group, which only had a 7% loss in fibroid volume at week 24, had an 18.4% loss in volume from baseline at week 52.
Among patients with anemia, defined as hemoglobin concentrations of <10.5 g/dL at baseline, 59% of those in the original relugolix group saw an improvement of at least 2 g/dL hemoglobin. The women's improvement in pain symptoms also continued through week 52, with a 51.3-point reduction in scores on the bleeding pain and discomfort scale from baseline to the end of the study.
Adverse events were the same in the extension study and in the initial study. Those most commonly reported were headache and hot flashes. No serious safety signals occurred. The average reduction in bone mineral density was 0.80% at week 52, indicating no concerning loss.
A New Drug Class to Treat Uterine Fibroids
Relugolix is one of three GnRH antagonists being studied for the long-term treatment of fibroids. The US Food and Drug Administration approved the combination of elagolix, estradiol, and norethindrone acetate (Oriahnn) in May. Linzagolix, another GnRH antagonist, is currently in clinical trials.
"We'll have a whole class of new drugs that are likely to fulfill this long sought-after goal of reducing the need for surgery for fibroids and doing it without a lot of side effects," Taylor said. "The quality-of-life improvements seen here, the lack of significant adverse effects — none that were surprising in long term — the relatively low reduction in bone mineral density in a year are all very exciting [and suggest] that this will be a safe and effective long-term treatment."
Significant Improvement in Quality of Life
In the presentation on quality of life with relugolix therapy, Al-Hendy shared results regarding the severity of women's symptoms as well as health-related quality of life, as determined on the basis of the Uterine Fibroid Symptom and Health-Related Quality of Life (UFS-QoL) questionnaire at baseline, week 12, and week 24 in LIBERTY 1 and 2. Higher UFS-QoL scores correlate with more severe symptoms. With the subscale of health-related quality of life, higher scores indicate a better quality of life.
The substudy enrolled 253 patients who received relugolix combination therapy and 256 patients who received placebo. The average menstrual blood loss was 243 mL in the relugolix group and 215 mL in the placebo group at baseline. Mean fibroid volume was the same in both groups at baseline, 73 cm3.
The proportion of Black patients was similar in both groups: 48% of the relugolix group and 54% of the placebo group.
The severity of women's symptoms dropped from a baseline UFS-QoL score of 57 to 22.4 at 6 months among those who received relugolix combination therapy. In the placebo group, the initial score of 59.6 only dropped to 46.9 (P < .0001, for –21.4 difference in change).
Health-related quality of life increased from 38.3 to 76.6 among those who received relugolix. In the placebo group, it increased from 35.7 to 48.2 (P < .0001, for 24.5 difference). Subscales of health-related quality of life — including concern, control, activities, energy/mood, self-consciousness, and sexual function — also all improved significantly in the relugolix group compared with the placebo group (P < .0001).
"This is a condition we see all the time that's easily diagnosed, and we have first-line drugs we've been using to treat them, but none are good long-term fixes," Taylor said. The current first-line treatments, oral contraceptives, can stabilize bleeding, he continued, "but they don't make the fibroids shrink, they don't stop the bleeding, women continue to have breakthrough bleeding, and the fibroids can continue to grow."
He said most of the estimated 600,000 hysterectomies performed in the United States each year are for uterine fibroids.
"It's a major surgery that no one wants to go through if they don't have to," Taylor said. "Here we have a drug that really has potential to stop the growth of the fibroids, that can stop the bleeding or dramatically improve it, and, really, for the first time, directly impact the fibroids and give us a long-term alternative."
The studies were funded by Myovant Sciences GmbH. Al-Hendy reported consulting for AbbVie, Bayer, and Myovant Sciences and he owns a patent for novel diagnostics and therapeutics for uterine sarcoma. Taylor has disclosed no relevant financial relationships.
American Society for Reproductive Medicine (ASRM) 2020 Scientific Congress: Abstract O-1 and O-205, presented October 17 and 20, 2020.
Follow Medscape on Twitter @Medscape and Tara Haelle @tarahaelle.
Medscape Medical News © 2020

Send news tips to news@medscape.net.
Cite this: Relugolix Combo Effective for Uterine Fibroids Through 1 Year - Medscape - Oct 22, 2020.