With less than 2 weeks until election day, clinicians around the United States have been helping patients who land in their hospitals find voter information or register on the spot — an extension, they say, of treating the whole person.

The VoteER initiative was started a year ago by emergency medicine physician Alister Martin, MD, at Massachusetts General Hospital in Boston, but it has taken off in the COVID-19 era because of the challenges posed by voting at a physical location.
Now physicians, nurses, and other healthcare professionals in a wide range of disciplines at 300 hospitals and students at 80 medical schools are spreading the word. So far, Martin told Medscape Medical News, the program has signed up more than 40,000 people who have either registered to vote or have requested vote-by-mail ballots.
Participating clinicians wear buttons, lanyards, or badge stickers with information patients can text to learn details on how to vote in their area. Healthcare professionals can also upload a QR code as a background on their phones' home screens or print them out in poster form. Patients can scan the code and within minutes register to vote or request a mail-in ballot.
The tools are available free by ordering a physical kit or by downloading the toolbox. Martin said that so far, 25,000 physical kits, funded by foundations, have been sent out and "hundreds of thousands" of the digital version have been downloaded.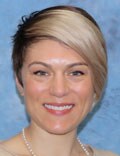 Because the message promotes voting and not a particular candidate, no ethical lines are being crossed, said Aliza Narva, MSN, RN, JD, director of ethics for the University of Pennsylvania Hospital in the Penn Medicine health system. Clinicians answer questions about how to vote if patients ask.
"If anything, there's an obligation to help people participate," she told Medscape Medical News. "As a nurse, I have an ethical obligation to care for my whole patient. Nursing is a civic profession, which means we have an obligation outside of a 12-hour shift to engage in civic duty and help our patients navigate their lives. We're certainly not telling them who to vote for."
Martin said health systems are competing to sign up the most patients and staff. Penn Medicine is leading by a wide margin, having signed up 3500 voters since August 1, largely because the CEO, Kevin Mahoney, made the project a system-wide priority.
"Healthcare Is Political"
In 2016, Martin brought voting kiosks, with the blessing of hospital leaders, to Mass General's Emergency Department (ED) with the hope of giving a voice to people who would be most affected by policies.
Martin said he learned from experience — growing up with a single mom in a low-income home in New Jersey — that struggling families like his were using EDs for primary care.
In his years studying for a master's degree in public policy, he realized that young people, those with low income, and people of color made up a large percentage of the population who were not registered to vote. And they were the same groups most marginalized by the healthcare system.
Martin has received criticism — mainly about the use of clinicians' time and mixing politics and medicine.
To the first criticism, he said, "I'm an ER doctor, and I wouldn't build a system that makes my job harder."
If patients ask about his badge or lanyard, he said, he points out where they can get the information they need; if they need help, he instructs them to call a 24-hour nonpartisan helpline.
As to whether the messaging is political, he said, "The answer is, yep, it is, because healthcare is political, and in no place is that more apparent than the ER."
He explained that people who come into the ED may be homeless because of failed policies, or they may be complaining of stomach pain only because they're starving, or they may present with complications of diabetes because they're rationing insulin that they can no longer afford.
Medical Students Join the Effort
Medical students have also taken up the VoteER mantle.

Med student Kristen Obiakor
At Rush Medical College in Chicago, Kristen Obiakor created a partnership with the national VoteER organization, printed the QR code posters, and has helped sign up more than 150 faculty, patients, students, and staff at two recent events she organized.
She told Medscape Medical News that she's planning to hold sign-up events every week until the November 3 election.
"I've always been passionate about health equity work," she said. "I want to be a physician who is always thinking about the greater good.
"Voter engagement and voting in general is an act of humanism," she said. "Not only do we vote for ourselves, we vote for our communities, we vote for our children. To have people know that their vote matters is important to me."
Narva, Martin, and Obiakor report no relevant financial relationships.
Marcia Frellick is a freelance journalist based in Chicago. She has previously written for the Chicago Tribune and Nurse.com and was an editor at the Chicago Sun-Times, the Cincinnati Enquirer, and the St. Cloud (Minnesota) Times. Follow her on Twitter at @mfrellick.
For more news, follow Medscape on Facebook, Twitter, Instagram, and YouTube.
Medscape Medical News © 2020

Send news tips to news@medscape.net.
Cite this: Clinicians, Med Students Help Patients Register to Vote - Medscape - Oct 22, 2020.