Pablo A. Sanchez, MD, a second-year fellow in the Stanford cardiovascular medicine fellowship program, is finding his clinical learning experience during the pandemic mostly seamless.
Between virtual outpatient visits and video conferencing with attendings after in-person rounds, he doesn't think there are major blind spots, and yet he feels a void. Sanchez was deeply affected by the "loss of the clinical encounter, being able to talk with someone for a while and examine them and get to know them," he told Medscape. He was also isolated from co-fellows, who under normal circumstances would learn from each other side by side.
As programs across the country pivoted to virtual education, fellows in procedure-driven subspecialties were worried that they may not hit targets, and uncertainty about the job market persists. But the challenges posed by COVID-19 are also an opportunity to rethink how clinical competency is assessed, Medscape learned in interviews with fellows and program directors.
Joshua W. Knowles, MD, PhD, who directs the fellowship program at Stanford, said the changes necessitated by the pandemic have profoundly affected both fellows and attending physicians. The Stanford program trains fellows to treasure the ownership of patients through touch and personal interactions, so they that think, "That's my patient, and I'm going to do everything I can to help my patient," he explained. But to reduce transmission risks, many of these norms were ruled out.
As for the long-term effects of this unique pandemic training experience on fellows, Knowles said, "I don't think we'll know the impact of this on their care delivery for [a long time]. I think that's going to take 20 years to play out. But we do know that they'll be incredibly resilient and adaptable."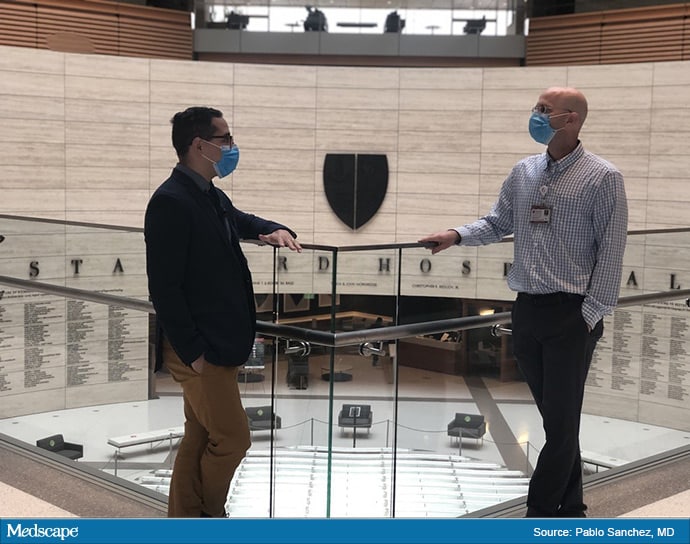 Pablo A. Sanchez, MD (left), and Joshua W. Knowles, MD, PhD.
Procedural Volume Concerns
Knowles communicates with dozens of other cardiology fellowship program directors through an email listserv and believes that programs are now better able to adjust as needed. They discuss COVID-19–driven changes to clinical training and applicant interviews in order to identify best practices. When the governor of California declared a state of emergency in March, Knowles had already learned about restructuring patient flow and medical education from program directors in Seattle.
Early in the pandemic, the volume of tests and procedures dropped by 30%-60% at Stanford Health Care, and restrictions were placed on the numbers of on-site staff. Trainee involvement was pared down to no more than one fellow assisting with a cardiac catheterization or a temporary pacemaker placement, for instance. This left some fellows worried that they may not meet the training requirements of the Accreditation Council for Graduate Medical Education (ACGME) and the American College of Cardiology (ACC) Core Cardiovascular Training Statement (COCATS 4).
The situation was similar at the Duke Cardiology Fellowship Program. The drop in procedural volume and a 75% reduction of fellows on-site were particularly worrisome for those in the 1-year advanced training program in interventional cardiology and those in the final stretch of their general clinical years, said Kevin Friede, MD, chief cardiology fellow at Duke.
Fortunately, procedural volume picked up in May at both institutions as their hospitals opened up, and fellows were able to catch up with their hands-on experience. Clinical fellows were also brought back into the hospital for in-person rotations, with some restrictions. At Stanford, inpatient physical exams are performed with only one physician — the fellow or the attending — entering the room, and patient histories are often conducted through videoconferencing with the fellow in a different room.
From March into May, rotations at Duke that typically involve three or four fellows, such as echocardiography and cardiac catheterization, turned "hybrid," Anna Lisa Crowley, MD, director of the cardiovascular disease fellowship program at Duke, told Medscape. This meant one fellow in the hospital at a time and the others learning remotely. Imaging rotations, such as cardiac MRI and cardiac CT, that usually involve one fellow per month were converted to virtual learning experiences lasting about 6 weeks.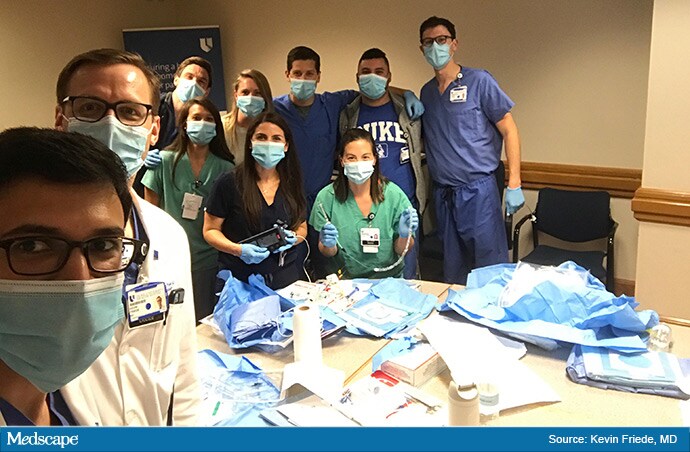 Kevin Friede, MD (second on front left), conducts a bootcamp on invasive procedures for new first-year fellows in the Duke Cardiology Fellowship Program with Duke faculty.
Fellows logged into the Duke imaging servers remotely to review cases and discuss them with the attending physician of the day. Education was supplemented by reading online resources and virtually attending more conferences and didactic sessions.
Cardiac Training vs COVID-19 Care
In Duke's cardiac intensive care unit, fellows were obliged to expand beyond cardiology to care for a changed patient population. Because the medical intensive care unit (ICU) was overwhelmed with COVID-19, medically complex patients who did not have COVID were sent to the cardiac ICU. "We were happy to help, but it's a different kind of pressure," said Friede.
The Stanford fellows volunteered to be part of COVID-centric teams if the need arose. Knowles wondered whether they should send their fellows to New York to help out, and he worried about a potential second wave in California. As it happened, the Duke and Stanford cardiology fellows did not stray too deeply into COVID-19 responsibilities.
That was not the case for some fellowship programs on the northern East Coast. Nearly all 60 cardiology fellows training in the New York's Northwell Health system — and many attending cardiologists — were redeployed to the frontlines of COVID-19 care for several months, said Jeffrey T. Kuvin, MD, professor and chair of cardiology at Northwell Health. He wrote about the pandemic and fellowship training in the Journal of the American College of Cardiology. Everything cardiology came to a standstill, he said. Several of the advanced training fellows needed training extensions of several weeks owing to COVID, but graduation is expected to be on time for those in the general cardiology program.
One lingering concern is the uncertain job market. Stanford fellowship graduates and instructors would typically be hot tickets on the job market, but only two secured tenure-track jobs. "We were fortunate to retain the rest of our talented graduates as instructors," said Knowles.
Rahul Loungani, MD, a fellow in Duke's advanced heart failure and transplant cardiology program, experienced fewer changes to his training because transplants did not decrease during the COVID surge and most posttransplant visits occur in-person. However, he too is concerned about the job market. "Fortunately, there are places still looking to grow and expand," he said, "but other places are in a protect-and-defend mode."
Virtual Visits and Human Connections
Didactic teaching is still occurring virtually at Stanford, Duke, and Northwell Health and may be here to stay, at least in part. Attendance at Stanford's all-virtual cardiology grand rounds is regularly upward of 250 people from across the country, compared with 50-100 in prepandemic times. Fellows have also had access to a surge of virtual teaching conferences. Some faculty and attendings have had more free time, but all of those interviewed believe the efficiencies of a virtual format are evident.

Pablo A. Sanchez, MD (right), presents a cardiomyopathy case in a virtual case conference. Program director Joshua W. Knowles, MD, PhD, is second from the right.
Virtual patient visits are also expected to endure beyond the pandemic. Friede noted that a team of Duke fellows and faculty is working on developing best practices and identifying the most robust platforms for implementing virtual visits into the training environment — technology with mechanisms for fellows and attendings to "speak outside of the room," for instance.
The pandemic is also intensifying a national dialogue about assessing competency rather than numbers of procedures done or time spent in rotations. The ACGME suggests that program directors focus their evaluations on clinical competency rather than traditional metrics and, in September, released a guidance statement to this effect.
"One of the lessons of COVID is that we can actually move to a competency-based training paradigm as long we understand what these competencies truly are," said Kuvin, who has served on the ACC competency management committee. "I don't think we've figured this all out," he noted, but COVID has made program directors realize the need for a granular level of understanding of what the competencies are and how to assess them.
The virtual experience only goes so far, however — a lesson that Stanford fellow Sanchez took to heart when his grandfather was hospitalized out of state with COVID-19. At first, he guided his family by phone, but as his grandfather's condition worsened, he flew to Arizona and arranged for he and his grandmother to be at the bedside for his grandfather's final days. The isolation and "sterility" of the COVID-19 experience for loved ones deepened his resolve to remember the human aspect of medicine.
"It becomes even more important for us to still keep human interactions — to reach out for human connections," said Sanchez, who plans to pursue advanced training in critical care.
Christine Kilgore is a Falls Church, Virginia–based medical journalist whose work has appeared in such publications as Internal Medicine News, Ob.Gyn Times, Oncology Times, and the Washington Post.
For more news, follow Medscape on Facebook, Twitter, Instagram, and YouTube.
Medscape Medical News © 2020

Send news tips to news@medscape.net.
Cite this: Fellowship Training and COVID: Obstacles and Opportunities - Medscape - Oct 19, 2020.