Editor's note: Find the latest COVID-19 news and guidance in Medscape's Coronavirus Resource Center.
Halloween is fast approaching and retail stores are fully stocked with costumes and candy. Physician dialog is beginning to shift from school access toward how to counsel patients and families on COVID-19 safety around Halloween. What steps families ultimately take about Halloween will hinge on where they live and what the COVID infection and death rates are in their area, advised pediatrician Shelly Vaziri Flais, MD.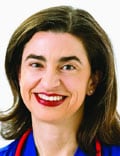 Halloween "is going to look very different this year, especially in urban and rural settings, according to Flais, who is a spokesperson for the American Academy of Pediatrics and assistant professor of clinical pediatrics at Northwestern University, Chicago. The notion that trick-or-treating automatically involves physically distancing is a misconception. Urban celebrations frequently see many people gathering on the streets, and that will be even more likely in a pandemic year when people have been separated for long periods of time.
For pediatricians advising families on COVID-19 safety measures to follow while celebrating Halloween, it's not going to be a one-size-fits-all approach, said Flais, who practices pediatrics at Pediatric Health Associates in Naperville, Ill.
The goal for physicians across the board should be "to ensure that we aren't so cautious that we drive folks to do things that are higher risk,"she said in an interview. "We are now 6-7 months into the pandemic and the public is growing weary of laying low, so it is important for physicians to not recommend safety measures that are too restrictive."
The balance pediatricians will need to strike in advising their patients is tricky at best. So in dispensing advice, it is important to make sure that it has a benefit to the overall population, cautioned Flais. Activities such as hosting independently organized, heavily packed indoor gatherings where people are eating, drinking, and not wearing masks is not going to be beneficial for the masses.
"We're all lucky that we have technology. We've gotten used to doing virtual hugs and activities on Zoom,"she said, adding that she has already seen some really creative ideas on social media for enjoying a COVID-conscious Halloween, including a festive candy chute created by an Ohio family that is perfect for distributing candy while minimizing physical contact.
In an AAP press release, Flais noted that "this is a good time to teach children the importance of protecting not just ourselves but each other."How we choose to manage our safety and the safety of our children "can have a ripple effect on our family members."It is possible to make safe, responsible choices when celebrating and still create magical memories for our children.
Francis E. Rushton Jr., MD, of the University of South Carolina, Columbia, said in an interview, "I certainly support the AAP recommendations. Because of the way COVID-19 virus is spread, I would emphasize with my patients that the No. 1 thing to do is to enforce facial mask wearing while out trick-or-treating.
"I would also err on the side of safety if my child was showing any signs of illness and find an alternative method of celebrating Halloween that would not involve close contact with other individuals,"said Rushton, who is a member of the Pediatric News editorial advisory board.
AAP-Recommended Do's and Don'ts for Celebrating Halloween
DO:
Avoid large gatherings.

Maintain 6 feet distance.

Wear cloth masks and wash hands often.

Use hand sanitizer before and after visiting pumpkin patches and apple orchards.
DON'T:
Wear painted cloth masks since paints can contain toxins that should not be breathed.

Use a costume mask unless it has layers of breathable fabric snugly covering mouth and nose.

Wear cloth mask under costume mask.

Attend indoor parties or haunted houses.
CDC Safety Considerations (Supplemental to State and Local Safety Laws)
Assess current cases and overall spread in your community before making any plans.

Choose outdoor venues or indoor facilities that are well ventilated.

Consider the length of the event, how many are attending, where they are coming from, and how they behave before and during the event.

If you are awaiting test results, have COVID-19 symptoms, or have been exposed to COVID-19, stay home.

If you are at higher risk, avoid large gatherings and limit exposure to anyone you do not live with.

Make available to others masks, 60% or greater alcohol-based hand sanitizer, and tissues.

Avoid touching your nose, eyes, and mouth.

For a complete set of Centers for Disease Control and Prevention COVID safety recommendations go here.
Suggested Safe, Fun Activities
Use Zoom and other chat programs to share costumes, play games, and watch festive movies.

Participate in socially distanced outdoor community events at local parks, zoos, etc.

Attend haunted forests and corn mazes. Maintain more than 6 feet of distance around screaming patrons.

Decorate pumpkins.

Cook a Halloween-themed meal.

If trick-or-treating has been canceled, try a scavenger hunt in the house or yard.

When handing out treats, wear gloves and mask. Consider prepackaging treat bags. Line up visitors 6 feet apart and discourage gatherings around entranceways.

Wipe down all goodies received and consider quarantining them for a few days.

Always wash hands before and after trick-or-treating and when handling treats.
This article originally appeared on MDedge.com, part of the Medscape Professional Network.
Medscape Medical News © 2020 WebMD, LLC

Send comments and news tips to news@medscape.net.
Cite this: Prescribe Halloween Safety by Region, Current Conditions - Medscape - Oct 13, 2020.